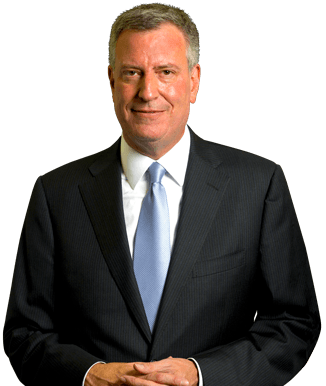 Mayor de Blasio and First Lady McCray Announce Jacqueline Ebanks as Executive Director of Commission on Gender Equity
Mayor Bill de Blasio and First Lady Chirlane McCray recently announced that Jacqueline Ebanks will serve as the new Executive Director of the Commission on Gender Equity. Created in June 2015, the Commission is an advisory body that works across City agencies to help achieve the Mayor's commitment to reduce gender-based inequity and build a safer, more inclusive city for women, girls, transgender and gender non-conforming New Yorkers. As Executive Director, Ebanks will oversee the City's first-ever Commission on Gender Equity, leveraging the power of City government to expand and increase opportunity for all New Yorkers regardless of sex, gender or sexual orientation in order to build a city that is safe and free of discrimination.
"New York City is built on the ideals that every single person, regardless of their gender, should be given the tools necessary to succeed. The Commission's role is now more important than ever as we fight the forces of inequality that our trying to reverse the progress we've made," said Mayor Bill de Blasio. "Jacqueline has a proven track record standing up for women and girls, and her passion and commitment to NYC will serve us well as we look to create a fairer and equitable city for all."
"Jacqueline Ebanks brings a wealth of experience to this Administration as an advocate, policy practitioner and thought leader with a deep passion for social justice. With her strong and capable leadership, the Commission on Gender Equity will continue fighting discrimination and inequity in all forms to make NYC a better place for women, girls and everyone in our gender non-conforming communities," said First Lady Chirlane McCray, Co-Chair of the Commission on Gender Equity.
"The Commission on Gender Equity plays a critical role in ensuring that women, girls, transgender, and gender non-confirming individuals are full beneficiaries of the City's vast resources. I am honored to join the de Blasio Administration and help build a more inclusive and equitable New York City," said Jacqueline Ebanks, Executive Director of the Commission on Gender Equity.
The de Blasio Administration is committed to fighting inequality across the five boroughs, and has placed gender at the center of this mission. The Commission on Gender Equity is charged with supporting agency initiatives by utilizing a gender lens to review policies and their impact on women, transgender and intersex individuals, and men in order to achieve greater gender fairness in the City.
New York City has made significant strides towards gender parity over the last three years, including:
Signing Intro. 1253 which prohibits all NYC employers from inquiring about a prospective employee's salary history.
Establishing a historic partnership with UN Women and becoming the first American city to join the United Nation's Safe Cities Initiative.
Creating first-ever maternal mental health services through ThriveNYC, a mental health initiative led by First Lady Chirlane McCray.
Providing Universal Pre-K and 3-K for All.
Expanding paid sick leave to many of the lowest paid industries that employ disproportionate amounts of women.
Making unprecedented investments in domestic violence response and education through the Mayor's Office to Combat Domestic Violence.
Signing legislation to provide six weeks of fully paid parental leave to City employees
Establishing the City's Commission on Human Rights as the first human rights agency in any major U.S. city to certify U and T visas for immigrant victims of crime and human trafficking.
Creating lactation rooms for new mothers at social service agencies across the city
Appointing and promoting more women to leadership positions in agencies and City Hall than ever before – with women serving in more than 50 percent of the Administration's senior leadership positions.
State Senator Brad Hoylman said, "New Yorkers are lucky to have Executive Director Jacqueline Ebanks at the helm of our city's efforts to fight discrimination and violence, guarantee access to quality reproductive healthcare, and support and empower women and girls to reach their highest potential. I'm thankful to Mayor Bill de Blasio and First Lady Chirlane McCray for making this important appointment, and I look forward to working alongside Executive Director Ebanks to prioritize gender equity and justice in our city."
Council Member Julissa Ferreras-Copeland said, "As a women's advocate and a firm believer in gender equality, I welcome the appointment of Jacqueline Ebanks as Executive Director of the Commission on Gender Equity. I trust that her extensive experience on women's rights will help further CGE's mission to ensure women have access to equal opportunities, regardless of their national origin, race or sexual identity. I commend Mayor de Blasio and the First Lady for their commitment to include more women in leadership roles at City government."
As co-chair of the New York City Council Women's Caucus, I offer my heartiest congratulations to Jacqueline Ebanks on her appointment as head of the Commission on Gender Equity. Ms. Ebanks' years of work on behalf of the New York Women's Foundation and the Women's City Club of New York exemplify her commitment to advancing and strengthening the voice of women in our community. Her deep focus on questions of equal opportunity and social justice has been critical in the ongoing fight to eliminate gender-based inequity in NYC, and I greatly look forward to supporting her efforts as CGE Chair," said Council Member Helen Rosenthal.
About Jacqueline Ebanks
Jacqueline Ebanks is an innovative manager and policy maker with extensive experience in philanthropy and the non-profit sector. She has worked for over 30 years to promote economic and social justice for women and girls, and marginalized communities.
Since 2014, Ebanks has served as the Executive Director of the Women's City Club of New York, where she guided the civic-engagement organization into its second century of activism. Previously, Jacqueline served as the Vice President of Programs at the New York Women's Foundation and worked at Citigroup as their Vice President & Director of U.S. Partnerships and Program Development for Global Community Relations Division and then as their Regional Community Relations Director for the Northeast and Puerto Rico. Prior to Citigroup, Jacqueline served as the Vice President for Community Investment at the United Way of New York City. Ebanks began her career at citywide and community based service organizations services, serving as Child Welfare Policy Analyst at the Federation of Protestant Welfare Agencies, Director of United Neighborhood Houses' Staff Development and Human Resource Management Initiative, Director of Program Development and Quality Assurance at the Society for Seamen's Children, and Director of Development at Harlem United Community AIDS Centers.
Ebanks holds a M.S. in Policy Analysis and Public Management from the State University of New York at Stony Brook. She resides in the Bronx with her husband and their three daughters.