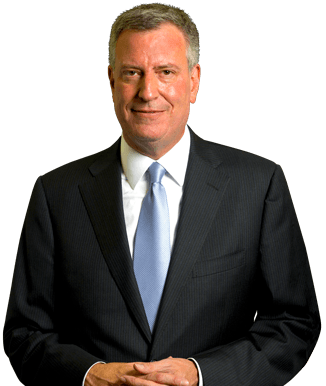 Mayor de Blasio Nominates Dr. Mitchell Katz for President and CEO of NYC Health + Hospitals
Mayor Bill de Blasio recently announced that Dr. Mitchell Katz will be nominated to the NYC Health + Hospitals Board of Directors for appointment as President and CEO of the public healthcare system. As a highly experienced public health executive and practicing physician, Dr. Katz is well poised to further the City's plan to stabilize hospital finances and expand access to high-quality, community-based healthcare.Health + Hospitals has long functioned as a safety net for the most vulnerable New Yorkers, specifically the uninsured and Medicaid patients, who collectively represent 70 percent of patients served.
"With renewed attacks on our healthcare by Republicans in Washington, it is now more important than ever to put stable leadership in place as we make progress on our plan to expand access to quality, community-based care throughout the city. I thank Stanley Brezenoff not only for his decades of service to the City, but also for preserving Health + Hospitals' as our safety net," said Mayor de Blasio. "Dr. Mitchell Katz's vast experience as physician and public health executive will be an invaluable asset as we work to modernize and save our treasured public hospital system."
"Under Mayor de Blasio's leadership, NYC Health + Hospitals has made progress in expanding primary care and addressing immediate fiscal challenges," said Dr. Mitchell Katz. "I'm committed to continuing these critical efforts to help preserve Health + Hospitals' essential safety net mission and improve access to healthcare services for all New Yorkers."
"I am delighted that Dr. Katz has agreed to serve as President and CEO. His extraordinary experience and expertise make him an outstanding choice to lead the transformation moving full-steam ahead," saidDr. Herminia Palacio, Deputy Mayor Palacio for Health and Human Services. "He always keeps his patients front and center as a practicing physician. This makes him uniquely positioned to keep the transformation focused on patients, families and communities."
NYC Health + Hospitals Interim President and CEO Stanley Brezenoff said, "Mayor de Blasio has chosen an exceptionally skilled, experienced physician leader to run New York City's public healthcare system. I will leave this interim assignment knowing we are putting the future of this essential organization in very capable hands. I am confident Dr. Katz is the right person to continue the good work we have achieved to drive organizational excellence, adopt operational efficiencies and build a financially sustainable system that continues to deliver on the fundamental promise of our mission to care for all, without exception."
Gordon Campbell, Chair of the NYC Health + Hospitals Board of Directors, said: "NYC Health + Hospitals is fortunate to have someone of the caliber of Dr. Katz who has had a distinguished career in public health. I am confident that the City will be well-served with him at the helm of our public healthcare system. On behalf of the Board of Directors, we look forward to considering his nomination by Mayor de Blasio."
"I want to welcome Dr. Mitch Katz back to Brooklyn. His impressive experience leading the second largest hospital system in the nation should prepare him well for taking charge of NYC Health + Hospitals. I look forward to partnering with him," said Jill Furillo, Executive Director of New York State Nurses Association.
"Dr. Mitch Katz revolutionized Los Angeles County's public healthcare system. He led the charge in implementing the Affordable Care Act, delivering more services to more patients than ever before, including providing permanent supportive housing to the homeless. In many respects, he is without peer as a transformational leader and practitioner in the public sector. It has been an honor and a privilege to work with him over the last seven years, but LA's loss is New York's gain. I wish Dr. Katz well as he brings his expertise and compassion to serving the people of New York," said Los Angeles County Board of Supervisors Chairman Mark Ridley-Thomas.
"Dr. Mitchell Katz is an outstanding, nationally renowned leader whose career has been marked by his deep devotion to serving the neediest patients and communities," said Greater New York Hospital Association president Kenneth E. Raske. "Mitch's health care management skills will be a tremendous asset to Health + Hospitals, and New York's entire health care community is thrilled by his selection."
"I am personally and professionally delighted that Dr. Mitch Katz will be coming home to lead our public hospitals. Mitch is a brilliant and creative leader who drives complex systems effectively. He is also a fundamentally decent man who cares deeply for the communities NYC Health + Hospitals serves. Montefiore stands ready to help Mitch any way we can," said Dr. Steven Safyer, CEO and President of Montefiore Medicine.
"It is hard to imagine a healthcare leader better suited to lead NYC Health + Hospitals than Dr. Mitch Katz. Dr. Katz has an impressive track record for accomplishing real and sustainable change, always grounded by his passion for improving health and health equity for patients and for the community," said Cindy Mann, former deputy administrator of the Center for Medicare & Medicaid Services and director of the Center for Medicaid and CHIP Services within CMS during the Obama Administration.
NYC Health + Hospitals is the largest public healthcare system in the nation, with a $7.2 billion budget and serving more than a million New Yorkers annually in more than 70 patient care locations across the five boroughs. A robust network of outpatient, neighborhood-based primary and specialty care centers anchors care coordination with the system's trauma centers, nursing homes, post-acute care centers, home care agency, and MetroPlus health plan—all supported by 11 essential hospitals. Its diverse workforce of more than 42,000 employees is uniquely focused on empowering New Yorkers, without exception, to live the healthiest life possible. Since Mayor de Blasio launched One New York Health + Hospital's Transformation Plan in April 2016, the public health system exceeded its FY17 $770 million gap-closing plan by $120 million in revenues and savings.
About Mitchell Katz
Dr. Katz is a highly experienced public healthcare executive and physician with a track record of achieving measurable results throughout his career.
Mitch is currently the Director of the Los Angeles County Health Agency, a newly created agency that combines the Departments of Health Services, Public Health, and Mental Health into a single entity so as to provide more integrated care and programming within Los Angeles. The Agency has a budget of 7 billion dollars, 28,000 employees, and a large number of community partners. For the past five years Dr. Katz served as the Director of the Los Angeles County Department of Health Services (DHS), the second largest public safety net system in the United States. During this time, he created the ambulatory care network and empaneled over 350,000 patients to a primary care home. He eliminated the deficit of DHS through increased revenues and decreased administrative expenses, and used the new ACA funding to pay for a modern electronic health system, Orchid, which has now been implemented in 90% of DHS clinical sites. He has moved over 1000 medically complex patients from hospitals and emergency departments into independent housing, thereby eliminating unnecessary expensive hospital care and giving the patients the dignity of their own home. Dr. Katz continues to see patients every week as an outpatient physician at Edward R. Royal Comprehensive Health Center and sees patients on the inpatient medicine service at LAC+USC, Harbor-UCLA, and Olive View-UCLA Medical Centers.
Before he came to Los Angeles Dr. Katz was the Director and Health Officer of the San Francisco Department of Health for 13 years. He is well known for funding needle exchange, creating Healthy San Francisco, outlawing the sale of tobacco at pharmacies, and winning ballot measures for rebuilding Laguna Honda Hospital and San Francisco General Hospital. He is a graduate of Yale College and Harvard Medical School. He completed an internal medicine residency at UCSF Medical School and was an RWJ Clinical Scholar.
He is the Deputy Editor of JAMA Internal Medicine, an elected member of the National Academy of Sciences (previously the Institute of Medicine) and the recipient of the Los Angeles County Medical Association 2015 Healthcare Champion of the year.
Mitch was born and raised in Brooklyn. He and his partner have two children.