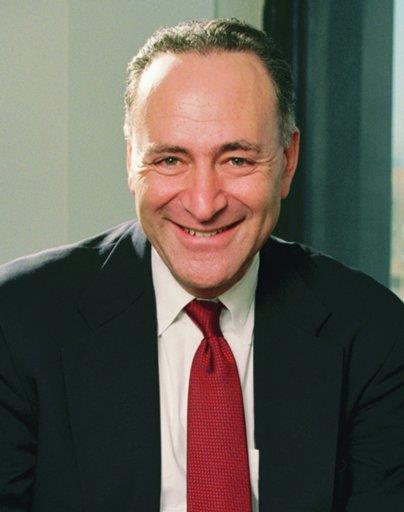 IN WAKE OF HARVEY & IRMA, SCHUMER URGES FTC TO LAUNCH A 'GOUGE WATCH' TO PREVENT 'STICKY' GAS PRICES FROM NOT GOING DOWN AS FAST AS THEY WENT UP; PRICES SHOT UP FAST AS STORMS MOVED IN—THEY MUST MOVE DOWN JUST AS QUICKLY AS SUPPLY INCREASES & FEAR ABATES
Senator Says Storms Have Receded, Feds Have Released 4.5 Million Barrels Of Oil Reserves & Suppliers Are Back On Line; Prices Must Fall As Fast As They Rose; Feds Must Watch Industry Like A Hawk
Average Price of Regular Gas in Albany -Schenectady-Troy: $2.712, In Binghamton: $2.757, In Buffalo-Niagara Falls: $2.757, In Rochester: $2.761, In Syracuse: $2.739, In Utica-Rome: $2.764 & In the NY Metro Area: $2.712
Schumer: After Disasters, Gas Prices Should Fall As Fast As They Rose
On the heels of an August and early September that saw gas prices soar because of Hurricanes Harvey and Irma, U.S. Senator Charles Schumer is asking the feds today to establish a 'gouge watch' effort.
"In terms of this nation's supply and demand for gasoline, Hurricanes Harvey and Irma were short-term disruptions that really shouldn't have a long term impact on prices at the pump," said U.S. Senator Charles Schumer. "Gas prices should come back down to earth just as fast as they went up, but right now, my worry is they will not fall as fast as they should. That is why I am asking the FTC to launch a 'gouge watch' with oil producers, transporters and refiners alike."
In his request to the Federal Trade Commission (FTC), Schumer notes the quick rise in New York gas prices at the pump both ahead of and during these two hurricanes, but notes the potential of 'sticky,' or very slow fall of those same prices now that things are getting back to normal, also known as market-clearing.
"The only thing that makes a devastating natural disaster worse is the idea that that big oil could be making a buck off of the mess and hosing consumers, even after the storm has passed us by and the recovery has begun," Schumer added.
According to the American Automobile Association (AAA), the average price of gas in New York is currently $2.815, which is an increase from before the storms. Schumer said that the FTC should prepare to take a close look into whether big oil companies are taking advantage of consumers.
Schumer also noted that while the Federal Trade Commission has limited powers to gas price gouging, there is precedent for the agency to put pressure on the petroleum industry and see results, and that is what a Schumer-requested 'gouge watch' would do.
For example, in 2011, in light of increases in crude oil and refined petroleum product prices, the FTC opened an investigation to "determine whether certain oil producers, refiners, transporters, marketers, physical of financial traders, or others engaged or were engaging in practices that have lessened or may lessen competition." That same investigation also looked at the wholesale price of crude. The goal of the investigation was to determine if Section 5 of the FTC Commission Act was being violated.
The investigation also involved coordination with the Bureau of Economics and resulted in several actions and scrutinized transactions within the crude industry that aimed to maintain a truly free market. Schumer says a 'gouge watch' by the FTC would put big oil on notice and allow the new administration and consumers to feel more confident about the return of price stability within the fuel market.
Current gas prices, according to AAA, for Upstate New York compared to a month are listed below.
| | |
| --- | --- |
| Albany-Schenectady-Troy (Regular Gas) | |
| Current Average | Month Ago Average |
| $2.712 | $2.351 |
| | |
| --- | --- |
| Binghamton (Regular Gas) | |
| Current Average | Month Ago Average |
| $2.757 | $2.351 |
| | |
| --- | --- |
| Buffalo-Niagara Falls (Regular Gas) | |
| Current Average | Month Ago Average |
| $2.757 | $2.424 |
| | |
| --- | --- |
| Rochester (Regular Gas) | |
| Current Average | Month Ago Average |
| $2.761 | $2.415 |
| | |
| --- | --- |
| Syracuse (Regular Gas) | |
| Current Average | Month Ago Average |
| $2.739 | $2.378 |
| | |
| --- | --- |
| Utica-Rome (Regular Gas) | |
| Current Average | Month Ago Average |
| $2.764 | $2.424 |
| | |
| --- | --- |
| New York Metro Area (Regular Gas) | |
| Current Average | Month Ago Average |
| $2.712 | $2.351 |

###