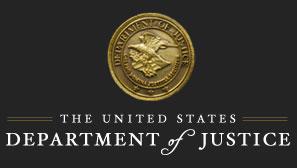 Maine Fisherman Sentenced for Illegally Trafficking American Eels
Tommy Water Zhou was sentenced to 18 months' imprisonment for trafficking juvenile American eels (also called "elvers" or "glass eels") in violation of the Lacey Act, following a hearing in federal district court in Norfolk, Virginia. The sentence was announced by Acting Assistant Attorney General Jeffrey H. Wood for the Justice Department's Environment and Natural Resources Division and United States Attorney Dana J. Boente for the Eastern District of Virginia.
In April 2017, Zhou pleaded guilty to violating the Lacey Act by purchasing elvers in interstate commerce that had been harvested illegally in Virginia. Court documents indicate that Zhou trafficked at least 105 pounds of elvers, which is approximately 210,000 individual eels, and worth more than $105,000. Zhou subsequently sold these elvers to international buyers and exported them from the United States.
"Illegal harvesting and trafficking of wildlife represents a dire threat to our critical ecosystems," said U.S. Attorney Boente. "This case reaffirms our commitment to protecting Virginia's natural resources for future generations."
"Wildlife trafficking is a transnational crime which devastates species both at home and abroad," said Acting Chief of Law Enforcement for the U.S. Fish and Wildlife Service Ed Grace. "In this case, the defendant chose to illegally harvest American eels – the only species of freshwater eel found in North America. This animal plays a critical role in native ecosystems and is negatively impacted by the illegal wildlife trade. We will continue to work with the Department of Justice and others to protect this species and bring those who choose profit over preservation to justice."
Eels are highly valued in East Asia for human consumption. Historically, Japanese and European eels were harvested to meet this demand; however, overfishing has led to a decline in these populations. As a result, harvesters have turned to the American eel to fill the void.
American eels spawn in the Sargasso Sea, an area of the North Atlantic Ocean bounded on all sides by ocean currents. They then travel as larvae from the Sargasso to the coastal waters of the eastern United States, where they enter a juvenile or elver stage, swim upriver, and grow to adulthood in fresh water. Elvers are exported for aquaculture in East Asia, where they are raised to adult size and sold for food. Harvesters and exporters of American eels in the United States can sell elvers to East Asia for more than $2,000 per pound.
Because of the threat of overfishing, Atlantic Coast states have cooperatively prohibited elver harvesting in all but two states: Maine and South Carolina. Maine and South Carolina heavily regulate elver fisheries, requiring that individuals be licensed and report all quantities of harvested eels to state authorities. Other Atlantic coast states, including Virginia, have commercial fisheries for adult or "yellow" eels.
This case was the result of "Operation Broken Glass," a multi-jurisdiction U.S. Fish and Wildlife Service investigation into the illegal trafficking of American eels. To date, the investigation has resulted in guilty pleas for 18 individuals whose combined conduct resulted in the illegal trafficking of more than $5 million worth of elvers.
"In this operation, we are actively partnering with state and federal law enforcement agencies in order to protect our nation's marine resources from further exploitation." said Acting Assistant Attorney General Wood.
Operation Broken Glass was conducted by the U.S. Fish and Wildlife Service and the Justice Department's Environmental Crimes Section in collaboration with the Maine Marine Patrol, South Carolina Department of Natural Resources Law Enforcement Division, New Jersey Division of Fish and Wildlife Bureau of Law Enforcement, Connecticut Department of Energy and Environmental Protection Conservation Police, Virginia Marine Resources Commission Police, USFWS Refuge Law Enforcement, National Oceanic and Atmospheric Administration Office of Law Enforcement, Massachusetts Environmental Police, Rhode Island Department of Environmental Management Division of Law Enforcement, New York State Environmental Conservation Police, New Hampshire Fish and Game Division of Law Enforcement, Maryland Natural Resources Police, North Carolina Wildlife Resource Commission Division of Law Enforcement, Florida Fish and Wildlife Conservation Commission, Yarmouth, Massachusetts Division of Natural Resources, North Myrtle Beach, South Carolina Police Department and the Atlantic States Marine Fisheries Commission.
The government is represented by Environmental Crimes Section Trial Attorneys Cassandra Barnum and Shane Waller, and Assistant United States Attorney Joseph Kosky.