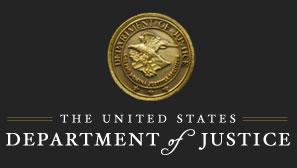 Former Rutherford County Tennessee Sheriff's Chief Administrative Deputy Sentenced on Federal Corruption Charges
Former Sheriff Previously Sentenced to 50 Months; Sheriff's Uncle Also Sentenced in Scheme
A former Rutherford County Sheriff Chief Deputy of Administration was sentenced to 15 months in prison for operating a private electronic cigarette company in the county jail for personal gain, announced Acting Assistant Attorney General Kenneth A. Blanco of the Justice Department's Criminal Division and U.S. Attorney Don Cochran of the Middle District of Tennessee.
Joe L. Russell II, 50, of Murfreesboro, Tennessee, was sentenced by Senior U.S. District Judge Marvin E. Aspen of the Northern District of Illinois, sitting by designation in the Middle District of Tennessee, who also ordered Russell to pay $52,500 in restitution and to forfeit $52,234.41, an amount equal to all proceeds he received from JailCigs. Russell, along with former Rutherford County Sheriff Robert F. Arnold, 41, of Murfreesboro, Tennessee, and Arnold's uncle, John Vanderveer, 59, of Marietta, Georgia, were named in a 14-count indictment in May 2016 charging them with honest services fraud, mail fraud, wire fraud, bribery concerning federal programs, extortion under color of official right, obstruction of justice and conspiracy.
According to his plea, Russell admitted to forming JailCigs along with Arnold and Vanderveer in 2013; using Arnold's official position as Sheriff of Rutherford County to benefit JailCigs by allowing the company's electronic cigarettes to come into the Rutherford County jail as non-contraband and to be distributed by county employees; taking steps to disguise their involvement in the company; and misrepresenting the benefits that Rutherford County was supposedly receiving from JailCigs.
Arnold pleaded guilty in January 2017 and was sentenced in May 2017 to 50 months in prison and ordered to pay $52,500 in restitution and to forfeit $66,790. Vanderveer was sentenced in September 2017 to one year plus one day in prison for attempting to tamper with a key witness in the investigation by asking her to destroy incriminating documents related to the scheme. Vanderveer was ordered to pay $52,500 in restitution.
The FBI and Tennessee Bureau of Investigation investigated the case. Trial Attorneys Mark J. Cipolletti of the Criminal Division's Fraud Section and Andrew Laing of the Criminal Division's Public Integrity Section and Assistant U.S. Attorney Cecil W. VanDevender of the Middle District of Tennessee prosecuted the case.