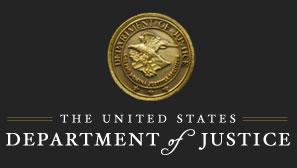 Irish National Sentenced to 18 Months in Prison for Trafficking of Endangered Rhinoceros Horn Libation Cup
Michael Hegarty, an Irish national, was sentenced in federal court in Miami, Florida, to 18 months in prison to be followed by three years of supervised release for fraudulently facilitating the transportation and concealment of a libation cup carved from the horn of an endangered rhinoceros, announced Jeffrey H. Wood, Acting Assistant Attorney General for the Environment and Natural Resources Division of the Department of Justice, and Benjamin G. Greenberg, Acting U.S. Attorney for the Southern District of Florida. U.S. District Court Judge Donald M. Middlebrooks issued the sentence.
In May 2014, a federal grand jury sitting in Miami, Florida, returned an indictment charging Michael Hegarty and a co-defendant with conspiring to traffic a libation cup made from an endangered rhinoceros. In addition to conspiracy, the indictment included charges for smuggling the cup from the United States to the United Kingdom and for obstructing justice by attempting to influence a witness. According to the indictment, and a Joint Factual Statement by the parties, Hegarty, along with co-defendant Richard Sheridan and a Florida resident, purchased the libation cup from an auction house in North Carolina. The group then transported the cup to Florida and falsified documentation to smuggle the cup from the United States.
"Today's sentencing is the result of the strong partnership between the U.S. Fish and Wildlife Service and the Justice Department to investigate and prosecute those who engage in illegal trade in protected wildlife," said Acting Assistant Attorney General Wood. "There is a frequent connection between wildlife smuggling and organized criminal activity. We remain committed to combatting this illegality."
"We are committed to combatting international wildlife trafficking," said Acting U.S. Attorney Benjamin G. Greenberg. "Our experienced prosecutors and law enforcement agents will continue to investigate, prosecute and bring to justice any violators who exploit and destroy protected wildlife for profit."
"Today's sentencing sends a message to those who profit from the slaughter and illicit trade of wildlife, you will be caught and prosecuted no matter where you hide," said Ed Grace, Acting Chief of Law Enforcement for the U.S. Fish and Wildlife Service. "I commend our special agents who connected this defendant to the Rathkeale Rovers, a transnational organized crime syndicate responsible for trafficking endangered rhinoceros products worldwide. Thank you to our international counterparts and to the U.S. Department of Justice for arresting, extraditing, and prosecuting this individual."
Rhinoceros are an herbivore species of prehistoric origin and one of the largest remaining mega-fauna on earth. They have no known predators other than humans. All species of rhinoceros are protected under United States and international law. Since 1976, trade in rhinoceros horn has been regulated under the Convention on International Trade in Endangered Species of Wild Fauna and Flora (CITES), a treaty signed by over 170 countries around the world to protect fish, wildlife and plants that are or may become imperiled due to the demands of international markets.
Hegarty was arrested on Jan. 19, 2017, in Belgium pursuant to an international Red Notice submitted by the United States. Red Notices are requests, coordinated through Interpol, that ask member countries to provisionally arrest fugitives within their borders so that extradition proceedings can begin. In July 2017, Belgium extradited Hegarty to the United States for his role in trafficking a libation cup made from the horn of an endangered rhinoceros. Hegarty's arrest and subsequent extradition were part of "Operation Crash," a nationwide crackdown on criminal trafficking in rhinoceros horns.

Federal courts determine a sentencing range for every convicted defendant. This range is found by applying factors that are common for particular crimes, as set out in the United States Sentencing Guidelines. Although guidelines are advisory, many courts do sentence within the range. Hegarty's eighteen month sentence was the high end of the sentencing range for his crime.
Operation Crash was conducted by the Department of the Interior's Fish and Wildlife Service (FWS), in coordination with other federal and local law enforcement agencies including U.S. Immigration and Customs Enforcement's Homeland Security Investigations. A "crash" is the term for a herd of rhinoceros. Operation Crash was an effort to detect, deter and prosecute those engaged in the illegal killing of rhinoceros and the unlawful trafficking of rhinoceros horns.

The investigation by was handled by the U.S. Fish & Wildlife Service, the U.S. Attorney's Office for the Southern District of Florida and the Justice Department's Environmental Crimes Section. Assistant U.S. Attorney Thomas Watts-FitzGerald and Trial Attorney Gary N. Donner of the Justice Department's Environmental Crimes Section are in charge of the prosecution.