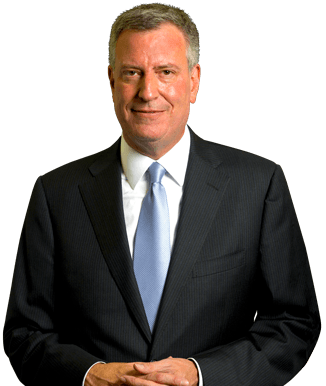 Mayor de Blasio Opens One of Largest Manufacturing Spaces in Decades, Building 77 in Brooklyn Navy Yard
$185 million transformation of World War II-era storage facility will be home to 3,000 jobs
Mayor Bill de Blasio recently celebrated the opening of the Brooklyn Navy Yard's Building 77, a one-million-square-foot, state-of-the-art manufacturing building and the largest on the 300-acre industrial campus.
The $185 million renovation of the World War II-era storage facility is a milestone for the growth of manufacturing in New York City and the de Blasio administration's push to build 100,000 good-paying jobs across a range of industries. Located within the City-owned Brooklyn Navy Yard at the corner of Vanderbilt and Flushing Avenues, the 16-story building will be home to more than 3,000 jobs.
Building 77 is the centerpiece of a billion-dollar investment currently underway at the Yard to add over two million square feet of space and 10,000 good-paying jobs by 2020.
"As a major driver of quality middle-class jobs, investing in and expanding manufacturing space is key to growing and diversifying our economy and boosting wages. As we re-open this historic building we re-imagine New York's future," Mayor Bill de Blasio said.
Long a symbol of America's industrial might, the Brooklyn Navy Yard is among the country's leading urban manufacturing centers, with some 400 companies currently employing more than 7,000 New Yorkers. In the next three years, that number is expected to more than double to 17,000 accessible middle-class jobs.
Images of Building 77 can be found here.
The Mayor's New York Works plan to create 100,000 good-paying jobs in 10 years is squarely focused on industrial and manufacturing jobs: Twenty thousand of the total jobs, or one fifth, are in the industrial and manufacturing sectors.
Building 77, the largest in the Navy Yard, includes a 60,000-square-foot ground-floor Food Manufacturing Hub that will serve as a public gateway to the Yard, as well as the central gathering point for Navy Yard businesses, employees and guests.
Built in 1942 as part of the U.S. Navy's wartime mobilization, the huge concrete building had been a storage facility with fewer than 100 jobs and no windows on its first 11 floors. More than three million pounds of concrete have been removed and replaced with 50,000 square feet of windows as one component of the upgrade.
The project is financed through a combination of BNYDC investment, $73.1 million of Mayoral City Capital and $7.1 million from the City Council and Brooklyn Borough President.
"Let there be no doubt that in cities across America both existing manufacturing firms and new enterprises need modern space to thrive," said Alicia Glen, Deputy Mayor for Housing and Economic Development. "Industrial jobs are a springboard for social mobility for many New Yorkers, in particular those without advanced educational degrees."
"The Brooklyn Navy Yard has been a center of innovation, growth and opportunity for New York City for more than 200 years, and Building 77 represents an incredible continuation of that tradition," said Brooklyn Navy Yard president and CEO David Ehrenberg. "Building 77 will contribute tremendously to our mission of creating accessible middle-class jobs and securing a vibrant future for manufacturing in Brooklyn. We are grateful to Mayor de Blasio and his team for their unflagging commitment to this bold project and look forward to building on this national model for urban manufacturing we have created together."
"The opening of Building 77 at the Brooklyn Navy Yard is a watershed moment that symbolizes the remarkable strength of New York City's manufacturing sector and the businesses that are driving its growth," said Hank Gutman, chairman of the Brooklyn Navy Yard. "Thanks to the leadership of Mayor de Blasio and BNYDC President David Ehrenberg, the Brooklyn Navy Yard today remains a wellspring of both innovation and inspiration more than two centuries after it first opened."
"The NYCHA community's entrepreneurial skills, and delicious food businesses will be on full display in the new Brooklyn Navy Yard," said Sideya Sherman, executive vice president for community engagement and partnerships at NYCHA, which is partnering with BNYDC to create the first permanent retail opportunity for participants of its Food Business Pathways program, as part of the ground-floor Food Manufacturing Hub. "Created as part of the NextGen NYCHA strategic plan, Food Business Pathways is a proven business program for residents to enter and succeed in the food industry. Now, through this exciting partnership, NYCHA residents will run a food kiosk in the Brooklyn Navy Yard's new building 77, creating new opportunities for public housing residents' small businesses to thrive."
"EDA's investment of $2M in floors 6 & 7 of Building 77 supports the critical need for space to accommodate new and expanding manufacturers and start-up companies creating approximately 400 jobs to benefit the region," said Linda Cruz-Carnall, Economic Development Administration Regional Director.
"Empire State Development is proud to support Building 77 and the creation of state-of-the-art, modern manufacturing spaces for New York's industrial firms," said ESD President, CEO, and Commissioner Howard Zemsky. "These industries spur innovation, opportunity and jobs for New Yorkers across all skill levels and today's opening will build on Brooklyn's strength as a manufacturing hub both for New York City and across the state."
"I am pleased to see the opening of Building 77 at the Brooklyn Navy Yard," saidU.S. Senator Kirsten Gillibrand. "This investment in the Navy Yard will create good-paying jobs and help New York's manufacturing sector continue to grow."
"Today is truly a milestone in the reactivation of the Brooklyn Navy Yard into a center of 21st century industrial jobs," said Council Speaker Melissa Mark-Viverito. "The City Council is proud to have contributed to the transformation of Building 77 from an empty windowless warehouse to a thriving center for hundreds of businesses and 3,000 new jobs. The Brooklyn Navy Yard continues to be a great success story for New York's manufacturing and industrial sector, which provides good middle-class jobs and helps support our growing economy."
"The opening of Building 77 signals loud and clear that Brooklyn is open for business," said Brooklyn Borough President Eric L. Adams. "Our borough's proud manufacturing history is seeing a new chapter written at the Brooklyn Navy Yard, attracting makers and innovators creating high-quality local jobs and local products of which we can be proud. My administration's investment in the transformation of Building 77 is a down payment on economic development that we will ensure produces benefits for all Brooklynites."
"The rise of Building 77 represents the type of sustainable and community-centered development that we need in Brooklyn. It will bring real jobs and economic opportunity to the hardworking people of the adjoining communities and throughout the borough. The completion of this state-of-the-art project represents another strong step in the right direction for the Navy Yard," said U.S. Representative Hakeem Jeffries.
"The recent renovation of Building 77 will contribute to the ever-growing success of Brooklyn Navy Yard as a hub of local economic activity," said U.S. Representative Nydia M. Velázquez. "I am pleased to see that this easily accessible building will bring over 3,000 new jobs as well as numerous minority and women-owned businesses to Brooklyn. New York City has long been a place of successful industry and Building 77 is continuing that legacy."
"The work Brooklyn Navy Yard is doing will not only revitalize an important community space, but provide jobs and programming for the downtown community," said Assembly Member Walter Mosley. "I have always been proud to support the investments the Navy Yard makes in our neighborhood, and I know that this building is the next step in a journey that will continue to benefit Brooklynites."
"The Brooklyn Navy Yard has undoubtedly led New York City's economic development. The companies at the yard have not only created incredible innovations, they have also created an abundance of well-paying jobs. Building 77 is yet another great addition to the Brooklyn Navy Yard's offerings. I look forward to the positive contributions this new building will bring to the community's economic vibrancy," said Assembly Member Joseph R. Lentol.
"Building 77 is a shining example of what creative design and innovation can look like in New York City in 2017," said Council Member Stephen Levin. "This project is set to generate 3,000 jobs once at full capacity and 10,000 more jobs by 2020, many of which will be filled by local Brooklyn residents. I look forward to working with the Navy Yard's on-site Employment Center, and members of the community, to ensure we are connecting residents of the 33rd District to good-paying manufacturing jobs right here in Brooklyn."
"The Brooklyn Navy Yard is a national model of industry and innovation that has been integral to the revitalization of our community and the City of New York as a whole," said Council Member Laurie A. Cumbo. "The grand opening of Building 77 as a state-of-the-art manufacturing hub is a catalyst for future economic and employment opportunities – particularly for the neighboring residents, minority, and women business owners. I am proud of our continued and collective investment into the modernization of this public space, which has been a gateway for everyday New Yorkers to realize the American dream, support their families, and strengthen our city's economy."
"Manufacturing jobs have been a vehicle for social mobility in our country for decades. Unfortunately, the trend in New York City has for too long been a loss of manufacturing. I am excited by the opening of Building 77, which will provide a million square feet of much-needed manufacturing space and add 3,000 new jobs to our city's economy, all with a strong commitment to diversity," said Council Member Robert E. Cornegy, Jr.
"Building 77 is another great achievement for the BNY, contributing to its global reputation as a model for urban economic development in the age of innovation," stated Kathryn Wylde, President & CEO of the Partnership for New York City.
As the result of an aggressive, ongoing marketing program undertaken in cooperation with real estate brokerage firm Jones Lang LaSalle, the Brooklyn Navy Yard has signed leases with 29 tenants. They will occupy approximately 62% of Building 77's available space, with nearly finalized deals with tenants for an additional 20% of the building.
Russ & Daughters, one of New York's most prominent and historic food institutions, will be the ground floor's anchor tenant. The company will lease 15,000 square feet, which will house its food making operation as well as a bagel and lox takeout counter. The space will enable Russ & Daughters to dramatically expand its food production and distribution capabilities, while providing its first retail presence outside Manhattan. Other food production companies will lease spaces throughout the floor, representing a diverse and complementary array of food and beverage offerings.
"In the Brooklyn Navy Yard and the incredible team at BDNYC, we found much more than a landlord; we found champions who want us to succeed. The Yard's resources, employment center, prime location, vibrant community and market stability are unparalleled," said Niki Russ Federman, a fourth generation co-owner of Russ & Daughters.
"One of the main reasons we chose to be in the Brooklyn Navy Yard was because of its unique status as a city-owned non-profit. Like Russ & Daughters, Building 77 is part of the city's history, its fabric, and its future. It felt like the natural home for Russ & Daughters' newest base of operations and growth for generations to come," said Josh Russ Tupper, also a fourth generation co-owner of Russ & Daughters.
The building's upper-level tenants include Catbird, a boutique jewelry manufacturer; Lights Up!, a lighting manufacturer and designer; Situ Studio, a metal fabricator and long-time Navy Yard tenant; and Care Of, manufacturers of personalized daily vitamin packs. The apparel firm Lafayette 148 will move its entire operation to Brooklyn after 20 years in Soho, bringing a range of jobs from senior executives to cut and sew workers, all of which offer a pathway to the middle class.
"We are excited to join the thriving tech and creative community in Brooklyn and contribute to the renaissance of the Brooklyn Navy Yard," said Deirdre Quinn, co-founder and CEO of Lafayette 148. "This location allows us to bring employees together on one floor with room to grow and to move closer to our warehouse and fulfillment center at the Brooklyn Army Terminal. This provides a more seamless and interactive work environment with the kinds of efficiencies that are essential to success in a very competitive industry."
"I am very appreciative of the Navy Yard and its mission to support entrepreneurs who emphasize local hiring and good-paying jobs that provide a pathway to the middle class," said Rawlston Williams, owner and founder of The Food Sermon. "Our new location will allow us to offer our delicious West-Indian inspired cuisine to a new customer base, expand business significantly and increase production of our bottled hot sauces right here in Brooklyn while joining other like-minded innovators as part of an incredible Food Manufacturing Hub."
Building 77 is drawing businesses to New York City and allowing businesses already here to expand. Of 29 tenants, three are from outside the five boroughs, four held leases elsewhere in the Navy Yard, two are new businesses, and 20 relocated from or are expanding within the City.
The building's two top floors offer 360-degree views of Manhattan and Brooklyn, with four terraces per floor. International startup incubator 1776 will build its first New York City campus on the top floor, bringing new entrepreneurs to the Yard and supporting existing businesses. For smaller tenants, floors four through nine offer a "prebuilt program" under which the Navy Yard will deliver turnkey units ranging in size from 2,000 to 14,000 square feet. The third floor will be developed as a next-generation Career and Technical Education program in partnership with the New York City Department of Education.
In addition to the City's investment, and BNYDC's equity contribution, BNYDC secured $72 million in financing through a loan from New York City Regional Center and $8.3 million of New Markets Tax Credits from Dudley Ventures, Goldman Sachs and BRP Companies. Goldman Sachs is also serving as the New Market Tax Credit investor on the project. The U.S. Economic Development Administration contributed $2.0 million and the NYS Regional Economic Development Council contributed $1.0 million. A grant from Deutsche Bank and smaller other sources rounded out the capital stack.
"The redevelopment of Building 77 represents an incredibly ambitious project that set a new standard for the catalytic, job-creating potential of adaptive reuse. The team at the Brooklyn Navy Yard Development Corporation has delivered once again," said Margaret Anadu, Goldman Sachs Managing Director and head of the Urban Investment Group. "We are proud to be part of the public-private partnership that turned this vision into reality, for the benefit of New Yorkers for generations to come."
"New Markets Tax Credits played a critical role in funding the financing gap and made it possible for Building 77 to proceed," said Jim Howard, CEO of DV Community Investment, an NMTC Program allocatee. "DVCI is proud to have been a part of this transformative project that serves as an economic catalyst and brings much needed full-time, quality jobs to the local community."
"Building 77 is primed to transform the Navy Yard and introduce thousands of new jobs into the already thriving Brooklyn community," said Steven Smith, BRP Companies Managing Director and Chief Investment officer for BRP CDE LLC. "The entrepreneurial energy that drives BRP is perfectly aligned with the environment of innovation and collaboration Building 77 will cultivate. Our investment in the Navy Yard demonstrates BRP's commitment to the economic growth of Brooklyn and its evolution into a hub for technology, manufacturing, and creativity."
"The New York City Regional Center is proud to have provided more than $300 million of financing over the past eight years to assist the transformation of New York City's largest industrial park and further the Brooklyn Navy Yard Development Corporation's charge to spur economic development and create new jobs," said Paul Levinsohn, Co-Managing Principal of the New York City Regional Center. "The Navy Yard's focus on launching local businesses and generating jobs in the surrounding community perfectly complements our mission of helping create quality jobs for New Yorkers."
"Deutsche Bank is proud to have supported the Brooklyn Navy Yard in the development of the Navy Yard Commons in the newly-opened Building 77," said John Kimble, Vice President of Philanthropic Initiatives in Deutsche Bank's Community Development Finance Group. "The Commons advances the Navy Yard's important place-making efforts that will create high quality local jobs and expand opportunities for entrepreneurship for communities that have been historically marginalized. We applaud the Brooklyn Navy Yard for this important work, and we extend our congratulations and support to the Navy Yard's innovative entrepreneurs and workers who are helping to lead New York City into a more equitable and prosperous future."
This is such a big boost for middle class job creation in New York," said Jonathan Bowles, Executive Director of the Center for an Urban Future. "The City's manufacturing sector has more promise today than at any point in decades, but it'd be impossible to capitalize on all this potential without modern new spaces like Building 77."
"We are so excited to see Building 77 reopen its doors and join the ranks of the over 300 industrial businesses located in the Brooklyn Navy Yard," said Downtown Brooklyn Partnership President Regina Myer. "We have a thriving innovation ecosystem here in the Brooklyn Tech Triangle, and large-scale manufacturing facilities like this help translate innovation into thousands of jobs and much-needed economic activity."
"We are thrilled to see the reactivation of Building 77 and what it will mean for job creation in Brooklyn," said Brooklyn Chamber of Commerce President and CEO Andrew Hoan. "Today's manufacturers need modern facilities to keep up with Brooklyn's continuous innovation and ever-evolving industrial sector. The ground floor Food Manufacturing Hub, featuring the over-100-year-old New York City business Russ & Daughters as its anchor, is a powerful addition to this development. As the Brooklyn Chamber celebrates its Centennial in February, we look to the borough's long-standing businesses and celebrate their growth, and we congratulate David Ehrenberg and his team for more successful growth at Brooklyn Navy Yard."
"First BLDG 92, now Building 77, and soon with the Wegman's supermarket, the Brooklyn Navy Yard is opening up the southern edge of the Yard to the community in a way that is truly revolutionary," said Community Board 2 Chairperson Shirley A. McRae, said Community Board 2 Chair Shirley A. McRae.