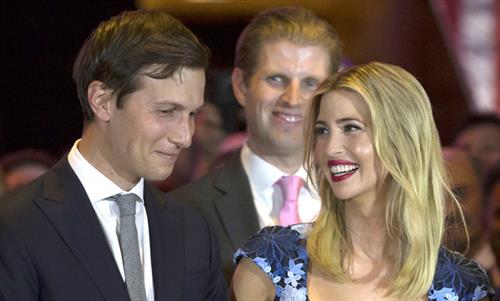 Jared Kushner Sued for Allegedly Overcharging Tenants (Again)
Trump's son-in-law illegally deregulated sixteen Brooklyn Heights apartments, says a new lawsuit
by Steven Wishnia
Six tenants in a Brooklyn Heights building owned by Trump son-in-law Jared Kushner are alleging that he illegally deregulated their apartments and charged them "far in excess of the legal rent," according to a class-action lawsuit filed in Kings County Supreme Court November 14.
The Kushner Companies, according to the lawsuit, failed to register sixteen of the eighteen apartments in the six-story brownstone at 18 Sidney Place as rent-stabilized when it acquired the building from Brooklyn Law School in 2014. "When they purchased the building, they were supposed to return all the units to rent stabilization," says Aaron Carr, executive director of the Housing Rights Initiative, which developed the lawsuit. "They never did."
The lawsuit "is without merit," a Kushner Companies spokesperson told the Voice. "The previously empty apartments at 18 Sidney Place were fully renovated to bring them to fair market value in accordance with applicable New York State rent regulations. The only predatory conduct here is that of Aaron Carr, who seems bent on attacking responsible owners in the press for the sake of sensational headlines."
"That's not what the law says," responds Roger Sachar of Newman Ferrara, the law firm representing the tenants. "The statute says nothing about renovations."
If 18 Sidney Place had been a regular apartment building when Kushner acquired it, he could have legally deregulated vacant apartments by doing renovations that cost enough to get the rent over $2,500. But because it was being used as student housing, Sachar explains, it was temporarily exempt from rent regulations — and "when that temporary exemption ended, rent stabilization was supposed to snap back into place."
When that happens, Sachar says, a new legal rent is supposed to be set based on a formula ordained by the state Division of Housing and Community Renewal (DHCR): the last legal rent, adjusted for rent increases allowed by the city Rent Guidelines Board, plus a 20 percent vacancy bonus. The last legal rents were $1,000 a month or less, Carr says. By that formula, he calculates, an apartment that cost $1,000 when Brooklyn Law School acquired the building in 1991 would be around $2,200 now.
"But instead, Mr. Kushner cheated," says Lucas Ferrara of Newman Ferrara. "He decided to sidestep rent stabilization." With Kushner touting 18 Sidney Place as "uniquely Brooklyn," apartments there have been advertised at $2,600 for a studio and $3,800 for a one-bedroom.
The suit is demanding that the legal rent be calculated and the overcharges refunded to tenants, says Sachar. Because it's a class-action suit, the tenants can't claim penalties or punitive damages.
The building's recent history represents a classic predatory landlord pattern: Buy a rent-stabilized building, empty it out, renovate the apartments and rent them at luxury prices, and then flip the building for a rapid and massive profit. Kushner acquired 18 Sidney Place in February 2014 as part of a six-building portfolio he bought from Brooklyn Law School for $36.5 million, according to the Real Deal. As they were 90 percent vacant, he didn't have to empty them. Last July, also according to the Real Deal, he put 18 Sidney Place and a smaller building at 144 Willow Street on the market for $20 million. He'd paid $7.6 million for them.
Fraudulently high rents have become increasingly common since the state forced New York City to allow the deregulation of vacant apartments above a certain rent in 1997. Once apartments are deregulated, their rents are no longer required to be registered with DHCR, so it is much harder for tenants to detect fraud. The most common method is inflating the cost of improvements on vacant apartments, as legal increases are pegged to the amount spent on renovations. In 2014, the state Tenant Protection Unit (TPU) said "landlords did not have proof of apartment improvements used to justify rent increases" in 40 percent of the 1,100 such cases it had audited in its first two years.
"To tell that Kushner Companies is engaging in potential illegal misconduct, all you need is Google," says Carr. Housing Rights Initiative, which the former state assembly staffer founded about two years ago, analyzes publicly available data to look for indicators of illegal rent increases and identify specific buildings where rent fraud is likely.
The 18 Sidney Place lawsuit grew out of an investigation of 89 Hicks Street, another building Kushner bought from Brooklyn Law School. After getting tenants there to obtain their apartments' rent histories from DHCR, Housing Rights Initiative helped them file a similar class-action suit in August.
The problem with the state's approach to enforcing the laws against rent fraud, says Carr, is that it is "reactive," depending largely on complaints from tenants. But that requires tenants to know their rights and the law, and to be willing to get into a prolonged bureaucratic and legal battle with their landlord. In apartments that have been deregulated, tenants have no legal right to renew their lease, and it is likely that their lease will expire long before their case is resolved.
"Most landlords get away with this," Carr says. "There is no consequence or penalty." The TPU has taken small steps toward broader investigations, but tenant advocates say the understaffed agency doesn't do things like investigate other properties owned by a landlord found to have charged illegally high rents in one building.
With rent fraud so widespread, Carr says, the reactive model "is not going to capture the systemicness of the problem." DHCR, he adds, should view landlords who have not registered rents as "low-hanging fruit" and audit them.
Housing Rights Initiative is also urging the state to investigate all the fifty-plus buildings the Kushner Companies own in the city.