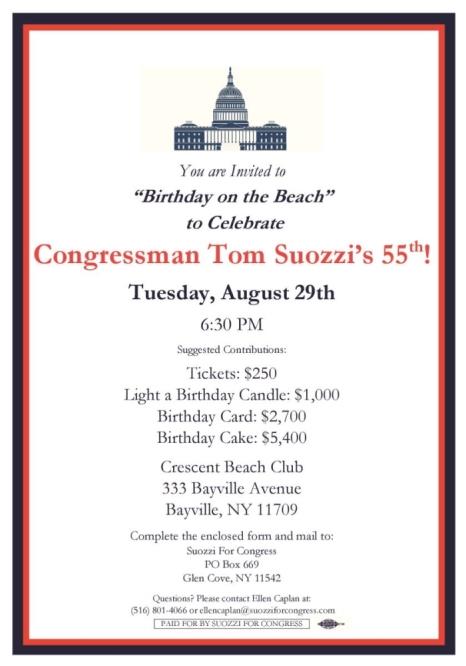 Hi Friends,
The National Republican Congressional Committee (NRCC) has announced that they are targeting me for defeat next year. They have already spent money in the district against me.
I love serving in Congress and every day I strive hard to do what you sent me here to do. I serve on both the Foreign Affairs and Armed Forces Committees. I am Vice-Chair of the Problem Solvers Caucus, a group of 22 Democrats and 22 Republicans who are all committed to finding common ground to get something done for our constituents instead of yelling and screaming at each other in this highly-partisan atmosphere.
I serve as Co-Chair of the Quiet Skies Caucus as well as Co-Chair of the Long Island Sound Caucus. I worked hard to double the funding to protect the Long Island Sound, I co-sponsored a bill with Sen. Kirsten Gillibrand that would require the Merchant Marine Academy to comply with Title IX, and I am proud to have worked across party lines to increase funding to clean up the Navy/Grumman Plume.
Please help me to send a strong message that I have strong support by coming to my birthday party on August 29th.
Please see my invitation below. To RSVP complete the response form and email it to ellencaplan@suozziforcongress.com. To contribute now please click here
Tom
Tuesday, August 29th
6:30pm
Crescent Beach Club
333 Bayville Avenue
Bayville, NY 1709
Minimum $250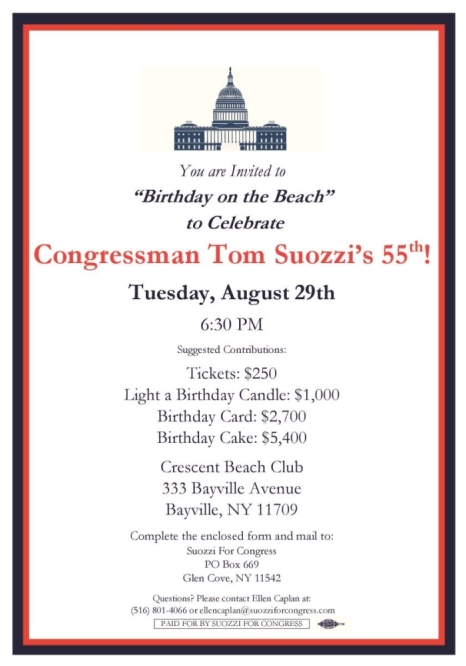 Paid for by Suozzi for Congress
Suozzi for Congress
PO Box 669
Glen Cove NY 11542 United States