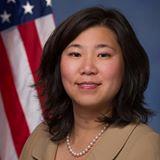 Meng-Stefanik Legislation to Combat Flood Damage Caused by Ice Jams Signed into Law
U.S. Reps. Grace Meng (D-NY) and Elise Stefanik (R-NY) recently announced that their measure to combat flood damage caused by ice jams has been signed into law by President Obama.
The measure was signed as part of the Water Infrastructure Improvements for the Nation Act (S. 612) which funds water-related projects throughout the United States.
Ice jams occur when chunks of ice in a river are blocked by obstructions – a bridge, rocks, logs, etc. – and build up to form an ice dam. When this occurs, flooding can be caused upstream from the blockage, and again downstream when the ice breaks up.
"Flooding produced by ice jams is a serious problem that creates damage to properties in New York State and throughout the country," said Congresswoman Meng. "As a result, it costs our economy millions of dollars each year. We must do more to address this problem and the many hardships it creates. Our measure would help accomplish that goal and I'm extremely pleased that it has been signed into law."
"Ice jams can cause flooding that damages our communities and threatens the safety of families that live near water," said Congresswoman Stefanik. "I was pleased to work with Congresswoman Meng on this important initiative to help mitigate damage in the North Country. By preventing these ice jams we can better protect the safety of North Country families and prevent unnecessary destruction."
The Meng/Stefanik legislation would permit the U.S. Army Corps of Engineers to pursue new projects and technologies that are designed to prevent and mitigate flood damage associated with ice jams.
The Water Infrastructure Improvements for the Nation Act overwhelmingly passed the House and Senate earlier this month.