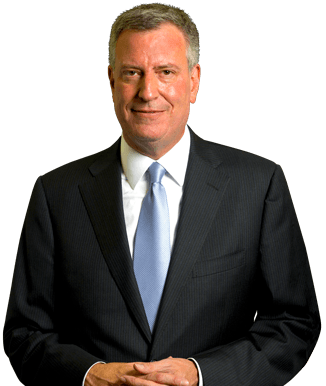 De Blasio Administration Provides Gifts to Over 2,500 Children and Families in the Foster Care or Shelter System this Holiday Season
Secret Snowflake - a holiday initiative by NYC Service in partnership with ACS, DSS, DHS, and OCDV - engages City and private sector employees to answer hand written letters and provide gifts for New York City children and families
Mayor Bill de Blasio recently announced that NYC Service mobilized over 1,600 volunteers to answer more than 2,500 letters from NYC children and families in need and provide them with gifts during the holiday season through the Secret Snowflake initiative. This initiative relies on the support of Mayor's Office staff, private sector employees across 15 NYC businesses, and a dozen NYC organizations to provide some holiday cheer for thousands of youth and families in the City. Throughout the last four years, Secret Snowflake has served over 9,000 New York City children through letters and in kind donations.
"The holidays can be a critical time for those in need and remind us to be thankful and share that gratitude with our fellow New Yorkers," said Mayor Bill de Blasio. "Secret Snowflake has grown tremendously and continues to be an inspiration to our staff and our City to give back and make this season brighter for someone else. We are committed to supporting our City's children and I want to thank the over 1,600 volunteers who answered letters, as well as all the NYC organizations who donated gifts and resources to make the holiday season special for thousands of children and families in need."
"Secret Snowflake brings New York City residents together during the holidays to support children and youth in need," said NYC Chief Service Officer Paula Gavin. "The partnership and support from City agency partners, businesses, and every day New Yorkers across the City continues to make it possible for NYC Service to grow Secret Snowflake and support children and families during the holidays. We are honored to be an office that inspires others to volunteer and serve each other during the holiday season and beyond."
Every holiday season, the Secret Snowflake initiative relies on the support of the City agency partners for success. The Administration for Children's Services (ACS), the Department of Social Services (DSS), the Department of Homeless Services (DHS), and the Mayor's Office to Combat Domestic Violence (OCDV) collect letters from children and families served by their agencies before the holiday season. NYC Service engages mayoral and private sector employees to volunteer to answer these letters and purchase gifts. In addition, other NYC businesses and organizations across the City provide in kind donations to serve additional children and families. This year, 2,300 in kind donations were collected to serve additional children and families.
"The holidays are a special time to spread joy and cheer to children and families in need," saidAdministration for Children's Services Commissioner David Hansell. "Secret Snowflake brings New Yorkers together to take the time to make a child feel special. I want to thank NYC Service for their commitment to giving back to our young people in care."
"This is a reminder of the wonderful generosity of New Yorkers and the dedication of our staff to helping survivors of domestic violence rebuild their lives," saidDepartment of Social Services Commissioner Steven Banks. "By participating in this activity with our City partners, we are bringing holiday joy to children who have endured incredible hardship."
"Thanks to NYC Service's Secret Snowflake initiative, more than 1,000 children experiencing homelessness will receive toys, books, clothing and school supplies this holiday season," said Department of Homeless Services Administrator Joslyn Carter. "Homelessness affects every neighborhood in our City, and we are grateful for New Yorkers' dedication to spreading the holiday spirit through generosity and compassion for neighbors in need."
"The holidays are a precious time of year for so many, and children especially enjoy opening presents from their parents, loved ones and friends," said Mayor's Office to Combat Domestic Violence Commissioner Cecile Noel. "While every family may not be in a position to buy gifts, the Secret Snowflake program ensures that more children are able to open a gift each year, and enjoy the spirit of the season."
The Mayor's Office for International Affairs also engages the diplomatic community in service during the holidays. This year, participants included representatives from the Consulates General of Belize, Finland, Germany, Lebanon, Singapore, Slovakia, South Africa, Sweden, Switzerland, and the United Arab Emirates. Representatives from the Permanent Missions of Afghanistan, Andorra, Austria, Chile, Finland, France, Germany, Italy, Liberia, Nepal, Poland, Singapore, Sweden, Switzerland, Vanuatu, as well as, the European Union Delegation to the United Nations also participated.
"Each holiday season, the Mayor's Office for International Affairs activates the world's largest diplomatic and consular community to support New Yorkers in need through the Secret Snowflake initiative," said Mayor's Office for International Affairs Commissioner Penny Abeywardena. "This year, representatives from more than 25 countries collected gifts to bring joy to over 165 youth and children and their families. We are grateful for this opportunity to connect our international partners with the local communities of New York City in the spirit of service and giving."
NYC Service actively recruits corporate partners and local businesses to fulfill the holiday wishes of children in need. Companies engage their employees to volunteer and answer hand written letters from children, while local businesses donate toys and books to supplement answered letters and serve additional families.
2017 Corporate Partners (Employees Answered Letters):
Brookfield
HBO
Medley
Mizuho
M&T bank
Neuberger Berman
New York Times
New York City Football Club
Revlon
Swarovski
Tumblr
Turner Construction
Yelp
2017 In-Kind Donors:
Akashic Books
Archipelago Books
Artist & Craftsman Supply: Long Island City and Park Slope
Brooklyn Sports Entertainment
Europa Editions
Greenlight Books
Globant
HarperCollins
HBO
Macy's
Mayor's Office International Affairs
"As the longest corporate partner of the Secret Snowflake program, Brookfield is once again very proud to partner with NYC Service and the Mayor's Office on this impactful initiative," said Katie Kinney, Head of Corporate Social Responsibility for Brookfield in New York. "Brookfield aims to promote and support local philanthropy and volunteerism among its employees, and Secret Snowflake is a great example of how NYC Service helps us do it."
"As an independent bookstore in Brooklyn, we've received so much from our city and our community, and we're always looking for ways to give back," said Jessica Stockton Bagnulo and Rebecca Fitting, Co-Owners of Greenlight Bookstore in Brooklyn. "We were honored to work with NYC Service to facilitate the donation of over 900 books to NYC kids -- because we know what the gift of a book can do. We're overwhelmed by the generosity of our customers who worked with us to make this donation, and thrilled to imagine books getting into the hands of kids this holiday season. It's good to be a part of a great city, and to know we could help to make it a little brighter this year."
"It's a part of HBO's mission to serve its community and the many homes in which it is welcomed into, especially during the holidays," said Pam Hacker, Director of Corporate Social Responsibility at HBO. "This holiday season, HBO plans to continue its ever-growing relationship with the Alice Branch Family Shelter. Last year, in partnership with the Department of Homeless Services, HBO employees transformed Alice Branch's Communal Space. This year, our employees will throw a holiday party in the recently renovated space, as well as provide gifts to the children living in the shelter through the NYC Service Secret Snowflake Program. Our employees and our company are always looking to give back."
"Medley is proud to participate in the annual Secret Snowflake gift-giving initiative and support New York City's children and youth this holiday season," said Brook Taube, CEO of Medley Management Inc.
"Our employees are quick to participate in big numbers to help fellow New Yorkers in need, especially underserved children and families," said Lesley Palmer, Managing Director, Community Relations, Mizuho Americas. "Thank you NYC Service for giving the Mizuho Cares initiative such a great way to facilitate the generosity of our employees and bring the spirit of the season to some of the community's most vulnerable children."
"At M&T Bank we believe in supporting the communities we do business in," said Jonathan Vazcones, Assistant Vice President/Community Reinvestment. "Participating this year in Secret Snowflake fits perfectly into our community reinvestment initiatives and are proud to have partnered with a shelter in the Bronx. We look forward to making a difference in the lives of many families through this one act of kindness."
"As a charter member of NYC Service's Good for Me, Good for My City campaign, NYCFC is proud to participate in NYC Service's Secret Snowflake for the second year in a row," said Paul Jeffries, New York City Football Club (NYCFC) Director of Community Development. "We are always looking for ways to bring together our staff, fans, players and partners to support the local NYC community. Last year, we fulfilled over 100 wishes and we look forward to bringing more smiles to kids' faces this holiday season."
"Our employees have shown great enthusiasm for this program in years past because it provides a very tangible opportunity to help brighten the holidays for disadvantaged young people in our City," said Ellen Shultz, Executive Vice President, Talent & Inclusion, The New York Times Company. "We're happy to be involved."
"As a proud New York start-up we love to give back to the wonderful city we live in," said Megan Leet, Head of Experience and Events at Tumblr. "Tumblr has always supported and contributed to various communities on our platform and beyond. NYC charities are near and dear to our hearts and giving gifts to children is not only fun but so rewarding for our team,"
"I applaud all of the volunteers who participated in Secret Snowflake, answering letters and providing gifts for children in need across our city, said Brooklyn Borough President Eric Adams. "The spirit of the season is lifted higher by generous New Yorkers who give their time and resources to help make the holidays a little brighter for everyone."
"The holiday season can be a very difficult time for many families in New York, especially those who are in shelters, and I want to commend the Mayor and the city for their work to make the Secret Snowflake program a success," said Council Member Mathieu Eugene. "This initiative is a very special way of bringing holiday joy to underserved members of the community, and we owe a debt of gratitude to the volunteers and city agencies that make it happen."
"For many New Yorkers, the holiday season can be a particularly difficult time of year," said Council Member Stephen Levin. "For the last four years, NYC Service has organized volunteers to help bring holiday cheer to some of our most vulnerable families through the Secret Snowflake initiative. This year, New Yorkers heeded the call to service once again. With the help of city employees, corporate partners and NYC businesses, the Secret Snowflake initiative provided thousands of presents and letters to NYC residents. I want to thank Mayor De Blasio, the corporate partners and the volunteers who made this initiative a success this year."
About NYC Service

NYC Service, a division of the Office of the Mayor, promotes volunteerism, engages New Yorkers in service, builds volunteer capacity, and mobilizes the power of volunteers and national service members to impact New York City's greatest needs. To learn more about NYC Service and connect to volunteer opportunities across New York City, visit nyc.gov/service.