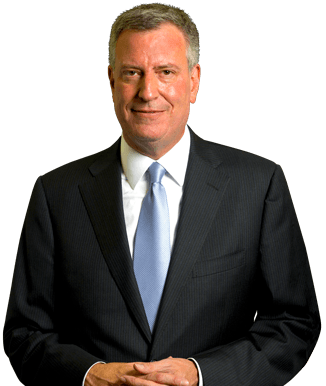 New York Harbor: Healthier Than It's Been in More Than a Century
City has developed nation's most ambitious green infrastructure program and wastewater upgrades; nearly 4,000 curbside rain gardens built across city; green infrastructure also managing stormwater at city parks, playgrounds, schools and housing developments
Map of green infrastructure locations can be found here; photos of green projects and New York Harbor are Available on DEP's Flickr Page
NEW YORK—Mayor de Blasio recently announced that with the continued expansion of the nation's most ambitious and aggressive green infrastructure program and ongoing upgrades to the City's wastewater system, testing confirms that New York Harbor is cleaner and healthier today than it has been in more than a century. The health of New York Harbor has been monitored continuously since 1909. Today, DEP scientists regularly collect water samples from 89 stations throughout the Harbor and its tributaries, and those samples are analyzed for 27 separate parameters. Key indicators of water quality, including concentrations of bacteria and nitrogen continue to drop, while dissolved oxygen is on the rise.
By the end of the year there will be nearly 4,000 curbside rain gardens constructed across the city, in addition to green infrastructure managing the stormwater that falls on City parks, playgrounds, schools and housing developments. DEP is also investing billions of dollars to upgrade the wastewater collection system to ensure the maximum amount of wastewater receives treatment during rainfall, while moving forward with plans to construct overflow retention tanks for the Gowanus Canal, as well as proposing storage tunnels for Newtown Creek and Flushing Bay. The New York City Harbor Water Quality Report can be found here.
"As a coastal city, a healthy New York requires a healthy harbor," said Mayor de Blasio. "We have made remarkable progress cleaning up our waterways, with New York Harbor cleaner than it has been in over a century, and an ambitious $1.5 billion green infrastructure program underway. We are also spending billions to upgrade our wastewater system to ensure future generations can enjoy our harbor in the decades to come."
"Anecdotal evidence of whales, dolphins and seals returning to New York Harbor abound, and our testing confirms that the water in New York Harbor is cleaner today than it has been in more than a century," said DEP Commissioner Vincent Sapienza. "We look forward to continuing this important progress with community groups, elected officials, environmental organizations and our partners on the state and federal level."
More than 70 percent of New York City is covered with an impervious surface – such as an asphalt roadway, concrete sidewalk or a building's rooftop – which creates a tremendous volume of stormwater draining into the City's sewer system when it rains. DEP and partner agencies are engaged in a citywide effort to "green" the urban landscape, which will allow stormwater to be naturally absorbed into the ground. By keeping stormwater out of the City's combined sewer system, green infrastructure helps to reduce sewer overflows and improve the health of local waterways.
The ambitious $1.5 billion Green Infrastructure Plan includes nearly 4,000 curbside rain gardens constructed by the end of 2017, with thousands more to be built in the coming years. In addition, working with partner agencies, DEP has completed the construction of green infrastructure at 48 parks, playgrounds, schools and New York City Housing Authority (NYCHA) complexes. There are 24 parks, playgrounds, schools and NYCHA complexes under construction now, with green infrastructure installations being designed for nearly 200 additional facilities. In 2018, 300 additional sites will be added to the list for the construction of green infrastructure. DEP also administers a Green Infrastructure Grant Program to facilitate the construction of green infrastructure on private property. Thus far DEP has committed more than $15 million to 34 grantees who, in turn, have contributed $6.6 million in matching funds. In addition, over the next three years DEP will invest more than $200 million to continue to expand the Bluebelt system on Staten Island.
DEP is also investing billions of dollars to upgrade sewers and the wastewater collection and treatment system. This includes $240 million to separate the sewer system near the Gowanus Canal, Flushing Bay and Fresh Creek, $55 million to maximize the flow of wastewater to the treatment plants benefitting Westchester Creek and Flushing Bay, $455 million for an overflow tank and wetland restoration at Paedergat Basin, $30 million to construct a new interceptor sewer and improve flow adjacent to Powell's Cove and Flushing Bay, $210 million to upgrade a pumping station benefitting Coney Island Creek and $95 million to reduce overflows into Pugsley Creek. In addition, DEP is in the early stages of a nearly $1 billion project to build two overflow retention tanks adjacent to the Gowanus Canal, and has proposed storage tunnels, estimated to cost approximately $3 billion, for Flushing Bay and Newtown Creek.
In order to reduce nitrogen discharges to the Upper East River and Long Island Sound, DEP has also invested $1 billion to upgrade wastewater treatment plants, making New York City a regional leader in this effort. DEP has also invested nearly $500 million to reduce nitrogen discharges to Jamaica Bay.
"Investing in green infrastructure means building a healthier and more resilient city for future generations of New Yorkers," said NYCEDC President and CEO James Patchett. "We're proud to support DEP's efforts, which are improving the quality of our waterways and keeping New York City a leader in sustainability."
"In partnership with NYC Parks' Community Parks Initiative, DEP has brought more than $50 million in green infrastructure projects to formerly underserved parks across the city," said NYC Parks Commissioner Mitchell Silver. "Now, scores of neighborhood parks are home to beautiful greenery that also manages stormwater runoff, reducing sewer overflows from rainwater, improving air quality, and lowering summertime temperatures. That's something we can all be grateful for."
"New York Harbor is one of our greatest natural assets and its health is vital to our entire region," said Daniel Zarrilli, Senior Director for Climate Policy and Programs and the Chief Resilience Officer for New York City. "Today's announcement that the harbor is at its healthiest point in over a century is the result of unprecedented investment and action using natural solutions to clean New York Harbor and also address the growing risks of climate change. These efforts – part of the City's OneNYC program – demonstrate the type of leadership that is necessary to fill the void of federal climate leadership. Congratulations to DEP for helping to build a more sustainable and more resilient city for all New Yorkers."
"NYC has one of the most complex water systems in the country. Keeping our water clean and safe is not only important for the health of our city, but it's a reflection of the health of our planet," said Mark Chambers, Director of the Mayor's Office of Sustainability. "Today's DEP announcement illustrates how investment in green infrastructure can support and deliver a better quality of life for our residents."
"It is encouraging to see the City's sustainability initiatives successfully cleaning our waterways and green spaces, and I look forward to continuing to work with DEP, DOT and our other partners in government to make further progress in improving the natural environment throughout the five boroughs," said DDC Acting Commissioner Ana Barrio.
"Considering the lack of support the White House has shown when it comes to our infrastructure, we must do whatever we can, from our end," said Bronx Borough President Ruben Diaz Jr. "That is why investing time and resources into our infrastructure, through green programs that focus on using rain gardens to manage stormwater drainage, is so imperative. I want to thank DEP Commissioner Vincent Sapienza for developing programs such as this that help to make our water and our environment as a whole cleaner."
"I want to congratulate Commissioner Sapienza and DEP on the green infrastructure program and wastewater system upgrades. As a part of my 12-point plan to beautify the 12th Council District, I'm elated this project created 122 new curbside rain gardens, containing trees and plants that flourish in areas of heavy water flow. This project brings natural beauty and improves the quality of life for the residents in my district and throughout the city," said Council Member Andy King.
"I applaud New York City's ambitious citywide effort to improve water quality for all New Yorkers through its green infrastructure program. Using green infrastructure provides benefits that we find in nature, for example, in wetlands, which provide filtering and absorption," said EPA Regional Administrator Pete Lopez. "I am excited to see this practice is taking hold and becoming a mainstream approach across the country. The EPA actively encourages green infrastructure projects, including through the hundreds of millions of dollars we award each year to states to support both their clean water revolving loan funds and water quality planning programs, and through other targeted grants to communities."
"The Nature Conservancy applauds The City of New York's progress in preventing storm water pollution and its leadership in using green infrastructure to help address this outsized problem," said Bill Ulfelder, executive director of The Nature Conservancy in New York. "Healthy, clean waterways benefit all New Yorkers. The Nature Conservancy, through its work in New York City restoring harbor health with the Billion Oyster Project, planting over 25,000 trees with partners at Jamaica Bay, and mapping the city's green roofs, is a champion of the role of nature in cities. We are eager to continue to work with New York City as it expands its efforts to make our city a global leader in green infrastructure innovation."
"Hearing that New York's harbor is the cleanest it's been in more than a century is really great news for the environment, and it is a testament to the leadership of DEP," said Carter Strickland, the New York state director of The Trust for Public Land. "Today's announcement is the culmination of years of hard work by so many dedicated city employees and partner organizations, and a positive sign that these efforts are paying off. But as good as these results are, we need to keep working to make our harbor even cleaner. That's why the Trust for Public Land is honored to work closely with DEP to create green infrastructure playgrounds across the City. Our partnership has already built eleven green infrastructure playgrounds with four more in the works, and these green playgrounds will be capturing roughly 9 million gallons of storm water per year – using innovative practices that help to mitigate flooding and pollution."
"The Jamaica Bay Ecowatchers commend Commissioner Sapienza and DEP on the green infrastructure program and wastewater system upgrades, and on the impacts that these actions are having on the waters of Jamaica Bay," said Dan Mundy, Jamaica Bay Ecowatchers. "Members of our organization fish, kayak and scuba dive the waters in and around Jamaica Bay and are reporting first-hand the significant and positive changes that these initiatives are having on the waters and habitat of Jamaica Bay. We look forward to working with the Commissioner and DEP on continuing to find ways to build on these successes."
"The Bronx River Alliance is thrilled that New York Harbor is on the rebound," says Maggie Scott Greenfield, Executive Director of the Bronx River Alliance and Bronx River Administrator for NYC Parks. "As a public-private organization, we see the many ways that government and citizens working together can effect real change in their communities, from improving water quality to creating greater access to the waterfront. Citizen Scientists up and down the Bronx River monitor water quality, green infrastructure, and floatable trash. They also inform DEP about issues of local concerns so that together we can continue to make progress for a healthy harbor."
"Green Infrastructure is an essential piece of integrated climate adaptation and mitigation planning. With rising flood risks, increasing temperatures, and air pollution, the City must prioritize an aggressive expansion of Green Infrastructure in environmental justice communities facing disproportionate environmental burdens and climate vulnerabilities," said Eddie Bautista, Executive Director of the New York City Environmental Justice Alliance. "We look forward to continuing collaborations with DEP and community leaders to build equitable Green Infrastructure that enhances community resiliency and provides economic opportunities."
Thanks to our partnership and funding from DEP's Green Infrastructure Grant Program, the million plus visitors to The New York Botanical Garden learn about combined sewer overflows, permeable surfaces, and other sustainable practices that improve the health of waterways like our Bronx River," said Aaron Bouska, Vice President for Government and Community Relations at NYBG. "We applaud Mayor de Blasio, Commissioner Sapienza and the entire DEP team for their vision and dedication to complete projects that have such significant impact on the ecological health of New York Harbor."
"DEP's Green Infrastructure Grant Program takes a proactive approach to managing the city's combined sewage overflow, while empowering businesses like Brooklyn Grange to expand green spaces throughout New York City," said Anastasia Cole Plakias, Vice President at Brooklyn Grange Rooftop Farm. "Together, we can realize our vision of a greener and healthier City."
"Green infrastructure generates triple bottom line returns—managing stormwater in a cost-effective way, creating local employment opportunities, and mitigating the urban heat island effect—making New York City environmentally and economically sustainable," said Toby Sheppard Bloch, Chief Venture Officer at The HOPE Program & Sustainable South Bronx.
"This is a very exciting and promising time for New York City's urban environment, and it was wonderful to see first-hand how the Department of Environmental Protection is at the forefront of green infrastructure projects," said Nelson Villarrubia, Executive Director Trees New York. "Our waterways are an integral part of New York City's ecosystem, and as a result of the newly installed rain gardens across the city, New York Harbor is the healthiest it's been in centuries."