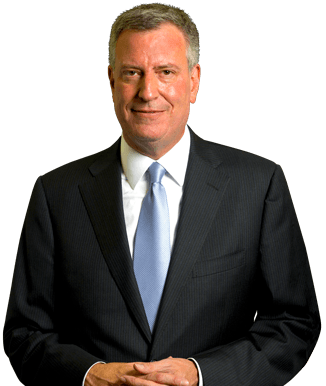 On IDNYC's Third Birthday, Card Remains Free with New Family-Friendly Benefits
Eight new benefit partners join dozens of returning partners to make IDNYC a must-have to affordably explore NYC
Mayor Bill de Blasio and Council Speaker Melissa Mark-Viverito recently announced that IDNYC – New York City's official, government-issued identification card – continues to be free for New Yorkers in the program's fourth year, and welcomes eight exciting new benefit partners to make living and playing in NYC more affordable for all locals. Already the largest local identification program in the nation with over 1.2 million cardholders, IDNYC's new 2018 benefits will encourage even more NYC residents to take advantage of discounted or free ways of enjoying their city, ranging from fitness and entertainment to travel and culture.
"IDNYC keeps getting better and better, with an ever expanding list of family-friendly benefits," said Mayor de Blasio. "The free card not only serves as identification that can be used to get vital health documents and access city services, but it is also a passport to explore our world-class cultural institutions. This expansion demonstrates the City's ongoing commitment to continually improve this already vital resource for New Yorkers."
"IDNYC, with over a million card holders, shows that there is a real need for a card that will allow New Yorkers to fully take part in what our City has to offer," said Speaker Melissa Mark-Viverito. "Ushering in its fourth year, I'm thrilled that these eight new partners will join in this program and I continue to encourage New Yorkers that if they haven't signed up for their IDNYC, to do so. I want to thank Mayor de Blasio, HRA and the Mayor's Office of Immigrant Affairs for their commitment to all New Yorkers and living up to its highest ideals about who we are as a City."
"For four years, IDNYC has embodied our truest ideals and values as a city – that everyone who calls New York City home can prosper here, while enjoying the world class cultural institutions, entertainment, and recreational activities that the five boroughs have to offer. I'm proud that we will continue to deliver on our ideals in 2018 and am thrilled to welcome our new partners on board!" said Richard Buery,Deputy Mayor for Strategic Policy Initiatives.
"We're ringing in IDNYC's third birthday with new benefits and new opportunities for New Yorkers of all ages to enjoy their city. Over 1.2 million card-carrying New Yorkers already know IDNYC is their key to City services and affordable fun across the five boroughs. No matter how you live or play, IDNYC helps you and your family take full advantage of what NYC has to offer," said Bitta Mostofi, Acting Commissioner of the Mayor's Office of Immigrant Affairs.
"We are proud to offer IDNYC, the largest local ID program in the nation, free for another year," said Department of Social Services Commissioner Steven Banks. "IDNYC provides the comfort and convenience of a valid municipal ID along with a wide range of benefits that make the City's vast cultural and entertainment resources more accessible to all New Yorkers."
"Cultural institutions across New York City have opened their doors to IDNYC cardholders, making cultural access a crucial part of this remarkable program," said Cultural Affairs Commissioner Tom Finkelpearl. "This expanded access for cardholders means that more New Yorkers from all backgrounds can take advantage of NYC's rich cultural offerings. With over 500,000 free memberships redeemed through IDNYC since the program started, this unique collaboration is helping to foster a more livable and equitable city."
"IDNYC continues to embody what this administration stands for: equity for all New Yorkers. It's free, available to all City residents, and enables equal access to our City's vast services and cultural opportunities," said Mayor's Office of Operations Acting Director Emily W. Newman. "Operations is proud to see IDNYC's continued growth and impact."
Eight new benefit partners join dozens of returning partners to provide something for New Yorkers of all stripes, including free access to NYC's premiere cultural institutions, health and fitness discounts, affordable family-friendly activities, and more.
New 2018 benefit partners include:
Aviator Sports and Events Center: Located in Floyd Bennett Field in Brooklyn, Aviator Sports and Events Center provides sports classes, clinics, party options and more for people of all ages. Bring your IDNYC card to ASEC to get 20 percent off a single one-year membership, and 15 percent off the cost of on-site parties.
Chelsea Piers Golf Club: The Golf Club at Chelsea Piers offers the unique opportunity to drive, chip and putt on a scenic Hudson River pier. Cardholders can enjoy a discounted 2-hour simulator session at the driving range for $75, including a ball card (a $30 value). Reserve your session at least 48 hours in advance by calling(212) 336-6400, and present your IDNYC card at the reception desk when you check in. Available on a seasonal basis, beginning March 2018.
Chelsea Piers Sky Rink: This twin-rink facility welcomes skaters of all ages and skating levels for general skating, figure skating, ice hockey, birthday parties and more. Bring your IDNYC card to the reception desk and two people can skate and rent skates for $18.
Entertainment Cruises: Entertainment Cruises provides dining with a view and sightseeing experiences. Enjoya 20 percent discount on select day and evening cruises. Bring your IDNYC card to the ticket booth, or go to nyc.gov/IDNYC for details on how to purchase online.
International Print Center: International Print Center is dedicated to the innovative presentation of prints by emerging, established, national, and international artists. IDNYC members receive a 1-year free $100-level membership, which includes a suite of benefits.
King Manor: King Manor was the home of Rufus King, a framer of the United States Constitution and an early voice in the anti-slavery movement. Enjoy a year-long admissions pass, discounted rates for concert and special events, a 10 percent discount in the museum shop, and one complimentary ticket to the annual holiday party.
SculptureCenter: The SculptureCenterprovides thought-provoking conversations, forums, workshops and exhibitions around contemporary sculpture. IDNYC cardholders receive free admission for two, invitations to openings and private closing receptions, priority access to ticketed events and a 10 percent discount at the museum store, excluding limited edition items.
SoHo Playhouse: SoHo Playhouse serves the downtown theater community as an historic 199 seat Off Broadway venue. IDNYC cardholders receive a 20 percent discount on tickets to all shows. Enter the IDNYC discount code when purchasing tickets on the SoHo Playhouse website; or show your IDNYC card at the Box Office.
Zipcar: Zipcar memberships enable New Yorkers to travel easily without owning a car. IDNYC cardholders can enjoya complimentary, one-year membership including a waived application fee, and 10 to 15 percent discounts on hourly driving rates Monday through Friday only.
For a full list of information on IDNYC benefits and effective dates for new discounts, please visit nyc.gov/IDNYC/benefits.
Mayor de Blasio and Speaker Melissa Mark-Viverito launched the IDNYC program in 2015 to break down barriers for New Yorkers, expanding access to the services, programs, and opportunities available to all residents across the five boroughs. IDNYC benefits every city resident, including the most vulnerable communities – the homeless, youth, the elderly, undocumented immigrants, the formerly incarcerated, and others who may have difficulty obtaining other government-issued ID. IDNYC serves as valid identification when interacting with the NYPD, grants access to all City buildings, functions as a library card across all three library systems, and more. The card's arts and entertainment benefits make taking advantage of NYC's myriad cultural gems more affordable for all families.
All city residents age 14 and above are eligible to get a municipal ID card, and enrollment is free for anyone who applies in 2018. All IDNYC applicants must have documentation that proves identity and residency in New York City. The City will protect the confidentiality of all IDNYC card applications and will not ask applicants about their immigration status. For more information on eligibility criteria, benefits, enrollment centers across the five boroughs, and more, applicants can visit nyc.gov/IDNYC or call 311.
A full list of IDNYC cultural institutional benefit partners includes:
American Museum of Natural History
BRIC
Bronx County Historical Society
Bronx Museum of the Arts
BAM (Brooklyn Academy of Music)
Brooklyn Children's Museum
Carnegie Hall
Center for Performance Research
Central Park Zoo (enrollment is only available at the Bronx Zoo)
China Institute
The Drawing Center
Film Forum
Flushing Town Hall
International Print Center
Jacques Marchais Center for Tibetan Art
King Manor
Lincoln Center for the Performing Arts
Metropolitan Museum of Art
Metropolitan Opera
Museum at Eldridge Street
Museum of Arts and Design
Museum of Chinese in America
Museum of Jewish Heritage
Museum of Modern Art
Museum of the City of New York
New York Aquarium (enrollment is only available at the Bronx Zoo)
New York Botanical Garden
New York City Ballet
New York City Center
MoMA PS1
Park Avenue Armory
Pregones Theater
Prospect Park Zoo (enrollment is only available at the Bronx Zoo)
The Public Theater
Queens Museum
Queens Theatre
SculptureCenter
Snug Harbor Cultural Center & Botanical Garden
St. George Theatre
Staten Island Museum
Studio Museum in Harlem
Sugar Hill Children's Museum of Art & Storytelling
Symphony Space
Wildlife Conservation Society at the Bronx Zoo
"I am delighted to celebrate the continued success of IDNYC as the program enters its fourth year," said Council Member Jimmy Van Bramer, Majority Leader. "Over 1.2 million New Yorkers have already taken advantage of all of the benefits IDNYC has, and I am excited to see the number of benefit partners increase in 2018 - including from our cultural institutions. I am especially proud that SculptureCenter in Long Island City will be a new IDNYC partner in 2018, and I encourage cardholders to take advantage of that phenomenal facility through their membership. I applaud the continued success of IDNYC and look forward to continuing to support its growth and expansion into the future."
"IDNYC's value to New Yorkers has increased every year since 2014 when I worked with Mayor de Blasio and Speaker Mark-Viverito to create the nation's most powerful municipal identification card," said Council Member Carlos Menchaca, Chair of the Immigration Committee. "Now, 1.2 million New Yorkers are registered and enjoying IDNYC benefits. The 2018 roster of new IDNYC partners adds another set of businesses and cultural institutions to the dozens already on board. If you don't have IDNYC, register. If you have IDNYC, please take advantage of the access and discounts it offers."
"IDNYC is four years old and still going strong," said Council Member Daniel Dromm. "For years, IDNYC has granted New Yorkers access to many programs and services that would otherwise be inaccessible to them, such as renting an apartment, acquiring prescription drugs and picking up children from school. Now the 1.2 million cardholders can enjoy free memberships and discounts offered by eight new benefit partners. As the lead sponsor of the legislation that created the identification card, I am delighted that IDNYC has benefited so many New Yorkers since its implementation."
"The expansion of IDNYC gives New Yorkers many more cultural attractions and places of interest to visit throughout the city," Council Member Alan Maisel. "I am especially pleased that the Aviator Sports Complex in Floyd Bennett Field located in my Council District is a new addition to this wonderful program."
"It is a pleasure to see a program enjoyed by so many New Yorkers just get better and better," said Council Member Corey Johnson, Chair of the Health Committee. "IDNYC is improving with age and I'm proud to see new benefit partners from my district, including Chelsea Piers, get involved for 2018. I'd like to thank Mayor de Blasio, Speaker Mark-Viverito, and all of the partners for making such an excellent program for our City possible."
"The IDNYC card has made our city more affordable, inclusive, and welcoming for all New Yorkers," said Council Member Rory I. Lancman. "As the program continues to add new benefits and services, I am particularly pleased that King Manor, located in my District, is one of IDNYC's new partners for 2018. This partnership will enable more New Yorkers to have access to King Manor and attend concerts and special events throughout the year. I encourage all New Yorkers to take advantage of this fantastic program and sign up for an IDNYC card."
"Providing New Yorkers with ready access to the Museum's science and education offerings and sharing world cultures and nature's beauty is at the heart of the Museum's mission," said Ellen V. Futter,President of the American Museum of Natural History. "In furtherance of this goal, we are very pleased to continue our participation in IDNYC, an extremely successful program that has helped the Museum extend access to even more New Yorkers."
"BRIC is proud to be an IDNYC Cultural Partner. This important initiative has helped us to grow and enhance our membership program by inviting people from across all five boroughs to make themselves at home at BRIC House," said Leslie Schultz, President of BRIC. "In 2018, BRIC will celebrate our 40th anniversary. We are excited to welcome new IDNYC members to join us during this special milestone year."
"We are proud to continue our ongoing support of the successful IDNYC program. With free one-year memberships to BAM, new IDNYC cardholders can access discounted tickets for a range of dynamic film and performance programs—meaning greater engagement with the arts, for a greater number of New Yorkers," said Katy Clark, President of BAM (Brooklyn Academy of Music.
"Brooklyn Children's Museum is delighted to provide free individual memberships through the IDNYC program. We are proud to be the home of first cultural experiences and the first museum membership opportunity for families in Central Brooklyn and beyond, and are pleased to have granted over 10,000 free memberships through IDNYC since 2015," said Stephanie Wilchfort, President and CEO of Brooklyn Children's Museum.
"The IDNYC program resonates with Carnegie Hall's goal of being a musical destination that is welcoming to all New Yorkers," said Clive Gillinson, Executive and Artistic Director of Carnegie Hall. "We are very happy to be among the organizations participating in this program which encourages people to engage with the incredible cultural opportunities found throughout New York City. We hope it inspires newcomers who might be discovering Carnegie Hall for the first time to develop a lasting relationship."
"King Manor Museum is excited to be part of IDNYC and looks forward to welcoming new members to our tours, concerts, craft workshops, and festivals," said Nadezhda Williams, Executive Director of King Manor Museum.
"The Drawing Center is proud to be an IDNYC Cultural Partner and delighted to have become a resource for more New Yorkers through the program," said Brett Littman, Executive Director of The Drawing Center.
"IPCNY is thrilled to participate in the rich cultural network that IDNYC offers residents from all New York City boroughs – we encourage new visitors to stop by, see our exhibitions, try their hand at printmaking, and take advantage of the special programming and discounts we offer members," said Judy Hecker, Director of International Print Center New York. We are right off the High Line in the heart of Chelsea's art district, so come make a day of it!"
"Beyond the increased visitors that IDNYC provides to small museums like the Museum of Chinese in America, IDNYC takes MOCA out of isolation opening our eyes to the vastness of our potential audiences," said Nancy Yao Maasbach, President of Museum of Chinese in America. "IDNYC marries the will, the hope, and the dreams of institutions, like MOCA, determined to make NYC the model global city open to all."
"The IDNYC program has brought new people to the Museum of Jewish Heritage – A Living Memorial to the Holocaust, enabling them to experience a spectrum of intriguing and meaningful exhibitions and programs," said Michael S. Glickman, President and CEO of the Museum of Jewish Heritage. "We look forward to welcoming more IDNYC cardholders in 2018 to become part of our Museum family."
"Access, inclusion, and the belief that culture belongs to everyone is at the heart of The Public Theater's mission and we are honored to partner with the NYC Department of Cultural Affairs as they commit to those same values through the IDNYC program," said Patrick Willingham, Executive Director of The Public Theater.
"SculptureCenter is pleased to offer benefits to IDNYC cardholders," saidMary Ceruti, Executive Director and Chief Curator of SculptureCenter. "With a commitment to connecting artists and audiences through our exhibitions and dynamic series of public programs and events, we are excited to welcome more New Yorkers and introduce them to the work of emerging and under-recognized artists."
"The Staten Island Museum is proud to be partnering with the City for the IDNYC initiative making the Museum accessible to all New Yorkers," said Janice Monger, President and CEO of the Staten Island Museum. "It is wonderful to see so many people from all over the city visit the Staten Island Museum to utilize their free memberships."
"Symphony Space was founded in the belief that the arts bring people together, transcend barriers, and celebrate both our similarities and our differences. As our 40th anniversary nears, that belief remains our guiding principle and is more important now than ever," said Kathy Landau, Executive Director of Symphony Space. "Our partnership with IDNYC is a superb manifestation of this ideal. Together, we are harnessing the power of the arts to inspire, engage, and build community."
"SculptureCenter is pleased to offer benefits to IDNYC cardholders," said Mary Ceruti, Executive Director and Chief Curator of SculptureCenter. "With a commitment to connecting artists and audiences through our exhibitions and dynamic series of public programs and events, we are excited to welcome more New Yorkers and introduce them to the work of emerging and under-recognized artists."