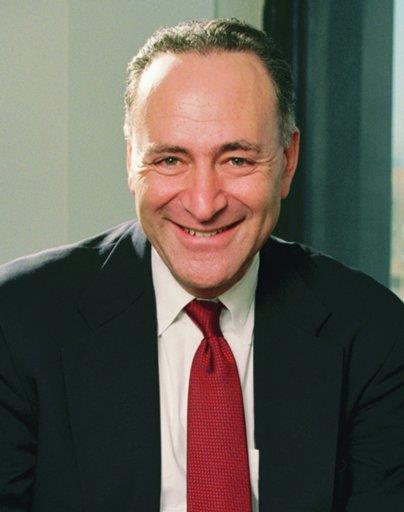 SCHUMER REVEALS: MTA/LIRR TRAINS CARRYING CARGO & SUPPLIES PASS THROUGH GARDEN CITY NEIGHBORHOOD WITHOUT EVEN THE SIMPLEST OF SAFETY PRECAUTIONS IN PLACE AT GRADE CROSSING; NO REAL WARNINGS OF ONCOMING TRAINS; CITING NEIGHBOR COMPLAINTS & ALONGSIDE DANGEROUS PHOTO PROVING POINT, SENATOR URGES SWIFT SAFETY ACTION BEFORE IT'S TOO LATE
Schumer Says Garden City Neighborhood That Includes Area Along Washington Street Is Made Less Safe Because A Rail Line Where Trains Sometimes Travel Has No Real Protections In Place To Warn Of Oncoming Trains
Schumer, Who Has Long Fought To Make Grade Crossings Safer, Reveals Shocking Photo Of Garden City Crossing As Train Passes; Senator & LI Residents Call On MTA To Review Grade Crossings & Work With Local Community On Protections
Schumer To MTA: It is Better To Be Safe Than Sorry With Garden City Grade Crossing
Standing alongside the rail tracks at Washington Avenue and St. James Street in Garden City, with a father who took a shocking photo that revealed an MTA train passing through the unprotected intersection while a green traffic light glows, U.S. Senator Charles E. Schumer warned about the dangers of this particular grade crossing. The senator pointed out that there are no real safety measures in place and demanded the MTA work with local community members on a solution before to prevent a future accident, injury or tragedy.
"They say a picture is worth a thousand words. Well, this photo here, of this less-than-safe intersection is worth a thousand reasons for the MTA to investigate, coordinate with the Garden City community and take measures to make it safer," said U.S. Senator Charles Schumer. "This photograph showing the train traveling through the intersection while the green traffic light signals cars to 'go' paints a dangerous picture of what could happen if, heaven forbid, a driver wasn't paying close attention or a runner was in their stride with their earbuds on. This Garden City intersection, as well as the one east of here at Clinton Road, are quite simply accidents waiting to happen and it's critical the MTA visit these sites immediately and work with neighbors and community leaders to make necessary safety improvements."
Schumer, standing alongside concerned neighbors, noted a recent incident in which a train traveled through the intersection while a green traffic light signaled drivers to proceed. Schumer noted this has happened before and that neighbors have made it clear: they want action. There is even video of a separate incident on YouTube where an MTA employee jumps out of the moving train to play the part of a grade crossing. Schumer, today, said that given all of this, it's better to be safe than sorry, and called on the MTA to visit the grade crossings and work with the local community to make the appropriate and necessary safety upgrades that protect the walkable Garden City neighborhood.
"You don't have to be a railroad engineer to figure out that this situation is a formula for disaster," said Schumer. "The MTA should move ASAP to get on the same page with the community and make the safety upgrades to these crossing that will keep residents safe and prevent a future tragedy."
According to the MTA, this particular train track—known as the Garden City-Mitchell Field Secondary-- is used to support and transport materials used for track work. The rail line spurs off the Hempstead LIRR commuter line and on to Washington Avenue in Garden City. The track then continues on to Nassau Community College and was used years ago when Ringling Brothers' Circus used the Garden City Yard to store boxcars. At the time, police would block off the grade crossings as the train pulled through, however, now that the tracks are used solely to support track work, police no longer block off this intersection or the intersections that follow the route: Clinton Road, and Quentin Roosevelt Boulevard.
'Operation Lifesaver,' a national nonprofit organization dedicated to rail safety education, reports a person or vehicle is hit by a train every three hours. Ninety five percent of all fatalities on U.S. railroads are due to people trying to beat a train at a crossing or walking on railroad tracks. Schumer said that many of these deaths are preventable. Across the country, there are 140,000 miles of railroad track and 212,000 rail-highway grade crossings. Approximately half of public rail crossings are 'active' crossings, which have either protective gates or flashing lights to warn whether a train is coming. The other half of public rail crossings are 'passive' crossings, which only have a cross buck sign at the crossing and drivers must slow down to look for an oncoming train. FRA safety data shows that nearly half of crossing collisions are at active crossings.
Between 2005 and 2014, there were 341 Railway Grade Crossing Incidents that resulted in 59 fatalities and 96 injuries in New York.
Schumer has a long history in pushing to improve rail grade crossings and in 2015 introduced the Highway-Rail Grade Crossing Safety Act, which would provide new resources to the Federal Railroad Administration (FRA), states and communities to make critical engineering and safety upgrades at rail crossings, like installing new lights and signals, particularly at accident-prone crossings. It would also provide grant funding to strengthen education and public awareness of grade crossing dangers, and for law enforcement to reduce violations of traffic laws at crossings.