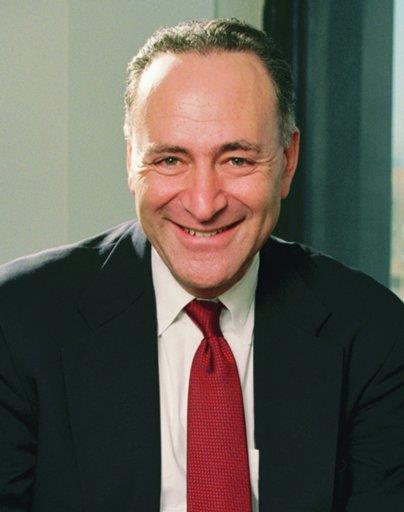 FOR 19 YEARS IN A ROW, DURING HIS FIRST YEAR AS U.S. SENATE DEM LEADER, SCHUMER COMPLETES TOUR OF ALL 62 NEW YORK COUNTIES; ANNUAL TOUR OF STATE FINISHES WITH VISIT TO COLUMBIA COUNTY – 2017 CONCLUDES WITH A TOTAL OF 107 VISITS TO UPSTATE NY & LONG ISLAND
During Schumer's 1998 Senate Election, He Made A Pledge To Visit Every Single New York County Each Year – After 19 Years, The Tradition Continues
Even As Senate Dem Leader, Schumer Staunchly Believes That Visiting Every Single New York County Is Essential To His Daily Work In U.S. Capitol
Schumer Leaves His Mark In All 62 Counties For 19th Year In A Row
U.S. Senator Charles E. Schumer, now the Senate minority leader today completed his 19th consecutive tour of all 62 New York State counties – an accomplishment that continues his track as the first and only New York State public official to visit every single county in New York each year he has been in office.
Over the course of the year, Schumer made over 107 visits to Upstate New York and Long Island. He visited counties in the Capital Region 14 times; Western New York 12 times; Central New York 11 times; the Rochester Finger Lakes Region 17 times; the Southern Tier 13 times; the Hudson Valley 17 times; the North Country 9 times; and Long Island 14 times.
"One of the very first promises I made in 1998 when I ran for the United States Senate was to visit all 62 counties in my first year in office. This is a tradition that I have continued every single year because of how much I learn, not to mention how much I enjoy doing it," said Senator Schumer. "Almost 19 years later, now as the Senate Minority Leader, a position with great responsibility, my mantra is clearer than ever: 'Senators who stay in Washington and never return home are simply not doing their job.' That's why I go to the street fairs, parades, graduations and all kinds of public events. Whether I'm in Allegany County or Franklin County, I'm always mixing and mingling with my constituents."
Upon completion of this legislative session, Schumer's office will issue its full report detailing his achievements from the past year.
Some of the highlights include:
Capital Region
Secured $33-Million Grant to Install Positive Train Control Between Poughkeepsie and Schenectady: In October 2016, Sen. Schumer brought Federal Railroad Administration (FRA) Administrator Sarah Feinberg to Schenectady to make his personal case for federal funding to help implement positive train control (PTC) on the Amtrak passenger line between Poughkeepsie and Schenectady. This life-saving technology is used to monitor train speeds and prevent collisions and derailments by controlling train movements through a system of integrated command, control, communications, and information technologies. In May 2017, the FRA announced a $33-million grant to the New York State Department of Transportation for the implementation of PTC along this busy passenger corridor.
Presented American Flag to Members of Niagara Engine 6 as They Opened New Firehouse: Niagara Engine 6 in the Village of Schoharie was severely flooded by Tropical Storm Irene in 2011. For many years, the Federal Emergency Management Agency (FEMA) refused to pay the cost of relocating the firehouse to higher ground. Sen. Schumer visited the damaged station immediately after the storm and made many direct calls to FEMA to advocate for a full relocation. In 2015, FEMA relented and announced that they would pay the full $6.5-million cost of building a new station on higher ground. This October, Schumer visited the new firehouse and presented the members with a U.S. flag that he had flown over the United States Capitol in honor of the new station opening.
Presented the Congressional Badge of Bravery to Troy Police Officer Joshua Comitale: In February, Sen. Schumer was honored to present the Department of Justice's Congressional Badge of Bravery to Troy Police Officer Joshua Comitale. On August 22, 2015, Officer Comitale, along with additional officers, responded to a call for an attempted carjacking. Officer Comitale was the closest officer and encountered a suspect who was on foot and matched the description of the suspect. Comitale's fellow officer, Chad Klein, was one of the initial backup officers to respond when he was shot in his shoulder by the suspect through the driver's side window of his vehicle. Officer Comitale, having witnessed the suspect firing on Officer Klein, returned fire, striking the suspect and causing him to fall. The suspect returned fire and more than 20 rounds were exchanged between the suspect and Officer Comitale. During this exchange of gunfire, Officer Comitale sustained wounds to both legs, which rendered him immobile. The actions of Officer Comitale demonstrate extraordinary bravery and a willingness to save the lives of others, without regard to his own personal safety.
Secured $460,000 for Albany Fire Department to Build a Mobile Fire Training Simulator: In July, Sen. Schumer visited the Brevator Street firehouse to publicly support the Albany Fire Department's (AFD) application to the Federal Emergency Management Agency for an Assistance to Firefighters Grant to create a state-of-the-art mobile fire training simulator. Currently, the AFD does not have their own fire training facility. Soon after Schumer's push, the department was awarded $460,000 to purchase a simulator. The unit will be built by Albany's own BullEx, which was founded by three Rensselaer Polytechnic Institute students in the early 2000s to produce a safe, reusable unit for fire extinguisher training. BullEx has grown into an international leader in fire training simulators, employing 61 people in Albany and many more around the globe.
Central New York
Established the Harriet Tubman National Historic Park, Officially Cementing the Iconic Auburn Resident's Legacy After Years of Work: Harriet Tubman, an abolitionist, and civil rights hero, spent the latter part of her life in Auburn, where she remained active in the women's suffrage movement and provided care for elderly African Americans. Shortly after being elected to the U.S. Senate, Sen. Schumer authored and passed legislation requiring the federal government to explore how to best preserve Tubman's legacy in Auburn. Eight years later, the National Park Service (NPS) released a study that Schumer used to craft a bill that would create a national historic park in Auburn honoring Tubman. This legislation passed Congress and was signed by President Obama in 2014, but still required subsequent land transfers and government approvals to officially establish the site as part of the National Park System. Schumer continued to work side-by-side with local officials, helping to expedite reviews and cut through red tape. In January 2017, the federal government finally signed the documents establishing the Harriet Tubman National Historic Park – not only solidifying Tubman's legacy for future generations but also creating a tourism boon for Auburn and the surrounding area.
Worked Closely With Lockheed Martin in Syracuse to Secure Largest Award in Plant History: After intervening to help convince Lockheed Martin to keep its Salina facility open in 2013, Sen. Schumer vowed to work with the company to maintain its footing as one of the region's largest private sector employers. To that end, Schumer helped the company advance its Q-53 Radar System, which tracks incoming rocket, mortar, and artillery fire to protect troops on the battlefield. Since most of the radar system's production takes place in Salina, Schumer spent years advocating for the program with congressional appropriators and the U.S. Army. In March 2017, the Army awarded Lockheed a $1.6-billion contract to purchase several Q-53 Radar Systems over a five-year period, one of the single-largest contracts in the plant's history. The deal helps Lockheed maintain its 1,600 jobs in Central New York.
Landed JetBlue Agreement for Premier Aviation, Bringing More Jobs to the Mohawk Valley: Premier Aviation, an aircraft maintenance hub that Sen. Schumer brought to Rome's Griffiss International Airport in 2010, was competing with several companies for a five-year Embraer 190 heavy maintenance and paint contract with JetBlue. Sen. Schumer stepped in with a direct phone call to JetBlue CEO Robyn Hayes to support bringing the work to Rome and touting the region's talented workforce. A few months later, JetBlue and Premier Aviation announced a deal that would bring the airline's planes to Griffiss for maintenance. Premier estimates that they will need to hire an additional 100 people in order to complete this work.
Thwarted a Three-Year Effort to Eliminate Jobs at DFAS in Rome: In 2014, employees at Defense Finance & Accounting Services (DFAS) in Rome grew concerned after their largest customer, the U.S. Army, announced it would undergo a pilot program to restructure and internalize all DFAS functions, which could ultimately siphon jobs away from Rome. At the time, Sen. Schumer called multiple senior officials at the U.S. Navy and Army to make the case that Rome's workforce was cost-effective and efficient. With the pilot program ongoing and rumors still swirling about layoffs, Schumer partnered with then-Congressman Richard Hanna and Senator Kirsten Gillibrand to include protections for DFAS in the 2015 National Defense Authorization Act requiring that no initiative aimed at transferring functions away from DFAS be implemented until the Defense Secretary certified the plan would reduce costs and increase efficiencies. When the Army completed the pilot in May 2017, Defense Secretary Jim Mattis could not certify that the plan to internalize DFAS functions would meet those requirements, thereby sparing DFAS-Rome from job losses for the immediate future.
Western New York
Demanded DOD Recognize Buffalo Native George Watts with Medals Earned During WWII: In February 2017, Sen. Schumer and Congressman Brian Higgins presented George Watts with medals he earned during World War II, but never received: the American Campaign Medal, which is awarded to military personnel within the American theater between December 1941 and March 1946; the Asiatic-Pacific Campaign Medal, which is awarded to those who served in the Asiatic-Pacific Theater from 1941 to 1945; the Philippine Liberation Ribbon, which is a military award of the Republic of the Philippines presented to any service member, of both the Philippine Commonwealth and allied militaries, who participated in the liberation of the Philippine Islands between the dates of October 1944 and September 1945; the World War II Victory Medal, which is awarded to all military personnel for service between December 1941 and December 1946; the Honorable Service Lapel Button, which is given to military personnel who served honorably during WWII; and the Expert Badge and Carbine Bar, which is presented to military personnel upon completion of a weapons qualification course. Schumer and Higgins presented the ribbons and medals to Mr. Watts, who was joined by his wife and daughter.
Lobbied CSX to Delay Implementation of Cuts to Service That Would Have Impacted the Workforce at Buffalo's General Mills Plant: In November, Sen. Schumer and Congressman Brian Higgins undertook efforts to delay a cost-cutting initiative by rail company CSX that would have hindered the frequency of grain deliveries to Buffalo's General Mills plant. Such a disruption would have decreased production and resulted in cutbacks at one of Buffalo's largest industrial employers. Both General Mills and CSX agreed to ongoing talks with Senator Schumer and Congressman Higgins so that the dispute may be resolved amicably.
Convinced the Labor Department to Provide More Than $1.1 Million in DOL Funding to Strengthen the YouthBuild Program at Service Collaborative of WNY: After pushing the U.S. Department of Labor (DOL), Sen. Schumer announced in August that the Service Collaborative of Western New York, Inc. in Buffalo would receive $1,100,000 in DOL funding. These grants will be awarded to strengthen YouthBuild, a recognized pre-apprenticeship program for that helps at-risk youth, aged 16 to 24, complete high school or state equivalency degree programs, earn industry-recognized certifications for in-demand occupations, and undergo training to build housing for low-income or homeless individuals and families in their communities. YouthBuild has a network of approximately 260 active urban and rural grants in 46 states.
Finger Lakes Region
Secured $70 Million in DOE Funding for the Rochester Institute of Technology (RIT) to Lead New Clean Energy Manufacturing Institute: Following Sen. Schumer's letter and phone call to Department of Energy (DOE) Secretary Ernest Moniz, Rochester Institute of Technology (RIT) was selected to lead a national consortium of universities and businesses as the new home of the Reducing Embodied-Energy and Decreasing Emissions in Materials (REMADE) Manufacturing Center, which is aimed at revolutionizing the U.S. manufacturing industry. REMADE will provide the RIT-led consortium with $70 million in federal funding over five years as they pioneer solutions to reduce net-energy costs, waste materials, and emissions, as well as help, grow new, clean tech and clean energy jobs.
Demanded the EPA Transfer Eight Vacant Houses to Holley for Re-Sale: Following the Environmental Protection Agency's (EPA) response and clean-up of toxic contamination caused in 2002 by Diaz Chemical, the Village of Holley faced the financial and physical burden of the eight vacant houses left behind. Sen. Schumer successfully pushed the EPA to transfer the empty properties to the Village of Holley Development Corporation, which put the houses on the market and sold them to new homeowners.
Removed Bureaucratic Obstacles to Green-Light Start of $141-Million Canandaigua VA Medical Center Modernization: After the U.S. Army Corps of Engineers' (ACE) review of the Veterans Administration's (VA) plans to solicit contracts to renovate the Canandaigua VA Medical Center stalled, Sen. Schumer pushed ACE to finally approve the long-sought construction-phase of the $141-million project. ACE and the VA plan to modernize the Canandaigua VA Medical Center by renovating existing buildings and constructing new ones, including a modern 84,200-square foot outpatient clinic, which will provide state-of-the-art care to meet the needs of current and future Rochester and Finger Lakes-area veterans. ACE-approved and released bids during the fall, with plans to hire a contractor by next month.
Southern Tier
Secured Critical Funding for Cornell University Research to Protect New York State's $65-Million Potato Industry: Sen.Schumer secured $400,000 in federal funds to equip Cornell University's Nematode Quarantine Lab with key state-of-the-art equipment to advance researchers' work to control the golden and pale cyst nematodes, which attack potato plants. Without proper quarantine and containment strategies, these nematodes can debilitate the entire potato industry, which spans more than 1,200 New York farms producing $65 million in potato crops on 20,000 acres of land. In addition, this investment should lead to research addressing emerging threats to other significant New York crops such as the soybean cyst.
Secured $1.9 Million in FEMA Funding for Vital Flood Mitigation Project for Sidney Green Plain: In the aftermath of two devastating flooding events, which wreaked havoc on residential and commercial properties within the Village of Sidney and beyond, local leaders developed a compressive plan to bring relief to residents in Delaware County who live in high-risk flood zones. After repeated pushes by Sen. Schumer, including a personal phone call to then-Administrator of the Federal Emergency Management Agency (FEMA) Craig Fugate, FEMA announced in January that it would award $1,949,300, for the first phase of the critical Sidney Green Plain flood mitigation project. This 100-acre flood plain in the Sidney will capture storm water, provide recreational green space, and spare residents the catastrophic loss of property from flood damage.
Protected Hundreds of Steuben County Jobs and Upstate Dairy Farmers: When news broke of an imminent shuttering of the Kraft-Heinz facility in Steuben County, Sen. Schumer quickly went to work to ensure the Campbell facility would remain open while a buyer was located. Schumer worked tirelessly with company officials to ensure the process of locating a buyer was diligent and comprehensive. As a result of these efforts, Upstate Niagara announced in June that it would buy the Kraft-Heinz facility and keep a majority of the workers on the job, bringing a positive conclusion to what could have been a devastating blow to the region's economy and upstate dairy farmers. Upstate Niagara is thriving in its new facility and plans to continue its growth.
Reversed FEMA Error to Recoup More Than $2 Million in Funding for Vital Building Repairs at Binghamton University: Sen. Schumer succeeded in pressing the Federal Emergency Management Agency (FEMA) to make a $2.8-million reimbursement to Binghamton University after it mistakenly deducted the payment. The funding will be used for necessary repairs to damage sustained to the university's downtown center during flooding from Tropical Storm Lee in 2011. These long-overdue funds were an impediment to the advancement of other key community projects and research initiatives Binghamton University has been planning.
Brought New Navy Secretary to Lockheed Martin in Owego: Sen. Schumer has a long history of working to protect and grow jobs at Lockheed Martin. During Navy Secretary Richard Spencer's confirmation process, Schumer requested that the Secretary visit New York's navy defense industry facilities, including Lockheed Martin in Owego. Lockheed Martin employs thousands at its facility in Owego, and supports hundreds more at suppliers across the region. In October, Secretary Spencer made good on Schumer's request and visited the facility, where he had the opportunity to meet Owego's top-notch workforce and tour its state-of-the-art facilities. Secretary Spencer's visit was a reminder of the collaboration and support that Lockheed Martin offers to our nation's armed forces.
Hudson Valley
Secured Federal Approvals Needed to Clear the Way for Amy's Kitchen to Bring Up to 1,000 New Jobs to Orange County: After Amy's Kitchen ran into several hurdles that delayed the opening of their proposed plant in Goshen, Sen. Schumer stepped in and cut through bureaucratic red tape to secure the necessary permits to start construction. At Schumer's urging, the U.S. Army Corps of Engineers issued their wetlands review and nationwide permit, both of which were necessary to begin development at the 200-acre site. The new 369,000-square foot meal-manufacturing plant is expected to create 700 good-paying, local jobs, with the potential to expand to nearly 1,000 total jobs in the Hudson Valley region.
Pushed DOD to Begin Testing Contaminated Sites in Newburgh: After the 2016 discovery of widespread and long-standing perfluorooctanesulfonic (PFOS) acid contamination in Newburgh's drinking water, caused by the use of firefighting foam containing PFOS on Stewart Air National Guard (ANG) base, Sen. Schumer demanded the U.S. Department of Defense (DOD) investigate and remediate the issue with all due speed. In July 2017, Schumer met directly with Defense Secretary James Mattis to ensure that site samples be taken quickly. Two months later, DOD began their site investigation at Stewart ANG, which is in New Windsor, and the surrounding waterways.
Reunited WWII Veteran's Family With Long-Lost Purple Heart Medal Found on Street in Rockland County: Several years ago, a Purple Heart Medal was found in the dirt alongside a roadway in Nyack. After years of fruitless searching, the Purple Heart was brought this year to Sen. Schumer in the hope of finding its rightful owner. The medal read simply, "B.J. McNamara on December 9, 1943." After extensive research and collaboration with the Veterans Administration, Schumer was able to not just pinpoint the family of the veteran to whom the Purple Heart belonged, the late Bernard J. McNamara, but also discover other medals McNamara deserved but had not been bestowed. Schumer presented these medals directly to the McNamara's family and praised his service and heroism during World War II.
North Country
Secured NDAA Provision Supporting Norsk Titanium: After Sen. Schumer visited Norsk Titanium in September, he worked with Congresswoman Elise Stefanik to include a provision in the defense spending bill that directs the Department of Defense to study the ground-breaking additive manufacturing technology that Norsk Titanium has brought to metal working and the manufacture of aviation parts. The company, a growing employer in Clinton County, is already supplying commercial airline parts and could bring savings in both time and money to our defense aviation programs.
Protected Critical Federal Funding for Westelcom, Ensuring Broadband Services and Expansion Will Not Be Interrupted in the North Country: Westelcom is one of the North Country's largest internet providers and its services are essential to healthcare facilities, small business operations, and telemedicine networks. In 2012, the Census Bureau for the first time reclassified Watertown, one of Westelcom's major service areas, from a "rural" area to "urbanized" due to the proximity of the Fort Drum military base. As a result, the Federal Communication Commission (FCC) mischaracterized Westelcom as an "urban" telecommunications provider even though it serves primarily rural areas. This bureaucratic mistake resulted in a nearly 96 percent cut in anticipated revenue for Westelcom since the company could no longer qualify for rural exemption rates from the FCC. Sen. Schumer and his colleagues in Congress worked closely with Westelcom to take these concerns directly to FCC leadership and held several meetings with federal officials. As a result, the FCC granted this critical waiver so that Westelcom could keep its funding and continue bringing critical broadband services to the North Country.
Delivered Federal Resources for the Port of Ogdensburg to Dredge its Harbor for First Time Since 1984, Clearing Way for Increased Commerce: The Ogdensburg Harbor is host to the Port of Ogdensburg and is owned by the Ogdensburg Bridge and Port Authority (OBPA). The port provides a full range of terminal services at the harbor and generates $4 million annually in direct revenue. However, the harbor was last dredged more than 30 years ago, and its shallow depth has resulted in unnecessary congestion, increased handling costs, and lost business opportunities for OBPA. Further complicating the matter, any dredging would need to be approved and funded by the U.S. Army Corps of Engineers (ACE). After visiting Ogdensburg in August 2016 to launch a push for federal funds to deepen the harbor, Sen. Schumer continued to push the highest levels of the ACE for project approval. In May 2017, ACE announced it would provide funding to deepen and widen the harbor to 27 feet, ensuring increased economic opportunities for OBPA and the North Country.
Long Island
Reversed Proposed Cuts to DOE's Office of Science Budget While Also Securing $1.8 Million and 3,000 Jobs for Brookhaven National Lab: In March, it was announced that the U.S. Department of Energy's (DOE) Office of Science budget – which funds scientific research institutions, including Brookhaven National Lab (BNL) – could be slashed by $900 million. BNL is a national resource that regularly produces world-renowned research. Sen. Schumer quickly sprang into action to protect research funding, the lab, and its approximately 3,000 employees. Ultimately, Schumer helped secure an increase of $42 million in the Office of Science budget to better fund national labs and their projects, including $1.8 million for vital revitalization projects at BNL.
Demanded DOD Release Information on Radioactive Material Emanating from Former Bethpage Navy Site After it Was Detected on High School Campus: Shortly after elevated levels of radium were discovered at monitoring wells on Bethpage High School's campus, documents describing the handling of radioactive elements at the former U.S. Navy-Grumman site nearby were discovered and published. Sen. Schumer stepped in and directly pressed Defense Secretary Jim Mattis to investigate the use of radioactive materials at the site in light of these revelations. Schumer included a provision in the military spending bill requiring DOD to submit a report to Congress about the chemical contamination at Bethpage, including the use of radioactive materials, in his ongoing effort to demand answers and financial reimbursement for local communities stuck with clean-up bills.
Brought New Navy Secretary to Long Island to Address Bethpage Plume Cleanup: Sen. Schumer has long pressed the U.S. Navy and Grumman to take responsibility for the toxic chemical plume emanating from their joint site in Bethpage, which continues to alarm residents and increase costs for the water districts in its path. Schumer discussed the issue directly with newly-appointed Navy Secretary Richard Spencer in a private meeting and secured a commitment from him to visit the plume site. Schumer brought Secretary Spencer to Bethpage Water District Plant 6 and Massapequa Water District, where officials discussed the impacts of the plume and made their case directly. As a result, Secretary Spencer has promised a top-down review of the Navy's current strategy, which is currently underway.
Delivered Special DEA Heroin Enforcement Team to Long Island to Fight Opioid Epidemic: In response to the upward trend in heroin treatment admissions in New York, Sen. Schumer advocated adding $12.5 million to the FY2017 omnibus funding bill to create a special group within the Drug Enforcement Agency (DEA) to target heroin and fentanyl trafficking. At Schumer's request, the DEA based the operations of one of its six special enforcement teams on Long Island. Additional federal personnel and coordination are now dedicated to combating the flow of heroin and fentanyl across Long Island and New York City.
###