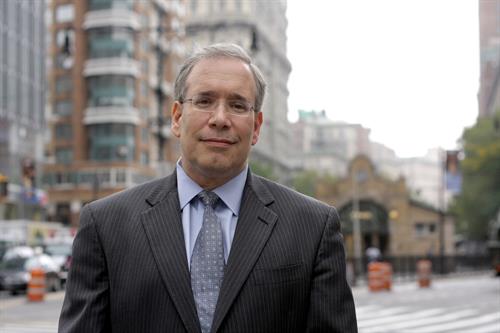 Comptroller Stringer Report: MTA Buses, Already Slowest in the Nation, Lost 100 Million Passenger Trips Since 2008
System has failed to keep up with changing geography of NYC's economy, with routes that are meandering and disconnected from new jobs centers
Innovations like Select Bus Service, Bus Lanes, and Transit Signal Priority have been implemented slowly and halfheartedly, severely watering down their impact
Williamsburg, Morris Park, Norwood, Greenpoint, and Glen Oaks, among the most underserved neighborhoods
Comptroller Stringer releases new bus agenda for the future
Anton_Ivanov/Shutterstock.com
(New York, NY) — In the last eight years, the MTA bus system lost 100 million passenger trips while buses traveled at the slowest speeds in the country among large cities, according to a new report released today by New York City Comptroller Scott M. Stringer. The decline in ridership is not surprising, given routes that are often slow, unreliable, long, meandering, confusing, congested, and poorly connected, according to the Comptroller's report, The Other Transit Crisis: How to Improve NYC's Bus System. The report also found that the rapid decline in New York City's bus service over the last decade disproportionately impacts immigrant and lower-income New Yorkers, since they make up the highest share of city bus riders.
"For forty years, our subway system deteriorated, and it has led to the frustration that New Yorkers now feel daily. Today, we're sounding the alarm on our bus crisis. Falling ridership, major slowdowns, and a bus infrastructure in decline is having an effect across the five boroughs. If we're going to have a thriving economy tomorrow, we need to rebuild our bus system today. Of course we have to focus on our subways, but we need to have a bus system that is the envy of the world," said Comptroller Scott M. Stringer. "By unleashing innovative technologies, as well as honing in on strategies that improve reliability and service, we can change the game for New Yorkers. This cannot be a problem that is swept under the rug – this is an economic and social imperative that is critical to our future. The status quo is unacceptable, and we have to do better."
The size and scope of New York City's bus system is unparalleled, with 5,700 buses, 330 routes, and 15,000-plus stops serving well over two million passengers each day – more than the combined daily ridership of LIRR, MetroNorth, PATH, and New Jersey Transit. Yet, Comptroller Stringer's analysis shows alarming deterioration.
MTA buses are now the slowest in the nation among large cities. In fact, bus service can often be slower than walking speed.
The average New York City Transit bus travels a dismal 7.4 miles per hour along its local, SBS, and express routes – slowest among the seventeen largest bus companies in the nation.
The typical New York City bus spends only half its time in-motion/in-traffic. Another 21 percent is spent at red lights and 22 percent at bus stops.
Average bus speeds vary dramatically among the boroughs, with the slowest average speeds in Manhattan (5.5mph), Brooklyn (6.3mph), and the Bronx (6.5mph). This is significantly lower than local routes in Queens (8.1mph) and Staten Island (11.4mph).
As service has deteriorated, ridership has plummeted.
The MTA bus system has lost 100 million passenger trips in the last eight years. That decline is most prevalent in Manhattan, where ridership is down 16 percent since 2011, and Brooklyn, which has seen a four percent decline over the same time period.
MTA Bus Ridership, 2006-2016
This decline is happening at a time when NYC's economy – and commuting patterns – are changing, with increased job growth outside of Manhattan that necessitates new routes.
NYC subways were largely built to bring workers to Manhattan. But residents of every borough are now more likely to commute within their home borough rather than to Manhattan, making an efficient, well-planned bus system even more important.
From 2006 to 2016, the number of jobs located in Brooklyn jumped by 49 percent, in the Bronx by 35 percent, in Queens by 34 percent, and in Staten Island by 27 percent – but only 5 percent in Manhattan. As a result, the share of New York City jobs located outside of Manhattan rose from 35 percent to 42 percent over this period.
The changing jobs geography means residents of every borough are now more likely to commute within their home borough than to
As new employment centers emerge outside of Manhattan, the bus system has not kept pace.
As new employment centers emerge outside of Manhattan, the bus system has not kept pace. Compared to the average city neighborhood, in total there are 12 neighborhoods (and two airports) that offer significantly more jobs but remain significantly underserved by bus and subway service.
Neighborhoods like Williamsburg, Morris Park, Norwood, Greenpoint, Glen Oaks, Red Hook, and the two Queens airports are among the top neighborhoods that remain underserved by a declining bus system.
Bus commuters are diverse and tend to be lower income than the City generally.
The average personal income of bus commuters is $28,455 – far lower than subway commuters and employed New Yorkers as a whole.
55 percent of bus riders are foreign born, and 75 percent are New Yorkers of color.
Table 1: Profile of New York City Commuters
| | | | |
| --- | --- | --- | --- |
| | Bus Commuters | Subway Commuters | All New Yorkers |
| Median Income (of employed) | $28,455 | $40,000 | $38,840 |
| Bachelor's Degree or Higher (Age 25+) | 31% | 48% | 36% |
| Share of Working Population that is age 60+ | 12% | 8% | 10% |
| Parent (age 16+) with Children at Home | 42% | 33% | 36% |
| Single Parent (age 16+) | 17% | 10% | 12% |
| Foreign Born | 55% | 49% | 41% |
| Person of Color | 75% | 66% | 67% |
| Work in Healthcare, Hospitality, Retail, Food Services, or Cultural industries | 49% | 38% | 38% |
United States Census Bureau. American Community Survey 2011-2015 5-Year Estimates.
Long and meandering bus routes occur because the MTA often fails to follow its own design standards, schedules, and protocols.
In order to keep buses moving, the MTA aims to locate bus stops at least 750 feet apart. This "stop-spacing" standard is very low compared to other major cities, and yet it is applied very loosely by the MTA. On ten routes, for instance, bus stops are spaced more than 1,200 feet apart, or nearly double the standard, which can make access difficult for seniors and the disabled. Meanwhile, 30 percent of routes do not maintain even this minimum standard. In fact, among Manhattan bus routes, the average distance between bus stops is 757 feet, barely higher than the recommended minimum.
The MTA has expressly acknowledged that long and meandering bus routes are inefficient and unreliable. Yet bus routes remain highly circuitous, with over 38 making at least 15 turns and the average Staten Island route making 13. City-wide, the average local route is 6.8 miles long and in Staten Island, 10.6 miles.
Based on the MTA's own 12-year replacement cycle for buses, the average age of vehicles should be 6 years. In fact, the average age of an MTA bus is 7.8 years, and 22 percent are still on the road after a dozen years.
NYC's bus system is also hampered by a fractured management structure that needs to be better coordinated.
The bus system's management is divided between two agencies: New York City Transit Bus and the MTA Bus Company.
The operating costs per passenger for the NYCT Bus ($3.98) and MTA Bus Company ($5.48) ranked them 7th and 14th among the 17 largest city bus companies in the United States.
Both the MTA and City DOT have struggled to implement new technologies and core amenities that could improve the speed and reliability of bus service, including Select Bus Service (SBS) and Transit Signal Priority (TSP).
To improve the City's bus system, Comptroller Stringer's report calls for a series of reforms, including a comprehensive review of the bus network to better align with new job centers and changing neighborhood demographics, and enhanced coordination between the MTA and City DOT. Comptroller Stringer is calling on the City and the MTA to do the following:
The MTA Bus Company and New York Transit Bus should better coordinate their operations, particularly scheduling, planning, and depot divisions, to increase efficiency and better serve riders.
In consultation with surrounding neighborhoods, the MTA, DOT, and Department of City Planning should initiate a comprehensive review of the bus network to better align with changing commuting patterns, as other cities like Houston, Baltimore, and Portland have already accomplished.
In consultation with surrounding neighborhoods, the MTA should review stop-spacing on all of its routes and reform its stop-spacing guidelines to better balance the speed, reliability and accessibility of its bus routes.
The MTA should increase the frequency of buses in "off-peak" hours and overhaul its scheduling guidelines in order to better service the rapid growth of the health, hospitality, retail, food services, and cultural sectors.
The DOT and MTA should improve coordination and expedite the implementation of Transit Signal Priority along bus routes.
The DOT should improve the maintenance, enforcement, and design of bus lanes and place greater emphasis on bus lanes outside of SBS corridors.