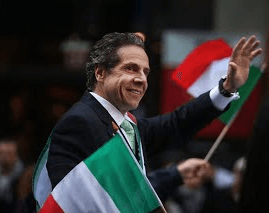 Lucas --

Andrew Cuomo is a proud Italian American and a great governor of New York.
We backed him in his 2010 and 2014 races, and we're all in for a third term. Under his leadership, New York has created 440,000 private sector jobs over the past three years -- the second highest net job growth of any state in the nation since the recession. And NY now has more private sector jobs than in any time in its history.

When some proposed pulling down the Columbus statue in New York, he said no.

We want to make sure he wins re-election. He has two big fundraisers in December.
Join him Dec. 14 for his 60th birthday celebration, along with President Bill Clinton andJon Bon Jovi.

Or join him along with celebrity chef Mario Batali at his Dec. 19 holiday dinner.

Join Governor Cuomo at either -- or both!

-- Art
Chair, Italian American Democratic Leadership Council