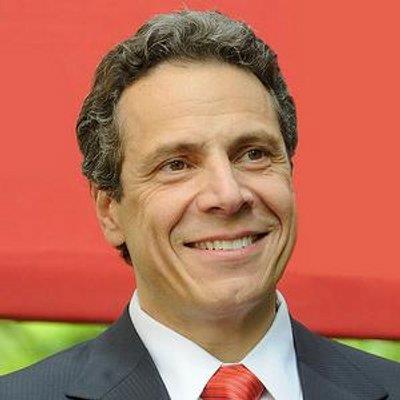 Video, Audio & Rush Transcript: Governor Cuomo Announces Start of Construction on Delta's $4 Billion New Facilities at LaGuardia
Port Authority Signs New, Long-Term Lease With Delta Air Lines, Putting in Place Final Step in Complete Rebuild of Airport
Governor Also Announces JLC Infrastructure, a Joint Venture Comprising Magic Johnson Enterprises and Loop Capital Partners LLC, to Become MWBE Investor in the Airport
For First Time in State History, MWBE Firm Investing Equity in a Public-Private Construction Project
View Renderings of the New Airport Here
Last week, Governor Andrew M. Cuomo, together with Delta CEO Ed Bastian, announced the start of construction on Delta's new facilities at a groundbreaking ceremony at LaGuardia Airport after the Port Authority of New York and New Jersey signed a new, long-term lease with Delta. The groundbreaking marks the beginning of construction on the final component of the entirely new, unified airport at LaGuardia, which will provide all LaGuardia travelers with state-of-the-art amenities and expanded public transportation, including the planned AirTrain.
Governor Cuomo also announced on Tuesday a breakthrough with LaGuardia Gateway Partners (LGP), the firm that is building the western half of the airport. JLC Infrastructure, a joint venture comprising Magic Johnson Enterprises and Loop Capital Markets LLC, will become an MWBE investor with LGP, marking the first time in the state's history that there will be an MWBE firm investing equity in a public-private construction project.
VIDEO of the event is available on YouTube here and in TV quality (h264 format) here.
VIDEO about the project is available on YouTube here and in TV quality (h264 format) here.
B ROLL of the groundbreaking available on YouTube here and in TV quality (h264 format) here.
AUDIO of the event is available here.
PHOTOS of the event will be available on the Governor's Flickr page.
A rush transcript of the Governor's remarks is available below.
Thank you. Thank you. Today is a good day. It is a good day. First, to our borough president, you like to say that, President of the Borough, don't you? Melinda Katz is doing a great job for Queens, let's give her a round of applause. Ed Bastian, welcome to New York. We love having you here, Ed Bastian, Delta Airlines. Jane Garvey, thank you for everything you've done to help expedite this project. Marc Morial, who was mayor of New Orleans, we did a lot of great work down there, he was a superstar then, what he's doing with the Urban League is literally helping people all across the nation. God bless you, Marc Morial. I want to thank Rick Cotton, who has you heard, worked with me for the past two years doing downstate infrastructure projects. I know there are a lot of meetings that we had where I would say, "We have to get this done and this done and this done." And he would look at me like, "You are just out of your mind, man." But he never said no and even more importantly, he's gotten it all done and he's a perfect person to go to the Port Authority and make that vehicle the vehicle for tomorrow. Rick Cotton, thank you very much. Pat Foye, who did a great job at the Port Authority, he's now moving over to the MTA, we need him there, let's give him a round of applause. And to all the Port Authority board members, thank you, thank you, thank you. Chairman O'Toole, welcome, welcome to New York, welcome to the Port, we love having you. The new Chairman, Kevin O'Toole.
As the Borough President said, this is my home borough, I am a Queens boy born and raised. Proud of it. I worked in Washington for eight years in the Clinton administration and I was in just about every state in the nation. I would get up and I would give my speech and the people would be looking at me and after the speech, almost without exception somebody would come up and say, "Is that a New York accent?" And I would say, "No. That's a Queens accent and I am proud of it." You know, we're talking about infrastructure today. Infrastructure. It's a bad word, infrastructure. It's hard to say, it's confusing. Maybe that's the reason this nation hasn't invested in infrastructure the way it needs to. Everybody says that you have to do it for the future. Vice President Joe Biden, eight years, went all over the country saying we have to invest in infrastructure. We're falling behind, our ports, our terminals, said it over and over again. Candidate Trump, when he was running for president, said we have to invest in infrastructure. He pledged $1 trillion in infrastructure. He was right. I don't know what happened to the trillion dollars, but he was right about investing in infrastructure. Everybody says it, and history shows that it works.
You look where we built transportation infrastructure - and development will follow. President Eisenhower did that with the National Grid. We build a Long Island Railroad through Long Island, we went through potato fields, and then populated all of Long Island. Second Avenue Subway in Manhattan, we just opened up, now all that real estate along the Second Avenue Subway is booming. I was HUD Secretary, and I'd fly into a city, and as I'd fly into the city I would look to see how many cranes were up in the sky. How much building they were doing. My message to every city was the same thing. Either you are building and developing or you are going backwards because if you're not building and developing, your competition surely is. This nation has to understand that message. We are living off the inheritance, not of our parents, of our grandparents. Everything you see. All the infrastructure you see. Everything we built. All these great accomplishments - literally from our grandparents generation and we've been standing still. But while we've been standing still, our competition around the globe has been working and building and developing. And airports are a perfect example of it. They're tremendously important. The airports are the front door of the state. And they make a statement. And you have beautiful airports being built all around the globe. Korea, Munich, Dubai, Hong King - magnificent structures. And for decades, this nation has done nothing. Nothing. Think about it - the last new airport? Over 20 years old. The Denver Airport. And we let our competition pass us by.
Well today says it's a different day my friends. We're going to build a new airport. It's going to be smarter, more efficient, and more effective than ever before. It's an economic center in and of itself with a business conference. We can build a hotel. Retail restaurants. You name it, in and of itself, it's there. We are going to put in an AirTran because there's no airport that works in a metropolitan area that doesn't have a one-seat ride to the airport and it's about time New York did. It is going to be beautiful front door to New York. It's going to welcome 50 million tourists a year to New York. It's going to welcome business people to New York and it's exactly what New York deserves.
Now, it is no doubt, but that it is going to help grow the economy in the future. But it is also helping the economy today. 16,000 men and women building this airport. Members of organized labor, building it the right way. 20,000 indirect jobs, workers at the airport organized by 32BJ. This is a workforce we can be proud of. And, the development itself is a beautiful progressive, groundbreaking policy. And that's what Marc Morial was talking about. When we build, when we progress, we want to bring everybody with us. Our MWBE program, Minority and Women's Business Enterprise. We have the most ambitious goal in the United States of America at 30 percent. No city in this state comes close to what we do and no state in this nation comes close to what we do and we're proud of it.
But this takes it to a new level. It says, not just jobs, not just contracts to sub-contractors working here on the airport. But, MWBE applied to the ownership of the project, the equity of the project, because that's where wealth comes from. It has established a new national standard and a new national precedent. Congressman Greg Meeks is here. He's been talking about this all across the country and New York is now going to do it. And you know what we've learned? When New York does something others follow. And you watch them follow our lead to a new MWBE standard. And to me, this new LaGuardia is not just an airport. It is a symbol and it's a symbol for what you've heard from almost every speaker before. For too long, the question has been no, we can't get this done, because it's too hard and there's too many obstacles. Whatever you set out to do in life, if it is worth doing, and it's special, and it's extraordinary, it is going to be hard. And yes, there are obstacles, and yes, you have to deal with the Port Authority, although that's always a pleasure. And yes, you have to deal with the federal government, the FAA, and that's another pleasure. And yes, you have to work with the community, and yes you have to work with the Queens Borough President, which truly is a pleasure.
But, but, we have been paralyzed too long as a nation. We have been paralyzed for generations. We have been afraid of the challenge. And we've looked at the obstacles and we've turned and we've run. And that my friends, is not what built this nation. And that is not the attitude that built this state. Yes, there are always obstacles when you're trying to do something extraordinary. But there is no obstacle that we cannot overcome when we work together and that's what this airport says.
This airport says we can turn dreams into reality, and we can do it quickly, 2015 we announced the plan. 2016 we broke ground on this airport. And it's not just LaGuardia. We are doing it all over the state. Taking those projects that were stuck in the quagmire of the bureaucracy, that were just too complicated, and were picking them up and were doing them. Senator Daniel Patrick Moynihan, God rest his soul, 20 years ago said, "We need a substitute for Penn Station. Because Penn station is intolerable. And we should build a new train hall across the street." And they named it the Moynihan Train Hall. And do you know what happened in the interim? Nothing. And you know what's going to happen in two weeks? We're going to break ground on the new Moynihan Train Hall.
They've been talking about it, Javits Center, that is now too small for the competition, and we just broke ground on a 1.5 million square-foot expansion for the Javits Center. We just approved a Long Island Rail Road transformation plan they've been talking about it for 70 years. And we just got approval for 2.6 billion dollar overhaul for the LIRR. A new Tappan Zee Bridge. We can do it. We can do it. We can do it.
And that spirit is what made New York New York. Now, to Mr. Ed Bastian, we welcome you back home. You still have a little Atlanta in you. When your last line was "I'll see y'all." So, you have a little Atlanta in you, but you have the heart of a New Yorker. And we welcome you here. 3.4 billion dollar, largest investment for Delta. I can also tell you it is the smartest investment for Delta because you're investing in the great State of New York. And this state, this state is the progressive, the entrepreneurial, and the building capitol of the nation. And we are restoring that legacy. Because this state is all about a proud legacy that did everything first. We believe that we can accomplish what we set our mind to. We believe that we can reach higher, we believe we can do more, and we believe we can do more and bring more people with us. Because we believe the greatest success is shared success. And that's what we're seeing here today.
This state's motto says it all. Excelsior, ever upwards. Today, New York points in the direction for this nation to follow. It is Excelsior. The direction is up. Thank you and God bless you and let's sign the lease.