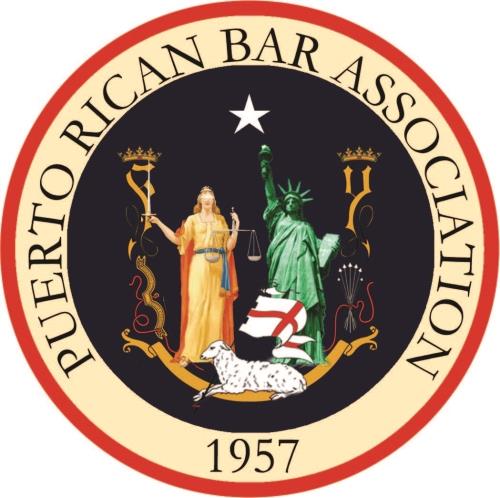 UPDATE: Funeral services will be held on Saturday, August 12, 2017, at Riverside Church, 490 Riverside Dr, New York, NY 10027. The viewing is from 9AM to 10AM and services will begin immediately thereafter at 10AM.
WE ARE DEEPLY SADDENED TO NOTIFY YOU OF THE PASSING OF THE
HONORABLE GEORGE BUNDY SMITH
NEW YORK STATE COURT OF APPEALS
We are deeply saddened to notify you of the passing of the Honorable George Bundy Smith, who served with distinction as an Associate Judge of the New York State Court of Appeals.
Our prayers and sympathy are extended to his family. We will provide you with information about services and memorials as we receive them.
With a heavy heart,
President, Carmen A. Pacheco and the Board and Officers of the Puerto Rican Bar Association.
Statement from Chief Judge Janet DiFiore on behalf of the New York Court of Appeals
August 5, 2017

The Court of Appeals is saddened by the death of George Bundy Smith, who served with great distinction as an Associate Judge of the Court from 1992 to 2006. A freedom rider during the civil rights struggle of the 1960s, Judge Smith remained soft-spoken, self-effacing, and completely dedicated to fairness and justice for all people throughout his career. As then-Chief Judge Judith S. Kaye said of him in 2005, "George is a man of few words, but they are absolutely the right words." He leaves our nation a better place than he found it. We will miss him deeply.

---------------------------------------------------------------------------------------------------------------
George Bundy Smith, the 101st Associate Justice of the Court of Appeals, is only the third African American ever appointed to serve on New York State's highest court. Judge Smith was appointed to the Court of Appeals by Governor Mario C. Cuomo and was confirmed by the Senate in September 1992.
Years later, Judge Smith's tenure on the Court of Appeals would be described as follows:
"George Bundy Smith is widely acknowledged to be the most independent and dauntless voice on New York's highest court. His opinions are known by close observers to be consistently the most fair and forthright and wise to issue from the Court of Appeals. Those who have had the privilege to work with him, learn from him, or otherwise spend time in this company know Judge Smith as extraordinarily gentle, generous, gracious, considerate, refined, humble, and yet bold, courageous and principled - in short, an utterly decent and admirable jurist and man . . . For many years, Judge Smith has been the most prolific author of dissents on the New York court . . . They reveal a judge committed to fundamental fairness, decency, equity, equality, the rule of law, and good (often times uncommon) common sense."1
"[Judge Smith's ] deep and abiding passion for justice is matched only by his passion for hard work to secure it . . . His several hundred opinions for the Court of Appeals are characteristically thoughtful and lucid, the product of his prodigious effort to reach the just result and express it precisely, clearly and convincingly."2
Early Years
Judge Smith was born in New Orleans, Louisiana, in 1937 to Reverend Sidney R. Smith, Sr., and Beatrice Bundy Smith, a teacher and government worker, who greatly influenced her children. He was raised in racially segregated Washington, D.C. with his twin sister Inez, and older brother Sidney, Jr. The experience of growing up in a society where the color of one's skin determined, among other things, where you lived, went to school, and what public accommodations you could use, left an indelible impression upon young George. He vividly remembers that the schools designated for >white students only' had beautiful lawns, current text books, working science lab equipment, and athletic facilities. The schools designated for >colored' students did not enjoy these same circumstances or benefits.
Judge Smith's lifelong commitment to hard work and academic excellence had its genesis in the D.C. public schools. His grade school efforts resulted in receiving a full scholarship to the prestigious Phillips Academy in Andover, Massachusetts for his high school education. Judge Smith was the only African American in his class. He graduated from Phillips Academy in 1955 and attended Yale University, where he was one of four African American students in a class of one thousand. While attending Yale, Smith studied in Paris, France, and received a Certificate of Political Studies from the Institut d'Etudes Politiques in 1958. He graduated from Yale in 1959. Judge Smith was an active participant in the civil rights movement and, indeed, his life was shaped by it. When he graduated from Yale, it was the early years of the movement. Inspired by the great Thurgood Marshall, counsel for the victorious plaintiffs in the landmark school desegregation case, Brown v. Board of Education,3 and future first African American United States Supreme Court Justice, Smith decided to embark upon a legal career. He applied to Yale Law School and at his urging Inez also applied. They were both admitted and graduated in 1962. Remarkably, by 1995, Smith and his twin sister, now Judge Inez Smith Reid, would be sitting on the highest state appellate courts in New York and the District of Columbia, respectively.4
In May 1961, the Congress of Racial Equality (CORE) organized Freedom Rides on buses to the segregated south to advocate integration of bus, rail, and air terminals as prescribed by recent U.S. Supreme Court decisions. The Freedom Riders were black and white men and women who rode buses in nonviolent protest of the south's Jim Crow laws. White mobs stoned and fire bombed some of the buses and beat many of the Freedom Riders; local police did nothing to protect them. John Lewis, future Congressman from Georgia, was one of the Freedom Ride leaders who was beaten and arrested. Smith responded to the call from Yale Chaplain Dr. William Sloane Coffin, Jr., to join the Freedom Rides even though he was in the midst of law school exams. George Smith, Reverend Coffin, Reverend Wyatt T. Walker, Reverend Ralph David Abernathy and others on this historic mission were arrested and convicted for sitting down and ordering coffee at a bus terminal lunch counter after some in the group had purchased tickets to ride from Montgomery, Alabama to Jackson Mississippi. In 1965, their convictions were overturned by a unanimous U.S. Supreme Court.5 George Smith and the Freedom Riders were represented by Professor Louis H. Pollak of Yale Law School, a federal judge in years to come, with the assistance of attorneys from the NAACP Legal Defense and Education Fund, Inc. These outstanding attorneys included Constance Baker Motley, one of the chief legal strategists for the desegregation cases and the first African American female federal judge, Jack Greenberg, Director-Counsel, and James M. Nabrit, III.
Despite the danger around him during the Freedom Ride, Smith, true to his legendary quiet and calm nature, continued to study for his law school exams. It has been reported that when Rev. Coffin marveled and asked Smith how he could be studying at a time like that, Smith grinned and stated, "sticks and stones can break my bones but law exams will kill me."6 This was an early example of Judge Smith's self-effacing humor, and his determination always to be prepared and never to waste a precious moment. Today, anyone familiar with Judge Smith will attest to the fact that he is never without his briefcase, stuffed with work, whether on the subway or at a family gathering. Moreover, his colleagues on the court will further attest that Judge Smith is indeed always prepared.
Legal Career
After law school, Smith was determined to use his legal skills to right the wrongs of segregation. His career began at the NAACP Legal Defense and Education Fund, Inc. There, he spent a lot of time in Alabama and Georgia, and tried a range of civil rights cases including school desegregation and demonstration cases. One of his most significant experiences involved drafting appellate briefs in the successful effort led by Ms. Motley to gain the admission of James Meredith to the University of Mississippi.
Smith's next legal positions were as law secretary to three outstanding jurists: Civil Court Judge Jawn Sandifer (1962-1964), a former civil rights' attorney; Supreme Court Justice Edward Dudley (1967-1971), the first African American ambassador; and the Honorable Harold A. Stevens, Presiding Justice, Appellate Division, First Department(1972-1974) and the first African American to serve on the Court of Appeals (Interim Appointment 1974). These experiences were critical to Judge Smith's professional development.
In 1974, instead of continuing as Judge Stevens' law secretary at the Court of Appeals in Albany, New York, Smith accepted the position of Administrator of Model Cities for New York City. Model Cities was a federally funded program developed as a part of the Johnson Administration's War on Poverty to improve the quality of life in urban areas.
In May 1975, Judge Smith was appointed to an interim term on the Civil Court by New York City Mayor Abe Beame. In November 1975, Judge Smith was elected to the Civil Court, where he was assigned to the Family Court, Criminal Court, and as an Acting Justice of the Supreme Court. Judge Smith was later elected to the Supreme Court where he sat from January 1980 to December 1986. Governor Cuomo then appointed him to the Appellate Division, First Department where he served as an Associate Justice from January 1987 until his appointment to the Court of Appeals in September 1992. His term will expire in September 2006.
Judge Smith, a member of the New York and District of Columbia bars, continued his pursuit of knowledge and excellence by obtaining graduate degrees at New York University (MA, 1967 and PhD, 1974) and the University of Virginia Law School (Graduate Program for Judges - Master's Degree in the Judicial Process, 2001).
Despite the demands of the judiciary and his personal endeavors, Judge Smith has remained committed to contributing to the education of lawyers. Since 1981, he has been an Adjunct Professor of Law at Fordham University Law School, teaching courses in New York Criminal Procedure. He has also taught at New York Law School and Baruch College.
Professional Associations and Community Service
Judge Smith has always been a leader. He is a role model and mentor to attorneys and judges of all stripes but most particularly for African Americans. Judge Smith is a staunch advocate for increasing the diversity of the bar and the bench. He unceasingly urges African Americans to become attorneys and to seek judgeships. Judge Smith believes that it does improve the quality of our judicial system when that system reflects the people it is serving and that differing life experiences and perspectives are critical to obtaining justice. To achieve these goals, Judge Smith believes that there must be organizations that have this focus. For that reason, he has been actively involved in many professional organizations. He served as President of the Harlem Lawyers Association. In 1984, the Harlem Lawyers Association and Brooklyn's Bedford-Stuyvesant Lawyers Association merged to form the Metropolitan Black Bar Association (MBBA); Judge Smith is one of the founders of the MBBA. Judge Smith served as the MBBA Chairman of the Board (1984-1988) and is currently a Board Member (1988-present). He is also a member of the Judicial Friends, a New York City organization of predominantly African American judges, and the Association of the Bar of the City of New York (Vice President, May 1988 - April 1989). In the past, Judge Smith held memberships with the Judicial Council of the National Bar Association and the New York County Lawyers Association.
In further service to the profession, Judge Smith was a Commissioner of the New York State Ethics Commission for the Unified Court System from 1989 - 2001.
Ever tireless, Judge Smith's other community activities include membership in these organizations: Harlem Dowling-Westside Center for Children and Family Services (Board of Directors); One Hundred Black Men; Grace Congregational Church (Chairman of the Board of Trustees, 1980-present); Horace Mann-Barnard School (Trustee, 1977-1999); and Phillips Academy (Trustee, 1986-1990, and Alumni Council). Judge Smith's work at Grace Congregational Church is especially important to him because he believes that churches are crucial to helping youngsters, providing housing and otherwise improving the lives of people.
Honors and Awards
Throughout his career, Judge Smith has been the recipient of numerous honors and awards. Only a few will be noted here. In May 2004, Judge Smith was awarded an Honorary Doctor of Law Degree from Fordham Law School for his years of dedication and excellence in teaching at that institution.
In 2005, the Albany Law Review, State Constitutional Commentary, was dedicated to Judge Smith. Articles of tribute were submitted by John D. Feerick, Professor and former Dean of Fordham Law School, the Honorable Judith S. Kaye, Chief Judge of the Court of Appeals of the State of New York, the Honorable Inez Smith Reid, D.C. Court of Appeals, and Kenneth G. Standard, then President of the New York State Bar Association.7
In November 2005, the Judicial Friends honored him at their annual Rivers, Toney, Watson Dinner with the Lifetime Achievement Award for his "dedication to scholarship and commitment to fairness and equality."8 Judge Smith, a man noted for using few but always well chosen words, accepted the award "in the name of all those who struggled and struggled and struggled so that one day African Americans could sit where I am and could sit in other places." He told his audience that, "[t]he fight [for diversity on the bench] is not over . . . those of you who sit here must continue. African Americans have got to be prepared to take the tough cases and to put in time, time, and time, until you solve that problem."9
In December 2005, the New York County Lawyers Association (NYCLA) presented Judge Smith with the William Nelson Cromwell Award for his service to the profession and the community. NYCLA "was founded in 1908 as the first major bar association in the country that admitted members without regard to race, ethnicity, religion or gender."10