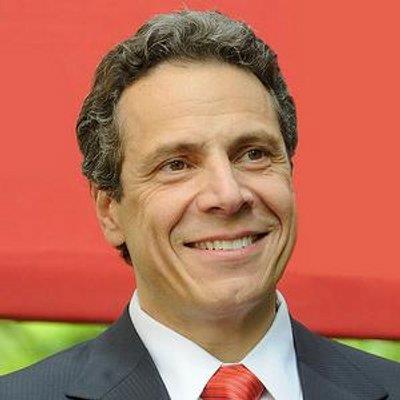 Video, Audio & Rush Transcript: Governor Cuomo Announces Opening of First Span of the Governor Mario M. Cuomo Bridge
Major Milestone Reached in Design-Build Project as First Span of Iconic Bridge Set to Open to Traffic; Rockland-Bound Traffic Shift Begins Friday Night at 9 p.m.
Bridge Connecting Rockland and Westchester on Track to Open in 2018 and on Budget at $3.98 Billion

A Time Lapse Video of the Project is Available Here
Last week, Governor Andrew M. Cuomo announced the opening of the first span of the Governor Mario M. Cuomo Bridge, an iconic twin-span cable-stayed crossing that will serve the Hudson Valley for the next century. The Governor commemorated the milestone with a ribbon-cutting ceremony that featured more than 800dignitaries and residents from Rockland and Westchester counties on the cable-stayed area of the first span. The construction project is one of the largest in the nation and the biggest in the history of the New York State Thruway Authority. Four lanes of Rockland-bound traffic will begin crossing the first span late Friday night into Saturday morning. More information is available here.
VIDEO of the event is available on YouTube here and in TV quality (h264 format) here.
B ROLL of the event available here.
AERIAL FOOTAGE of the bridge is available in TV quality (h264 format) here.
AUDIO of the event is available here.
PHOTOS of the event are available on the Governor's Flickr page.
A rush transcript of the Governor's remarks is available below.
Thank you, thank you. What a great day and what a beautiful day and the sun is shining. Long time in coming. But it was worth it. So many people worked so hard to bring us here today, but without Congresswoman Nita Lowey we simply would not be here today. This bridge was reliant on federal funding, and Nita Lowey and her colleagues, Sean Patrick Maloney, they really delivered. Let's give her a big round of applause and thank her for that.
To Bill Mooney, Marsha Gordon, Ross Pepe, and Al Samuels, thank you for the coalition and all the work to tell the story. Mario Cilento, Jimmy Cahill, and the 7,000 men and women who worked on this bridge and showed the quality of union labor, which is second to none in this nation, we thank them. To the chairperson of the Thruway Authority and the entire team, Joanie Mahoney-thank you so much for your leadership.
We have the students from Nyack Middle and High School and the Sleepy Hollow Middle and High School. We want them to know that we built this bridge for you. This is a 100-year guarantee bridge. We did not need a 100-year guarantee. If I was just building this for myself I would have done more like a fifteen or twenty year guarantee. Much less expensive than the 100-year guarantee. But our responsibility as parents and citizens is to leave this state a better state for you. And that's what was done for us, and this is our investment and our gift to you and to your children.
To Chick Galella, who may be the only man in the world who drove the first car over two new bridges over the same river. Chick Galella, let's give him a round of applause. Chick is 96-years-young, and he's proven that he is stronger than the steel they used to build that Tappan Zee Bridge. And also, they've been recognized, but to my family, to Michaela and Cara, my daughters. And my mom, the wife of Governor Mario Cuomo. A phenomenal first lady for 12 years, an inspiration to all of us—Matilda Raffa Cuomo.
As a government endeavor, by any measure this is an extraordinary accomplishment. You heard before, the Tappan Zee Bridge, and replacing the Tappan Zee bridge was talked about for 20 years, literally. I remember the leaders standing up and saying the Tappan Zee bridge is dangerous, we have to replace it because it's dangerous. But then they kept using the Tappan Zee Bridge. There should be a state law that says you can't say the bridge is dangerous and then have 140,00 people drive over it every year. But I remember it. I think it traumatized an entire generation. Slight admission: I'm not great with heights, you know. So when they said the bridge was dangerous, I listened. And the Tappan Zee bridge, you would drive over it, and they would have these large steel plates in front of you in patches on the roadway. And the vehicle in front of you would go over the steel plate, and it would move just a little bit. And you would see a little sunlight coming through the crack in the roadway. And I would say, my luck, that steel panel's going to move, and I'm going right down. And I would play it out in my mind. Do I take off the seatbelt, do I open the window? I had one of those special tools with the hammer and the seatbelt cutter.
Twenty years they talked about it. And nothing was done. And it became a symbol of procrastination, incompetence, government that just talks and government that can't act. I become Governor, I go to one of my first meetings, and we bring in all the government professionals, and I have them around this conference table, and I said to them I want to do some things really big at the beginning of the administration to show that we can make a real difference. And we went around the table, and these were all government pros, they had been there for years. And I said, give me your biggest, most ambitious idea. And they said things like, "You know, we could do a statewide tree trimming program? We could do a statewide curb painting program?" I said, "No. we need something really, really big." I was pushy and I pushed, and somebody said, "Well, you can say you're going to build a new Tappan Zee Bridge." I said, "I can say that I can build a new Tappan Zee Bridge, or we can build a new Tappan Zee Bridge?" He said, "no, no, no. you can say you can build a Tappan Zee Bridge."
Why can't we do it? They said, "Well it's virtually impossible to actually do it. You have to go to the federal government, the Army Corps of Engineers, the Department of Environmental Conservation, it's very expensive. Plus, it's the Hudson River. The environmental groups will be anxious about it, there will be lawsuits, you'll be held up in court, it will never happen. I remember that discussion. I said to myself, we cannot accept government incompetence as a general operating principal. It was not impossible. If it was impossible then New York would not be New York and I would not accept that as a standard.
Just a few short years later, after 20 years of false starts, we are leaving an old, dangerous traumatizing bridge and it's replaced by a new, safer, smarter structure. This bridge will handle more traffic, it will move it faster on more lanes, it's more technologically advanced, cashless tolling, state of the art security measures, bike and pedestrian access, bus and rail ready. It was done well, it was done professionally, and it was really done beautifully.
Great accomplishments don't just happen. They take a rare combination of talent, time, commitment, blood, sweat and tears by a large group of people. This bridge actually will cost about $1 billion less than our estimate and it was built in about five years. Built in about five years, which is the blink of an eye for development today. It really is an extraordinary accomplishment. On my team, I'd like to thank several individuals who took on the impossible and believed we could. First and foremost, among them, Larry Schwarz who was the Secretary to the Governor at the time, birthed the Tappan Zee Bridge. It was then taken over by Rick Cotton, who is now the Port Authority Executive Director, let's give him a round of applause. It was really an entire team effort with Bill Mulrow, Melissa DeRosa, Alphonso David, Robert Mujica, Rob Megna, Jill DesRosiers, Stephanie Benton, Howard Zemsky, let's give them all a round of applause.
Our congressional delegation delivered the funds, but President Obama himself personally, I appealed to, to fast track this program because the federal approval process itself could take five years on a project like this. And they did fast track it. That's why we're here today. Thank you President Obama. I want to thank my colleagues in the state legislature, they are here today. I spoke to Speaker Heastie yesterday, he's out of the country, but he sends his regards. Andrea Stewart-Cousins is here from the senate, they are the ones who allocated funding to this bridge, state funds, to make it a reality. Let's give them a round of applause. I also want to thank the local officials who are here. They worked hand in hand with us. As you heard, we did over 1,000 meetings with members of the local community. The local officials were fantastic. The easiest thing for a politician to say is, "no." The easiest thing for a politician to do is find the negative, or to play politics. In this case, the officials were really extraordinary. There was no politics, they put it aside, they stepped up to the plate, we heard the issues, we heard the problems, we addressed them, and that's why we're here today. Give them all a round of applause. I thank them. Once again, the 7,000 workers who we pushed to work holidays and weekends, they did over nine million hours in the cold, in the heat, in the snow, in the sleet, the union workers who built this project.
This is a great structure, no doubt. But to me, this is more than a structure. This bridge is a symbol. It's a symbol that shows this state and this nation what we haven't been doing for years. Because in truth, this state has stood still for too long. For decades, we failed to build, we failed to push ourselves, we failed to embark on new ventures and we're now paying the price for it.
Our infrastructure in this state, and in this nation, our roads and bridges - they are crumbling right beneath our feet. While other countries around the world have progressed and developed, we have rested on the legacy of our forefathers. The last new bridge we built was the Verrazano Bridge 50 years ago. Our New York City subway system has train cars that are 50 years old that run on tracks that are 80 years old and then we are surprised why there are delays and break downs. Our commuter rail system, Metro North and Long Island Rail Road, are the same systems that were originally designed to handle one quarter of the population. The Long Island Rail Road was built in 1834 when Long Island was all potato fields and its basically the same system that exists today. The question my friends that we must ask ourselves, is why? Why the complacency? Why haven't we challenged ourselves the way our forefathers challenged themselves? The way we want our next generation to challenge themselves? Why has our government ambition waned and gotten smaller rather than greater?
Every leader, every expert has given us the same admonition. President Bush, President Clinton, President Obama, President Trump, all said the same thing - the future belongs on those who build it. That our economy relies on our transportation system and to remain competitive globally, we must continue to lead with cutting edge development. We've been told it. We know it. We believe it. But we just haven't done it. Why? I think the answer is as simple as it is damning. It's because we didn't believe we could do it. We had lost faith in our government and lost faith in our capacity and our credibility. We lost that daring and confidence that made New York, New York.
The confidence we had in 1817, when Governor DeWitt Clinton said he was going to take this Hudson River and make it the highway to the west by building the Erie Canal. We lost the vision we had in 1883 when we built an international engineering marvel the Brooklyn Bridge. We lost the optimism we had in 1904 when we built the New York City subway system - 665 miles, 400 miles underground - the largest subway system in the country. We lost the daring we had in 1931 when we built the George Washington Bridge, the largest bridge in the world, and they told us it couldn't be done. We lost our foresight we had in 1955, when we built a New York State Thruway two years before President Eisenhower proposed the federal interstate highway act. That fear, that cynicism then drove our people to choose politicians who promised a government that did less, not more. A government that only offered excuses and explanation as to why we couldn't rather than how we could.
But today is different my friends. Today is different. It is undeniable and it is unarguable. That is yesterday and this is today. Today says that the New York blood still runs in our veins. We understand that New York was not a product of evolution. New York didn't just happen. We built it this way, we constructed it this way. It was our New York energy, our New York attitude, it was our New York drive that made it happen. And it is still the place that is unique on the globe. We are the point on the globe where daring, boldness and vision meet talent, ability and capacity. And we are moving forward again. We're moving forward not just here today, but all over the state. With a $100 billion program, the most aggressive and ambitious building program in the United States of America. President Trump had promised in his campaign a $1 trillion infrastructure fund. So far, nothing has materialized. But New York is not waiting for the federal government. We're not waiting for any state to show us what to do because in New York we lead the way. That's who we are and that's what we do. And the same ability and the same commitment you see on this bridge today, we're bringing all over the state of New York.
We're building a new airport at LaGuardia, finally. It's going to be the first new airport in this country in 20 years. We're building a new John F. Kennedy Airport. We're building a new second and third track on the Long Island Railroad, a new Moynihan Train Hall so you never have to go in that pit called Penn Station again. We're building new airports in Rochester and Syracuse and in Elmira and Plattsburgh, new rail stations in Schenectady and Rochester and all across Long Island. Ten thousand miles of roads being rebuilt, 2,500 bridges being reconstructed, all by the men and women of labor in the great State of New York. And my friends we are not planning it, we are not analyzing it, we're not talking about it, we are doing it. Shovels in the ground, and we're doing it right and we're doing it fast.
And we're not only building a new state. We're also building a new economy. Because the way to answer the anxiety of the unemployed and underemployed is not by stoking fear and anger and division and racism but by providing jobs and hope and opportunity and our new New York plan is creating 250,000 good paying jobs for New Yorkers. You want to know the answer to our economic anxiety with a struggling middle class? It's a job with a future. That's all it is but that's everything that it is and that's what we're doing in New York.
Now, this is just the beginning of our new, New York. I believe our mojo is back. Our confidence is back, our energy is back, and we know and we have proven that there is nothing that we can't do when we work together. That's what made the Empire State the Empire State in the first place. And that's what's going to make the Empire State the Empire State again.
One last point. This bridge and the challenge of this bridge was not just the construction and engineering challenge. This bridge is not just a symbol of possibility. It carried an additional responsibility. Its location is one of the most spectacular places in the country. It crosses. It crosses the magnificent Hudson River at one of her widest points with breathtaking scenery as far as the eye can see. We needed to build more than just the thoroughfare, we needed to build something to enhanced the environment. The look, the design, the statement that it made to future generations was critical.
Indeed, our goal was to build a bridge that was artwork and I believe we did. When you look at the bridge from a distance, it has an elegant blue line that stretches three miles with a gentle rise and slope curves and bends that mirrors the movement of the mighty Hudson herself. And in the middle stand four towers, 419 feet from the water reaching up to the sky pointing up, echoing our state motto: Excelsior, ever upwards, reminding us that the motto of this state says reach even higher. Those towers also bring to mind the sentiment of one of my father's favorite quotes by E.B. White: "New York is to the nation what the white church spire is to the village - the visible symbol of aspiration and faith, the white plumes saying the way is up."
I'm sure this design will provoke many individual perspectives but for me when we settled on this design, I see this bridge connected by the Hudson to the Statue of Liberty 34 miles to our south, and the Statue of Liberty holds the golden lamp, holds the torch beside the golden door. And this bridge's towers not only reach up, but they reach out as to say, "we embrace those who choose to enter." The Statue of Liberty lights the way and we extend our arms in a gentle embrace saying, "we welcome newcomers to the great State of New York and to join the family of New York." That is what makes New York special. And that is what this bridge says to me. Today, my father does smile down on us for we together have dared to dream once again and we together have worked hard to turn those dreams into reality and we have succeeded.
Mario Cuomo would be proud of what we have done today because we have made this place a better place. Thank you and God bless you.