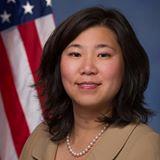 Meng Initiatives to Promote Safety and Accessibility of Menstrual Hygiene Products Adopted by House Appropriations Committee
U.S. Rep. Grace Meng (D-NY), member of the House Committee on Appropriations, recently announced that two of her provisions to promote the safety and accessibility of menstrual hygiene products were included in key appropriations legislation.
The first provision, included in the Agriculture, Rural Development, Food and Drug Administration, and Related Agencies Appropriations bill report, encourages the U.S. Food and Drug Administration (FDA) to issue appropriate guidance on the use of colorants in menstrual hygiene cosmetic products. Menstrual hygiene cosmetic products, such as feminine washes, often contain colorants that are only approved by the FDA for external use, even though many women use these products internally on sensitive and absorptive skin. This can result in negative health effects, which is why the FDA should provide clear guidance on the use of colorants in these products. Meng's measure was adopted as an amendment to the bill report.
Meng's second provision, included in the State, Foreign Operations, and Related Programs Appropriations bill report, would direct USAID to issue a report on how its Water, Sanitation, and Hygiene (WASH) programs ensure the availability of menstrual hygiene products. Many women and girls around the world face stigmatization relating to their menstrual cycles and lack access to safe and affordable menstrual hygiene products. This results in a host of negative consequences for women and girls, including an inability to attend school regularly, poor health outcomes associated with a lack of sanitation, and a deep sense of shame and loss of dignity. The goal of WASH programs is to promote global public health through access to clean water, sufficient sanitation, and proper hygiene, and providing safe menstrual hygiene products to women and girls abroad should be a key component of these initiatives. Meng's measure can be found on page 49 of the report.
"Access to safe and affordable menstrual hygiene products continues to be a problem, not only abroad, but right here in the United States," said Meng. "There is no reason women should be using menstrual hygiene products that are potentially unsafe, or be struggling to maintain proper hygiene while on their periods. I am grateful to my colleagues for including these provisions in these appropriations bills, and for committing to do more to help promote the public health of women and girls."
The Agriculture Appropriations and State and Foreign Operations Appropriations bills have been approved by the House Appropriations Committee and may now head to the House floor for a vote.
These measures are the latest in Meng's push to address a lack of affordable and safe menstrual hygiene products for women and girls. Earlier this Congress, Meng introduced the Menstrual Equity for All Act and the Menstrual Products Right to Know Act.