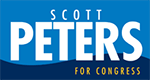 What happened in Charlottesville was a tragedy. The violence and hatred we witnessed from the fringe, white supremacist groups in no way represents what the American people stand for. But in the aftermath, I was encouraged by the supportive messages of respect and unity that emerged from across the San Diego community.

Unfortunately, days after the horrific tragedy, our President delivered remarks claiming that "both sides" were responsible for the violence and refused to condemn the behavior of white supremacists, Klan members, and other fringe racist groups that sparked the violence.
Trump made the decision to incite more hatred and embolden those whose actions led to the death of three people. It's abhorrent, and our community will not accept this from a sitting President.

These comments have no place in our country and should be censured. Can you sign on to support these efforts?
President Trump and his staff with ties to white supremacists need to be held accountable for strengthening the resurgent hate movement.

It's unfortunate that we need to show Trump that he is on the wrong side of history, but it's incumbent on us to set the tone and remind the country that we stand for respect, unity, and kindness.

Sign on to support our call to censure Trump's hate-fueling remarks.

Let's show Donald Trump that there are more Americans standing on the side of Justice.

Thank you,

Scott Peters