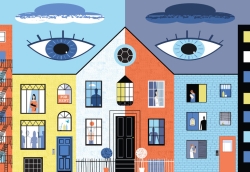 By Ronda Kaysen
Landlords loom large in New York City, where two-thirds of residents are renters. We often think of a landlord as a faceless institution that raises the rent as coolly as it dispatches the super when the faucet leaks. The industry is dominated by giants like the LeFraks, the Dursts and the Rudins.
But in reality, New Yorkers are as likely to live in an apartment operated by a landlord who owns only one building, or a handful of small ones. Chances are that person lives in the garden apartment downstairs or in a building down the street. Even Mayor Bill de Blasio and his wife, Chirlane McCray, own rental properties, with a one-bedroom recently listed for $1,825 a month in a two-family rowhouse they own in Park Slope, Brooklyn.
The Rent Stabilization Association, a landlord advocacy group, says 70 percent of its 25,000 members are small-property owners, who own one or two buildings with no more than 48 apartments in each building. Of the one million rent-stabilized apartments in the city, the association estimates that such landlords own 650,000 of them. Small landlords "provide the most affordable housing stock in New York because they're under rent stabilization," said Joseph Strasburg, the association's president.
So who are the people who own so many of our homes? And what is it like to be one of them? Many of us probably have stories of quirky encounters. I once had a landlady who liked to show me the urns of her various dogs on her mantel. Another one did all the repairs himself, despite his stunning lack of skill. When he could not figure out how to repair my refrigerator door, he suggested I avoid opening it.
Indeed, small landlords are more likely to treat their properties like their home, for better or worse. A thoughtful one might invite you over for a Sunday dinner, which could mean a yummy roast or, alternatively, an awkward grilling about your dating habits. An industrious landlord might install a new fixture like it was his own, while a less ambitious one might take do-it-yourself to mean that you, the tenant, should do it yourself. (I'm talking about you, Mr. Don't Open the Fridge Anymore.)
RentLogic, a company that reviews landlords, found that small landlords were no more likely to have complaints filed against their properties than large, institutional ones. In other words, bigger is not necessarily better.
Managing other people's homes can often mean intrusions into your own. When Andrew Latsko, 35, was a boy, one of his father's tenants often called at dinnertime to air her profanity-laden grievances about noisy neighbors or the lack of heat in September. "It was a little frustrating as a kid," said Mr. Latsko, whose father, James Latsko, raised him for many years as a single parent. "Hey, we're home, we just finished dinner, and we have to run out? Why can't it wait till tomorrow?"
Mr. Latsko spent childhood afternoons driving around Brooklyn with his father checking on the family's 11 small rental buildings in Bay Ridge and Park Slope. The tenant with the colorful messages still lives in her $530-a-month apartment. "She really terrorized my dad," Mr. Latsko said. "But she really loved me. It's weird." The elder Mr. Latsko has retired to Staten Island, leaving the younger Mr. Latsko in charge of the 90 units, the most expensive renting for $2,450 a month.
As for the late-night repair calls, Mr. Lasko's perspective evolved once he took the helm. "If I get a text at 11:30 at night, and it's 25 degrees out, and I'm laying there in my warm bed, I can't sleep," he said. "Somebody is freezing cold in their home."
Without a professional property manager, ownership often means a job with no weekends or holidays. The boiler does not wait to break until you get back from Aruba. "I really haven't been on vacation in 20 years," said Cono N. Natale, 52, who, with his family, owns five small buildings in Williamsburg, totaling 30 units. His oldest tenants have lived in their apartment for more than 50 years.
Thirty-five years ago, his parents, who are now retired, bought the first building, an Italian restaurant with three apartments above it, on Graham Avenue. Over the years, they assembled the rest, all on the same block in Williamsburg. "You're really tied down to these properties," said Mr. Natale, an associate real estate broker at Citi Habitats, who lives in Maspeth, Queens. The 3.2-mile drive from his home to his properties can take an hour in heavy traffic.
Small landlords and their advocates say that city rules can be particularly onerous for an owner whose pockets are not deep enough to keep a lawyer on retainer or hire a property manager. "I see many smaller owners that have been beaten down by the system," said Sherwin Belkin, a landlord lawyer and a partner in the Manhattan law firm Belkin Burden Wenig & Goldman.
This may be because some smaller landlords do not fully understand tenant laws, or simply flout them. Rent from a mom-and-pop landlord, and you might get a handshake lease, an informal arrangement that could give you flexibility, or leave you both in a tenuous position. Susan Crumiller, a Manhattan lawyer who represents tenants, said landlords are "not always well-versed in the laws and their responsibilities."
Small landlords sometimes "make the erroneous assumption that because it's their property they can do what they wish," said Lucas A. Ferrara, a lawyer who specializes in landlord-tenant law. However, "You just can't rent out space willy-nilly."
For a landlord with little experience and few reserves, renting property in New York can be a gamble, even if it may seem like an easy way to profit from a property. An unsophisticated landlord may not know how to navigate the legal system or have the funds to keep afloat when a tenant cannot pay the rent. Even market-rate tenants, who have few protections under landlord-tenant laws, can flex their muscle.
Consider Nansa Sheriff, who, in 2014, decided to sell her three-bedroom condo in Crown Heights, Brooklyn, after moving in with her mother in the Bronx. But her condo board was in disarray, and the building, which opened in 2007, had construction flaws, making a quick sale unlikely. Instead, she rented the space to a family, charging them $3,000 a month for a market-rate lease. Last summer, after relocating to Atlanta, Ms. Sheriff decided to sell, as the building had improved and the tenants were by then on a month-to-month lease.
But in October, while the apartment was on the market, the tenants stopped paying rent and made it difficult for the broker to show the space, saying that bringing potential buyers into the home was disruptive to their children. Without the rental income, Ms. Sheriff, 36, a single mother of a 3-year-old daughter, could not pay the mortgage. "I was freaked out," she said. "Wells Fargo was calling me day and night."
She sued for eviction. Court dates were set, and adjourned. Her credit took a nose-dive. To save money, she gave her dog to her brother and cut back on groceries and air-conditioning.
In an email that Ms. Sheriff provided, Robert Rosenblatt, a lawyer for the tenants, wrote: "A tenant in New York State has every right to stay in his apartment for as long as a judge will give him. My client has no legal obligation to rush out of his apartment and become homeless just so your client can close on the contract of sale."
Mr. Ferrara added, "You can't just call up saying, 'I'm selling, you have to leave.'"
Buyers closed on the apartment in January, despite the ongoing tenant dispute, and agreed to not move in until July. Meanwhile, Ms. Sheriff settled with the tenants, who agreed in writing to vacate the apartment in mid-April.
Ms. Sheriff said they still owe $30,000 in rent and legal fees, money she could try to recoup through separate litigation. "The courts won't even look at what the landlord is going through," said Ms. Sheriff, a recruiter for a technology firm. "They just look at the tenant."
A version of this article appears in print on April 2, 2017, on Page RE4 of the New York edition with the headline: The Life of a Small-Time Landlord.
# # #