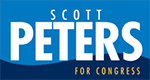 Happy Easter to everyone!
Easter is a time to reflect on faith, family, forgiveness, perseverance, and new beginnings.
In these times, when many seem to want to inspire hate in our world, I will continue to be guided by my faith and the values taught to me by my minister father and loving, dedicated mother who taught me that above all else, we must love one another.
Have a blessed Easter.
- Scott