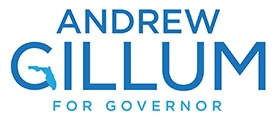 There will be a reception (her in Manhattan) for Florida gubernatorial candidate ANDREW GILLUM on Thursday April 20th from 6-8pm.
If you're not familiar with Andrew here is his campaign introductory video: http://bit.ly/2oGQCoD along with a few articles about the race: http://wapo.st/2oF6KWc and http://nbcnews.to/2oiykHL.
If you are interested in attending you can purchase tickets here: https://secure.actblue.com/contribute/page/april20ny or you can contribute at the door.
The invite follows.
RSVP: brice@andrewgillum.com / 919-522-2246
Minimum $250.