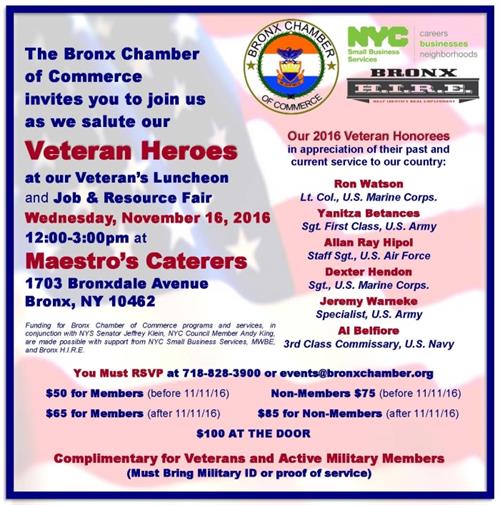 The Bronx Chamber of Commerce
Invites you to join us as we salute six veteran heroes at our 9th annual Veterans Luncheon on Wednesday, November 16, 2016, from 12:00-3:00 pm, at Maestro's Caterer's at 1703 Bronxdale Avenue, Bronx, NY 10462. Join us as we recognize six of our local veterans with our 2016 Veterans Recognition Award in recognition of their past and current service to our country. This year's honorees are Ron Watson, Lt. Col., U.S. Marine Corps; Yanitza Betances, Sgt. First Class, U.S. Army; Allan Ray Hipol, Staff Sgt., U.S. Air Force; Dexter Hendon, Sgt., U.S. Marine Corps; Jeremy Warneke, Specialist, U.S. Army; and Al Belfiore, 3rd Class Commissary, U.S. Navy.
This luncheon is complimentary for Veterans and Active Military Members with military ID or proof of service.
Tickets for the luncheon: For Members: $50 by November 10th; $80 after November 10th; For Non-Members: $65 by November 10th; $85 after November 10th; Admission at the Door (if still available): $100.
Information or to RSVP: Contact Phil at 718-828-3900 or phil@bronchamber.org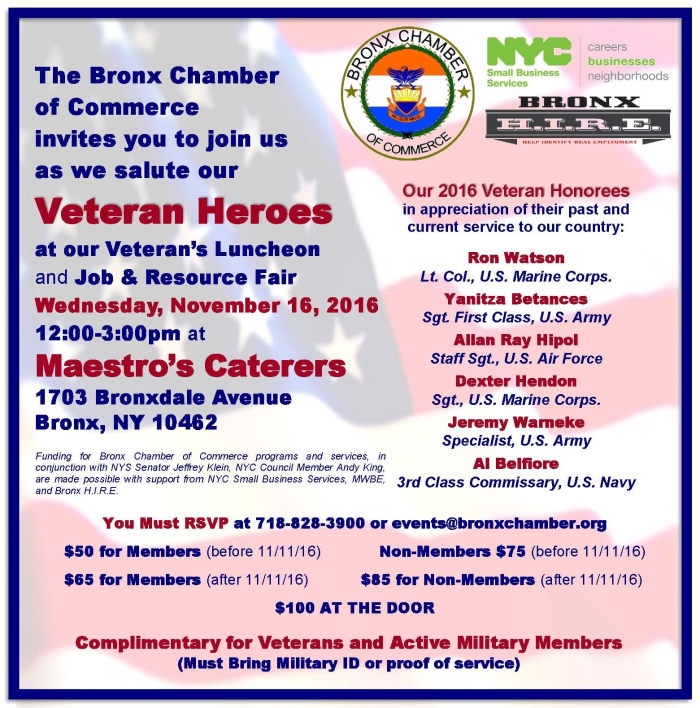 Events, Communications & Grants Director
Bronx Chamber of Commerce
"The Network for Business Success"
1200 Waters Place, Suite 106
Bronx, NY 10461
718-828-3900