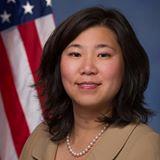 Meng Legislation to Remove the Term "Oriental" from Federal Law Included in Senate's Bipartisan Energy Bill
The U.S. Senate unanimously voted to include a provision authored by Senator Mazie Hirono (D-HI) that removes offensive terms such as "Oriental" from federal law. The amendment was added to S. 2012, the Energy Policy and Modernization Act, which is currently being debated by the Senate. Legislation removing derogatory terms, sponsored by U.S. Rep. Grace Meng (D-NY), was passed by the U.S. House of Representatives in December.
"It is way past time for the U.S. government to stop using this offensive and antiquated term and including my legislation in this Senate bill brings us one step closer to making that happen," said Meng. "Many who use the word 'Oriental' may not mean it in a derogatory manner; but it is an insulting term that should finally be removed from federal law. I thank Senator Hirono for steering this legislation through the Senate, and hope that the government's usage of the term it will soon be a thing of the past."
"Clearly the use of derogatory terms to refer to different ethnicities and races doesn't have any place in federal law," said Senator Hirono. "I am pleased to partner with Representative Meng in this effort. It's long past time that this language was updated to reflect the diversity of our country, and I thank my colleagues for unanimously supporting language that is inclusive of all Americans."
The legislation removes all references to derogatory terms that refer to racial groups, such as "Oriental" in federal law, and replaces them with terms like "Asian Americans." The House legislation is included in the North American Energy Security and Infrastructure Act. The Senate measure would be approved with the passage of the bipartisan Energy Policy and Modernization Act.
In 2009, Representative Meng – when she was a member of the New York State Legislature – passed legislation into law that eliminated the use of "Oriental" in all official New York State documents.