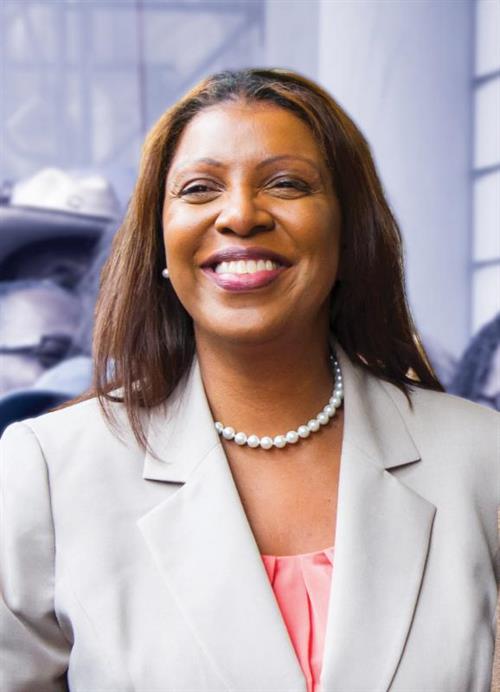 New York City Public Advocate Letitia James. Image credit: The Office of the New York City Public Advocate
Investigation uncovers HPD's 13 years of failing to enforce housing program requirements against developers and depriving the City of affordable housing and resources. On February 29, 2016, New York City Public Advocate Letitia James released a report on an investigation conducted by her office into 26 residential properties in Brooklyn. The 26 properties had been given to a nonprofit developer to be rehabilitated and resold, subject to affordable housing income restrictions, as part of the Department of Housing Preservation and Development's Neighborhood Homes program. The report uncovers how HPD's failure to adequately supervise the progression of these residential properties caused the City to lose over 40 units of affordable housing and waste a considerable amount of the City's resources, and left prospective homebuyers waiting for apartments they placed deposits on for more than a decade.
In 1996, according to the report, Mayor Rudolph Giuliani's Administration set out to "maximize real estate tax revenues" and simultaneously "preserve affordable housing" by transferring ownership of over 100,000 City-owned, under-utilized residential units to tenants, nonprofit organizations, and developers. In an effort to execute the mission, HPD established a series of "asset disposal programs," which includes the Neighborhood Homes program. The Neighborhood Homes program was introduced in 1998 to generate home ownership options for families earning incomes of up to 165 percent of the area median income, or AMI. The program seeks to achieve its goals by choosing community-based nonprofit organizations, which are referred to as "sponsors," to take ownership of the residential properties and rehabilitate them into one-to-four family residences, which are then sold by the sponsor to income-eligible families.
According to the report, the Office of the Public Advocate acted in response to constituent complaints by investigating the status of incomplete residential properties the constituents had contracted to purchase over ten years ago.
New York City Public Advocate Letitia James characterized HPD's failure to oversee its program's implementation as unacceptable and hypocritical. "The very agency that is entrusted with preserving and providing affordable housing in New York City is in fact the body that is keeping New Yorkers from the homes they need and deserve," said Public Advocate James.
Hollie Osborne, one of the constituents who had entered into a contract to buy a home through the Neighborhood Homes program, chose to purchase her home because it would allow her 93-year-old mother to live on the ground floor and have access to the 24-hour care that she truly needs. "Instead, we wasted years of money and energy, through two financial crises, trying to navigate a program that was created to help people like us," said Osborne.
In June 2002, HPD transferred 26 residential properties under the Neighborhood Homes program to Moore Better Homes Housing Development Fund, Inc., a non-profit affordable housing developer and Neighborhood Homes program sponsor, with project terms that provided Moore Better Homes with 18 months from the time it closes on a property to the time construction on that property should be completed. By 2005, Moore Better Homes had completed the rehabilitation and sale of five of the 26 properties.
Moore Better Homes secured two loans backed by mortgages placed on the 26 properties. The first loan was for $3.3 million and the second loan was for $3,143,088; the latter was transferred to HPD in 2005. The mortgage documents explicitly provided several circumstances under which HPD would be entitled to re-take possession of the mortgaged properties, "including the sponsor's default by failure to commence construction, failure to perform construction, abandonment, or substantial suspension of construction," but HPD did not exercise its contractual rights at any point during the three years Moore Better Homes had possession of the 26 properties.
By 2007, Moore Better Homes had become financially insolvent and left no trail indicating the whereabouts of the money from the 2002 loans or the proceeds from the five homes it sold. Due to its financial status, Moore Better Homes' transferred the remaining 21 properties to Heights Houses, a for-profit corporation, in exchange for the assumption of the debt attached to the properties. HPD had set the project completion deadline as December 1, 2009, but nearly eight years later, only four properties had been sold. Existing contract holders had to pay an increased deposit price in line with the increased price of the residential units, and many even signed new contracts. Two constituents interviewed by the Office of the Public Advocate reported that after construction had been completed on their contracted-for homes, Heights Houses told them that a Certificate of Occupancy was required from the Department of Buildings before the sale could be completed, yet the constituents had evidence of others renting and living in their contracted-for homes instead.
Further, HPD should have questioned whether George Armstrong, the Principal of Heights Houses, is even fit to serve as an affordable housing developer. In 2011, he pleaded guilty to several federal felony charges—"racketeering conspiracy, bribery, wire fraud conspiracy, and money laundering—all of which were related to an HPD bribery scheme.
In light of HPD's obvious failures, the Office of the Public Advocate issued five recommendations to HPD.
First, HPD "must" prioritize the expedited completion and sale of the residential units already contracted for, without raising the price for the buyers.
Second, HPD "must" conduct an in-depth audit of Moore Better Homes and Heights Houses, and individuals as it sees fit, which should disclose the whereabouts of the millions of dollars invested into the 13-year project.
Third, HPD "must" implement objective criteria to use in choosing which entities to transfer its properties to, and HPD must retain the records of the new process and determinations reached for future oversight of HPD.
Fourth, the City Council should place explicitly restrict City-owned property from being transferred to for-profit entities when the City Council approves the property transfers based upon promises that they will be given to non-profit entities.
Fifth, a third-party entity not affiliated with HPD "must" independently review and supervise the Neighborhood Homes program and the similar HPD programs involving the transfer of City-owned property to a non-City entity when project benchmarks fail to be met.
To read the full investigation report, click here.
By: Jessica Soultanian-Braunstein (Jessica is the CityLaw Fellow and a New York Law School Graduate, Class of 2015)