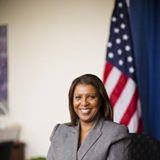 Friends,

Did you see [the] Daily News?

An investigation launched by the Office of the Public Advocate and an ensuing report details a boondoggle that turned a Housing and Preservation Development (HPD) affordable housing program into a nightmare for a number of families.

The goal of the program was to allow community-based nonprofit groups to purchase and rehabilitate City-owned one-to-four family homes, and to sell those properties to income-eligible purchasers.

Instead, our investigation found a program where 17 of the 26 homes that were supposed to be turned over to families are vacant or in deteriorating condition.

This failure to deliver affordable housing is a cautionary tale about why we need oversight over unscrupulous actors who take advantage of New Yorkers in need and why the Public Advocate's Office will continue to be a watchdog for everyday people, all across our City.

To see the full story, click here.
Sincerely,
Letitia James
New York City Public Advocate