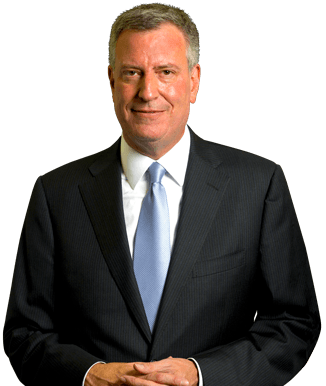 Transcript: Mayor de Blasio, Commissioner O'Neill Discuss November Crime Statistics
Video available at: https://www.youtube.com/watch?v=u_6R7UD31MA
Mayor Bill de Blasio: Morning, everyone. We're here to talk to you about the month of November and how the NYPD did in terms of fighting crime in that month. But I thought it was very important to spend a moment upfront talking about an incident that occurred in this city in the last few days, and that is something that reflects a lot on the current moment – and we need to address it.
I have said many times – and I'm going to keep saying it – that there are not enough people who know there are 900 Muslim-Americans serving the people of New York City on our police force – 900 Muslim-American members of the NYPD, who, every day, put their lives on the line for all of us. Put their lives on the line for Christians, for Jews, for Hindus, for Muslims, for everybody.
And I was sick to my stomach when I heard that one of our officers was subjected to threats and taunting simply because of her faith. Now, it makes no difference to me whether she was off-duty or on-duty at the time. She serves this city. She is an example of everything we would want from our fellow citizens – a commitment to others, a commitment to service, the willingness to do something greater than herself. And what does she get for it? Threats to her life and bigotry and taunts.
We can't allow this. It's unacceptable in this city. It's unacceptable in this nation. And it's important to put a human face to this story, which is why I wanted you to meet Officer Elsokary. You'll hear from her in a moment.
But think of what we value in this city and in this nation. We value people who put on a uniform and protect us. We value people who have a faith and live it out. And she has done all of those things and it's absolutely unacceptable that she or anyone would be treated with hatred or bigotry.
So, I want the people of New York City to see the face of this public servant, this crime fighter, this person who decided that her mission was to serve the rest of us and understand what it means when hatred is exhibited.
Again, the suspected assailant may not have known she was a police officer – that makes the point even stronger. In a city where there are 900 Muslim-Americans on our police force, there's a lot of people you may not know are a police officer or a member of the National Guard or a member of the US Army. But that should make the point that every single one of them is our fellow American and worthy of our respect.
Officer Aml Elsokary proudly wears her hijab to work. She serves at the 9-0 Precinct. Some of you may know, she has served with distinction. In 2014 she ran into a burning building and helped to save a young girl and her grandmother.
And then on Saturday, she had to experience a man allegedly yelling at her and her son, "Go back to your country." Well, this is Officer Elsokary's country. She is an American. She is a New Yorker. She's already at home. And we cannot allow this kind of hatred and bias to spread. We have to stop it every single time.
It is important to know that as usual, the NYPD acted swiftly. The individual has been arrested and charged. And that is an example of what we will do every time we see an act of bias and hatred.
It is also a reminder to all New Yorkers to stand up for one another. There are many versions of the concept, if you see something, say something, and that includes when you see an act of hate. When you see violence toward your fellow New Yorker because of who they are, we need you to step forward and report it and help us stamp out hate.
We are always New York, and in New York we stand up for each other and we respect people of all faiths – that's the New York way.
Quickly in Spanish –
[Mayor de Blasio speaks in Spanish]
Now, let me say Officer, I want to express my appreciation and my deep gratitude for all you have done for this city. And I want you to know we all stand with you. We all stand with you and we feel that what you do is so important for the city and I want the people of this city to know you, to appreciate you and your family, and understand everything you contribute to us every day.
Officer Aml Elsokary: Thank you.
Mayor: Before we hear from Officer Elsokary, I'd like our Police Commissioner Jimmy O'Neill to speak.
Police Commissioner James O'Neill: Good morning, everyone. I did have the opportunity to meet Officer Elsokary about – I guess it's about two years ago after her rescue in the 9-0 Precinct. I met her in the emergency room at Woodhull Hospital where she was being treated – her and her partner were being treated for smoke inhalation.
I'd just like to say – to thank you for everything that you do every day in the 9-0 in Williamsburg and for keeping the people of this great city safe. You and your partner did a tremendous job that day and you do a tremendous job every day, as does more than 36,000 men and women of the New York City Police Department. We're going to talk about how safe New York City is in a couple minutes, and the [inaudible] civilians.
So, thank you for your service. And I'm sorry this happened to you and your son, but with your help we were able to make an identification and were able to arrest this man as quickly as possible so he wouldn't be able to do this to anyone else. And if anybody is thinking – in New York City – about engaging this type of behavior just, rest assured, that you will be identified and you will be arrested and you will be charged accordingly.
So, there's no place for that in New York City.
Thank you, Mr. Mayor.
Mayor: Thank you, Commissioner. Officer, I would love to hear a few words from you about why you chose to be a police officer and what this work means to you.
Officer Elsokary: Again, I'll reiterate – I became a police officer to show the positive side of a New Yorker, Muslim woman that can do this job, that is non-biased. I help everybody, no matter what's your religion, what's your faith, what you do in New York. I'm born and raised here and I'm here to protect you all and I know that my department and city is here to protect me.
I want to thank the Mayor, thank the Commissioner for their constant support. The department has supported me wearing my hijab, stood with me by my side. I want to thank my Muslim Officer Society for also standing by my side and being supportive, and everybody that has contacted me.
And, again, thank you for everything you have done for me.
Mayor: Thank you. Thanks for what you do for us every day. Thank you. Let's give her a round of applause.
Commissioner O'Neill: [Inaudible]
Mayor: Aml is the pronunciation. Aml.
Question: [Inaudible]
Mayor: Yeah, I'm going to say it. Even though it's A-M-L, you say it like an "E." Aml. Aml Elsokary – she is a police officer – 9-0.
Unknown: [Inaudible]
Mayor: No. Let me do it one more time for everyone just so everyone gets it. Officer Aml Elsokary. It's A-M-L – is the first name. Elsokary – E-L-S-O-K-A-R-Y. No hyphen – E-L-S-O-K-A-R-Y – 9-0 precinct. And how many years?
Commissioner O'Neill: 11.
Mayor: 11 years on the job. Okay. Let me turn to – oh, you're going to start?
Commissioner O'Neill: Yeah, going to start.
Mayor: Okay, go ahead.
Commissioner O'Neill: So, thank you everybody for being here this morning for our November crime briefing. Dermot Shea is going to talk about our crime stats and once again, we're doing – the city is doing very well. We're down in November. We – you know what, I'm going to leave that to Dermot. He can go over all the stats.
But as you're listening to them, just really understand this is all as a direct result of the hard work of the men and women of the NYPD, and in conjunction with neighborhood policing. That is helping us push crime down even further. And then with Bob Boyce's people engaged in precision policing, where we're going after the crews and gangs. So, this is enabling us to push this. When you listen – when you hear the shooting number, you'll definitely be impressed. It's a record low. And again, this doesn't happen by accident. This happens because all New Yorkers are coming together to push crime down even further.
So Dermot's going to speak – the Mayor's going to speak, Dermot's going to speak, and then Bob Boyce is going to talk about a couple of cases, then I'm going to take some questions.
So, Mr. Mayor?
Mayor: Thank you very much, Commissioner. I want to offer my congratulations to the men and women of the NYPD – another fantastic month. I want to thank, of course, First Deputy Commissioner Tucker, all the members of the leadership who are here – a lot to be proud of.
It is also a pleasure to be here at the 1st Precinct, where this good work is done every day, keeping the people of this community safe.
What we're seeing now is precision policing in action. We're all seeing every single month more and more of the impact of neighborhood policing and the closer bonds between police and community. And that story will continue to grow and make an impact on this city.
Now, I wanted to start by saying one thing that is truly unusual that we've experienced in the last month – and it's something I know is on everyone's mind. Last month was the first time we had NYPD taking such a crucial role and huge role in providing security around Trump Tower. I know there's been, legitimately, a lot of concern about how that's going to play out. And one of those concerns of cost – of course is about the cost of providing the security. And as I've said, even though there's work to be done with the federal government, I remain hopeful because when you look at the history of how the federal government has handled a number of other situations where NYPD has provided extraordinary efforts, such as the papal visit last year, there's actually a pretty good track record on reimbursement. But we've got a lot of work to do.
Today, I'm sending this letter to President Obama to formally initiate the reimbursement process. We are going to be continuing very aggressively in the course of the next few days calls and meetings with members of the Obama administration and members of the Congress to nail down the reimbursements for the time between November 8th and January 20. That will be the responsibility of course of the current administration. So, this letter, and detailed budgetary letters, will go out today. A series of calls and meetings with administration officials and members of Congress will occur in the course of this week.
Further, as I said previously, we have become the process of dialogue with the incoming administration. I called Treasury Secretary-designate Steve Mnuchin to congratulate him, and we had a good conversation, including the fact that he fully understood that there was a real, important discussion to be had on how we deal with reimbursement issues going forward. He's a native New Yorker. So, I think that is a very helpful reality. But this is the time now to really lean in to nailing down the reimbursement, particularly for the period up to January 20. Let me also note that what we will be asking in the letters today to the President, to the administration officials, to the Congress – we will be asking for up to $35 million in reimbursement for the period November 8th to January 20. That's, again, up to $35 million for November 8th to January 20.
So back to the situation – November – really again so much for the NYPD to be proud of. Dermot Shea will go into details. But here's what I want to emphasize. Just looking at this month of November – this 30-day period in 2016 versus the equivalent period one year ago – overall major crimes down 9.9 percent – almost exactly 10 percent decrease in overall major crime. And when you look at it numerically, it is striking. That is the difference between 9,094 major crimes versus 8,194. Hundreds and Hundreds of crimes stopped by the NYPD, meaning a real tangible impact on people's lives.
Rape is down 20 percent. Robbery is down almost 16 percent. Burglaries are down 22 percent. There are definitely areas where we have to do better. And homicide is one of the them when you look at the month of November. But we know that this approach the NYPD is taking – the precision policing, plus neighborhood policing is more and more paying off, and these numbers are extraordinary.
Let me also note that we have not yet felt the full effect of the new officers coming on the job. We will get to that full complement – the 2,000 officer increase in terms of real patrol strength won't be fully felt until January. And then I think you'll see more and more impact from that addition to that police force – again, the first major addition to our force in 15 years. That's going to play out more and more after January.
Finally, since it's been such a part of the national discussion, I want to emphasize this simple fact. Since the height of the previous use of stop-and-frisk – 2011 – stop-and-frisk is now reduced 97 percent. Let me say it again – stop-and-frisk is down 97 percent since the high-water mark in 2011. And what we have seen is consistent drop in crime, and particularly this year – consistent increases in gun seizures by the NYPD. I think that says it all.
Just quickly in Spanish.
[Mayor de Blasio speaks in Spanish.]
With that – turn back to the Commissioner and Deputy Commissioner. And thank you and congratulations again.
Commissioner O'Neill: Thank you, Mr. Mayor. Now, before I introduce Dermot, I'd just like to thank Deputy Inspector Mark Iocco – he is the C-O of the first precinct – for hosting us here this morning. So, Dermot is going to go over the November numbers first now. Dermot?
Deputy Commissioner for Operations Dermot Shea, NYPD: Good morning, everyone. When we look at November's numbers, I'm going to be quoting statistics to you as of December 1st. Public Information Office will have all these numbers for distribution. November continued the year-long trend of reduced crime in New York City. Which just under four weeks left to go in 2016, we're poised to have really historic levels of both index crimes, as well as gun violence seen in New York City. We are not finished. Just as we sit here today, we're reviewing across the Department – deputy commissioner officers, different bureaus and divisions, all units – to look forward to 2017 – how we can push crime down even further. And we believe that we can.
Issues of data collection, analysis, deployment – with Terry Monahan sitting next to me – with patrol, with Bob Boyce's detectives and cases, as well as outreach – all areas examined to how we can even push crime further down.
In terms of overall index crime for November, as the Mayor alluded to, we were down nearly 10 percent, or over 900 crimes.
Murder – we recorded 23 murders, versus 22 the prior year. Three of those 23 were re-classifications, which leaves 20 actually occurring this November. The re-classifications – one was from 1993, one from 2003, and one from 2011.
Rape – down 20 percent.
Robbery – 233 fewer robberies this year – down over 15 percent.
Felonious assault – down six percent.
Burglary – down over 22 percent.
And this is across broad sections – different boroughs, different precincts. We're seeing dramatic crime decreases.
Grand larceny – down nearly five percent.
Stolen vehicles – 54 fewer in New York City. Pushing the record down even further – down 8.8 percent for November.
We saw reductions in transit crime. We saw reductions in housing crime.
In terms of shooting incidents – if you remember last November, we recorded 80 shooting incidents – that was a record at the time, never before seen in New York City since we've recorded shooting incidents. Versus that 80, this November we recorded 67 shooting incidents – a reduction of 16.2 percent.
Where does that bring us? Through the first 11 months of November – through November of 2016 – we're down 3.8 percent overall in index crime. It's a reduction of over 3,600 index crimes. When you look at shooting incidents, and again, this is through the end of November – we've actually gained on these leads.
But through the end of November, we're down 107 shooting incidents – over ten percent shooting reduction. 936 shootings, which is a lot, and we're going to push it even lower. But where were we last year? 1,043. We are shattering the prior record in 2013, in terms of shooting incidents in New York City. Murders – down 15 through the end of November for a 4.6 percent reduction.
And I'll just end quickly as a frequently do mention the enforcement efforts that's leading to this. Arrests through November 30th – down over 23,500 – just this year. Over two years, we're down over 21 percent in arrests – far greater number. Something I've mentioned before with this reduction in arrests, felony arrests up, gun arrests up over nine percent. We're not doing this alone. The most important party in all of this is the community and the tips that we are receiving, whether it's 3-1-1, 9-1-1, whether it's attending a community council meeting, whether it's showing up and following up at court with an arrest, so I praise the work that the public and all our prosecutors have in these numbers. We are really, truly not doing this alone. And those are the biggest part. Thank you.
Commissioner O'Neill: All right, thanks Dermot.
Just before I introduce Bobby, I had the opportunity to go out to the Academy on Saturday, and we had a family day for our recruits and their families, and I talked about how – why people become New York City police officers – and that's to make a difference. And with the 900 people-less that were victims of crime this year – that is a tangible difference. So, again – my congratulations to the men and women of this great Police Department.
Bob Boyce is going to update you on a couple of cases.
Chief of Detectives Robert Boyce, NYPD: Good morning, ladies and gentlemen. If we could just put up that poster, please. That's a different one, but I'll go with that. Don't worry about it.
Mayor: He's very quick on his feet.
[Laughter]
Chief of Detectives Boyce: Okay. If you remember – we were looking for this lady right here. This happened at the Richard Rodgers Theater. There was total of 10 pick-pockets from – this is a career criminal right here. She has 52 priors. Her name is Michelle Vaughn – aka, Lin Vaughn. She's 48 years old. As I said, she has 52 priors, so she is a professional pick-pocket. We're looking for her now. We've been looking for her the last couple of days, and she knows we're looking for her as well. So 52 priors, 10 cases all and all, we have her identified in two. So we've made two cases on her. We believe she is the one – she is a person who obviously comes up with different disguises and works the Midtown area. So great work by the Grand Larceny Unit and Manhattan detectives as well.
Next poster please. Okay, we had a homicide in East New York, Brooklyn on November 30th, outside the Louis Pink Houses. A young lady, a 27-year-old female, Salaya Figueroa, was shot one time causing her demise. She was an unintended victim in this. They were aiming for someone else. We've identified these two individuals as the shooters – Frederick Coleman, he is on your left. He's got 19 priors. And with him is [inaudible]. He's got nine priors. We're seeking them now. We consider them to be dangerous individuals. Please call 9-1-1 if you see them. If you have any information, please call the tips numbers.
Last one, please. This is a person identified – well, a sketch of someone we're looking for. You'll see the car running away. This is from the case with the State Corrections officer who was shot with his wife out in the 113th precinct. We were able to do a sketch, as you can see the teardrop and the significant haircut. I don't know if he still has that, but we're looking for him as well. This car right here – you see, we see fleeing the scene. We were able to come up with an image of it. That is a Honda Civic, I believe – light blue in color. Any information that we have on this, please call the Police Department immediately on the tips line. If you see this car and that fellow sitting inside, please call 9-1-1.
Question: [Inaudible]
Chief Boyce: It looks that way. It looks like in a circular pattern, yes. So again, one time – once we put this out, sir, it's unusual that he keeps it. They usually alter their appearance immediately. So, if anybody knows him, please call. This case doesn't appear to have anything to do with what happened last night. This is a State Corrections officer.
Thanks.
Commissioner O'Neill: Okay, thanks Bob. Take some questions. Yes?
Question: [Inaudible] You mentioned 9.9 percent or 10 percent, is that year-to-date, or is that November year-to-last?
Deputy Commissioner Shea: That's for the month of this November verse the last November. And that brings our current year-to-date, through November 30th – 3.8 percent down.
Commissioner O'Neill: Juliet?
Question: [Inaudible]
Deputy Commissioner Shea: That's something that we're always working on. I am a firm believer – the answer is I don't have exact metrics – but I am a firm believer that if we are to continue to push the crime down, we will hit a level that we need the community support even more. And whether it's cooperating with cases that are going on already in the criminal justice system or increased participation, block watches, showing up at community council meetings – there's a variety of benefits that this gives to us – increases our eyes and ears on the street. The tips that come in to Bob Boyce's detectives, so just on a multitude of ways, we encourage all New Yorkers to get involved, to get involved more. They already are involved. For those areas of the city that – we still do still crime in New York City. It's at unprecedented lows, but one crime is too many. So when there is a crime that occurs, for example some of the ones Bob alluded to, we ask the people in those communities to get involved, become a part of the block-watchers, show up at the community council meetings. If you have a tip, call up. And this is going to just add – add to this crime reduction.
Question: Is the [inaudible] dollar figure he cited – is that the entire cost or is that just a portion of the full cost of the security?
Mayor: That's the – I will have the budget people confirm, but my understanding is that's essentially the entire cost from November 8th to January 20.
Commissioner O'Neill: Marcia?
Question: [Inaudible]
Commissioner O'Neill: Marcia, I'm going to have to get the stats on the hit-and-runs for you. I don't have them with me right now. And Ben Tucker will talk about the second part of your question – about the PR firm. Ben?
First Deputy Commissioner Benjamin Tucker, NYPD: Sure, Marcia. So, you may recall that we started almost three ago – at the beginning of the administration – to look at how we build trust. Right? I mean that's a big part of it. We started with the federal monitorship. We're still working with them. Of course, we're working on new stop-and-frisk and body-on cameras coming online in March. But beyond that – to Dermot's point – he said we need community support more than ever. We recognize that. That's how you build trust. And so the more we can do that, the better off we'll all be. So we're trying to do that. We've started out with our new recruitment campaign. We started out with training. So this has been sort of an ongoing process. And as a result, I think we're starting to see some results. As the Mayor said, stop-and-frisk – down 97 percent. Those are good. That's a good thing. And we haven't even begun to train yet on stop-and-frisk as part of the federal monitorship remedial measures process, but that's all underway. If you add to that the focus on our outreach around – to communities all across the city, which has been ongoing during this process as well.
So this is an ongoing process. This new procurement that we've put on the streets is designed to help us think about messaging. We're reaching lots and lots of people. Dermot mentioned community councils, mentioned block watches. But beyond that, there are other folks out there that are more on the margins that we want to reach as well. So we're trying to get messaging out. We're trying to be thoughtful about it. This will give us some opportunities to think about doing that.
Question: [Inaudible]
First Deputy Commissioner Tucker: Exactly. I mean we want to be as targeted as we possibly can. I mean one message may not reach all populations. And so, we're trying to think about ways in which we can – we can increase our bandwidth, increase our outreach in a way that tells our story. The fact that our crime statistics are extraordinarily low, and we're hitting record lows this year is important and certainly, critical. At the same time, we know that there are people we're not reaching, and who don't – may not even be aware of that. And that number – those numbers don't resonate because they may not experience it in their communities that way.
Commissioner O'Neill: Marcia, we'll get Tom Chang to be available to you later on for hit-and-run. Okay? And Ben – just to add what you were saying this is about recognition of change. We've done a lot of hard work over the last 35 months in the New York City Police Department to reach out and make things better for every New Yorker. So, this is part of that effort.
Question: Sir, [inaudible] January 20th [inaudible] protection then go around that area and hopefully [inaudible]?
Commissioner O'Neill: We are still in talks with the Secret Service, who – we've developed a great relationship with for our post-inaugural plan. It hasn't been firmed up yet.
Question: The number of suspected ODs on Staten Island [inaudible] last year. I'm wondering if there's more that the NYPD can do or at some point [inaudible] –
Commissioner O'Neill: Dermot can start and then I guess we'll turn it over to the Mayor. But we've done a tremendous amount of work on Staten Island with the new DA out there, Mike McMahon. But Dermot can give you some follow up.
Dermot Shea: The unattended overdose problem is not something unique to New York City. This is something that if you pick up any – turn on any TV or any newspaper, it's really spreading across the nation. And unfortunately, it's hit us too. This is not a Staten Island problem either. This is an entire New York City problem.
Recognizing this, we have really stepped up our efforts over the last six months particularly going back probably to the beginning of this year in recognition of the growth of overdoses across the department – taking part in multiple City agencies, speaking specifically to hospitals, Department of Health, Corrections, the Police Department, the prosecutors. This is clearly a problem that is – we are aware of and significant but it's not the answer to this, in my opinion – it's not going to just a police [inaudible].
So, I agree with you 100 percent. We have been looking at trying to identify, quicker than possible, share information with other agencies, coming up with a targeted response on the – in terms of interdiction and those selling those selling substances – Bob Boyce's. But this a very complicated problem that we are in the midst of and have been for some time.
To label it as Staten Island alone, I think we're missing some of the picture. We have literally every borough of New York and the suburbs seeing the same exact problem.
So, it's a multi-pronged approach. It begins with what we've already done – trying to get better and better information. Where are these happening. What's the substances that's causing these overdoses. Who are the people that are falling to these overdoses? Does it start with a prescription problem and then morph into it? A lot of problems – I can tell you that we've done a tremendous amount of work working with those that I've mentioned, working with the ME's Office to try to examine when somebody passes away, what can we learn from that incident, and then tailor our response accordingly.
A lot of work still to come. Definitely one of our high priorities. I mentioned earlier, I think the strategies for 2017 – we're not letting up on crime. We're certainly not letting up on gun violence, but we also identify that there are areas that we can improve and we plan to, and overdose is one of them.
Mayor: That's right. I want to follow up, Anna, on the point about what is important in policing and beyond policing. In terms of policing, it's obviously becoming a higher and higher priority for the NYPD all over the city. I would say we have a particularly major concern about the Bronx and Staten Island.
In terms of work with the DAs, this is becoming a higher priority and we're putting more resources into the prosecutions. The use of the reversal drug, naloxone, has been one of the – amidst a crisis – it clearly is – one of the bright spots has been the extraordinary achievements of the NYPD in terms of stopping overdoses in so many cases and saving lives. We're trying to get that drug out more broadly including into households that people fear their child, in particular, might be susceptible to an overdose. That's one piece of the equation.
I think the other piece of the equation has to do with treatment and the continuum between mental health issues and substance misuse issues. When my wife, Chirlane, announced a new NYC Well initiative – this is very pertinent to the opioid situation because now we have a single point of contact for any family. You know, the person who's got a problem can call 1-8-8-8-N-Y-C-W-E-L-L but a family member can call also and say, I've got someone in my household who is using prescription drugs inappropriately or is using heroin and I'm scared. What do I do? And there's a trained professional to help them figure out how to get the treatment they need or obviously if we need to involve law enforcement in any way.
But there's still a stigma. I think this is one of the things we have to overcome to deal with the opioid issue. There are family members who know that one of their loved ones has a problem but they don't know where to turn and they're embarrassed about it. They think it sort of reflects badly on them. People should never feel that. This is a physical problem. This is an addiction problem.
And so, we're hoping to – working with NYPD, working with schools, working with clergy – help people understand they need to come forward to help save lives in their own family. So, all of these pieces have to have [inaudible] available.
But we have an obligation to do, Anna, is to put this together into a very aggressive plan that the people of New York City can see and touch and feel and can see it's going to have impact on their lives.
Question: [Inaudible]
Mayor: I'll let law enforcement speak to that.
Commissioner O'Neill: I think that's something that should be left to trained professionals. You know, if people are doing that then they're living life on the edge. They're really taking serious chances with whether they want to continue on this Earth anymore. So, obviously, not recommended. Azi?
Question: [Inaudible]
Commissioner O'Neill: Yeah, Chief Boyce will talk about that. Bobby?
Chief Boyce: Good morning, again. This – right now, hate crimes in the city is up 35 percent from last year. Now, that being said, we're also up 45 percent in arrests on those cases. So, as they come in, we are making the arrests nearly immediately in some acts. Other acts, other times it's a little bit tougher investigation.
So, we also started looking at certain parameters. What happened post-Election Day? We had a huge spike right after the election. It's somewhat slowed a little bit. So, right now, since Election Day, it's 43 cases versus 20. They're up 23 which is a big percentage of 115 percent.
We've seen most of those are anti-Semitic – 24 versus eight. The anti-Muslim number is four versus two but this is yesterday's number so we don't have all the weekend. So, we're seeing anti-white as well and anti-sexual orientation.
So, we're seeing, across the board, an increase right now – hard to define with just metrics. Again, our job is to go out and make arrests immediately on these things which is what we're doing.
Question: [Inaudible]
Chief Boyce: No. No. Azi, you can go back each year after that but we're looking at something that happened last year. If you remember, two years ago, we had – Israel was involved in a war and we had a huge spike in anti-Semitic – the same thing happens. The national discourse has effects on hate crime – hate speech, I should say, hate speech.
Commissioner O'Neill: Rocco –
Question: [Inaudible]
Chief Boyce: I don't want to get into the fact that – Commissioner said he's a male with seven priors, lives in the neighborhood. So, I don't want to go into what initially started with her son. When she came into to call the incident in, that's when the hate speech actually came out. The threats – he actually threatened her with his pit bull. That's why we charged him with menacing with a hate crime.
So, the 16-year-old – she left her son while she went to get a parking spot. She came back, he was already engaged in an argument. The male lives nearby. So, rather than get into that, let's focus on what he said to her because she was wearing the hijab.
In response to the case in the 13th Precinct that happened Thursday night about 10:00 pm. The three individuals – the three perpetrators we're looking for and out victim get on a northbound 6-train at 23rd and Park. That's when the harassment begins, and he actually pulled on her tote bag. Right now, we're trying to find video to identify those three individuals.
Our victims gets off at 42nd Street and one does follow her up the stairs. So, we have a tremendous amount of work since then and now to find video depicting those individuals.
We'll ask her to come in and do sketches as well to see if we can get a sketch out on them as well. She describes them as being intoxicated males.
So, that's where we are with the case right now.
Question: [Inaudible]
Chief Boyce: Not very far. She went – once, I think my belief is and she couldn't articulate this because she didn't know that she went to get a police officer and then that's when he took off.
Commissioner O'Neill: David –
Question: [Inaudible]
Mayor: No, I will be very clear. It was – we spoke for probably ten minutes. It was not my formal effort to engage the incoming administration. It was simply a conversation to establish contact and let them know that I wanted to work together.
He is a New Yorker and he's very proud of that fact. I think that's important. But he was quite aware of the concern and looked forward to working on it. So, there's not anything definitive but I will say, again, I remain optimistic. I think the key individuals in the incoming administration including the President-elect understand what a huge commitment the NYPD is making and I have every reason to believe they will be sympathetic and do all they can do.
Question: [Inaudible]
Mayor: There's no – and again, I want to differentiate, always, the difference between a formal conversation and an informal conversation. But, no, I have not had any sense of pushback in any conversation.
Commissioner O'Neill: In the back, next to [inaudible], yeah?
Question: [Inaudible]
Chief Boyce: This young lady is 25-years-old. She was at her mother's residence in the 6-3 Precinct. Came out, was sitting in the car making a phone call. We have a male who appears to be waiting there in another car get out of that car – this was described in the press as a drive-by, it was not. He got out of the car and he fired five rounds into the car, striking her and killing her.
This male then got into a car and then drove away. So, that's where we are with the case right now. She has been at Rikers Island for only a month. She was a newly assigned Correction Officer there. We have a long way to go in this investigation, yet. So, I'd be speculative if I told you anything more than that.
Question: [Inaudible] Elsokary, did she identify herself [inaudible]? And what's the protocol when an off-duty officer is arresting [inaudible]?
Chief Boyce: Well, I think Officer Elsokary was thrust into a situation and it was so heated because of her son, she did not initially say she was a police officer – not unusual if you're trying to calm a situation. He then ran off after he made those comments.
So, that happens to people all the time as we [inaudible] the city. We have off-duty incidents and often officers are victimized. So, we have no problems when they're doing their job generally. And she did. She helped us identify that male –
Commissioner O'Neill: And just to –
Chief Boyce: We had him within 24 hours.
Commissioner O'Neill: Just on top of that – when they're off-duty, they don't have a partner and don't have a radio. They might have a phone but you have to go into these situations very carefully.
Marcia –
Question: [Inaudible]
Commissioner O'Neill: That'd be – I'm actually going to see Dan Nigro today and I'm sure I'll have that conversation with him this afternoon.
Question: [Inaudible] ACS investigation [inaudible]
Mayor: Yeah, well, I'm very concerned about this situation. This is a child, again, you know. Our job is to save every child. It's as simple as that. Sometimes we have information that can give us the best chance to save a child. Sometimes we don't. But our job is to save every child.
Full investigation underway – I ordered that immediately. What I can tell you is preliminary. I want to emphasize that – preliminary information that could well change as we get more detail.
My understanding is that a call was made to the State registry that as soon as ACS received that alert, that ACS workers went to the site they received about an hour-and-a-half later. This was a couple days before the tragedy. Apparently, the address that was given in the complaint was inaccurate. They searched at that addressed, could not find anything that suggested the particular case. Apparently, they did ring the doorbell of the home that is the one that ultimately was the pertinent home. There was response. They went back and continued searching for some kind of crosscheck, some kind of clues that would tell them what the actual name and address was.
They did that over the course of 48 hours, determined the appropriate name and address, were going back to that location once they had when this tragedy occurred.
So, there's a lot more we need to know. It's clear there was very focused action. It's also clear that this child died and my question is always going to be was there anything we missed? Was there anything we could do better? That's what this investigation will be about.
Unknown: In the front row [inaudible]?
Question: Just to follow up on that [inaudible]?
Mayor: I do have confidence in the ACS leadership, and I've been at this work a long time. As you may know I spent eight years as the chairman of the City Council committee that focuses on, among of other issues, child abuse. And when I started in that work in 2002 we were in much, much worse shape than we were – than we are today. After the death of Nixmary Brown in 2006, profound changes were made, and I credit the Bloomberg administration for recognizing those profound changes that were made. That continued up until the time I took office. We've added a whole series of reforms. As is true with policing in general, this is work that never ends. We constantly have to improve our work, but in fact many, many lives have been saved. You don't – understandably you don't get to hear those stories, but I am convinced the ACS is doing very, very important work all the time to save lives and is succeeding. It's the times when we lose a life that we've got to learn was there something we could do differently. Was there any opportunity that was missed? And that's what the investigation will look at.
Commissioner O'Neill: In the back.
Question: Mr. Mayor could you comment on the lawsuit by [inaudible].
Mayor: As I've said, we are very clear. If you look at the original legislation, which is the law of this city, it was quite clear that we were not going to be – we were not going to allow ourselves to be in a situation where those records would be turned over to the federal government. The whole ID – the whole idea – excuse me – of IDNYC was to give people an opportunity in this city to live a better life for themselves and their families, to have a deeper connection to the city and the city government. That they could go visit a loved one in the hospital, they could go visit their child's teacher, that if they had an interaction with a police officer there was an ID recognized by the NYPD. It was a very basic concept. They could sign a lease, etc. And that was needed in this city. And it has been successful, but the reason people were willing to trust us is we made very clear that there would never be a situation where it would lead to their deportation, and we're going to keep that pledge, and it's also part of our law. It's quite clearly stated in the legislation, so we will follow through on that.
Unknown: We're going to wrap up the police part. Alright? We'll wrap up the police part and then we're going to continue with other topics. Any other police questions first?
Question: Mr. Mayor, given the security situation around Trump Tower [inaudible] what's the city doing to ease that? Do you have anything in the works to deal with that?
Mayor: Let me talk about Trump Tower – I'll pass to the Commissioner. There's plenty of other things I could say about congestion – I'm happy to – but let's just stay on Trump Tower while our police colleagues are here.

We take that situation very seriously as we've said before. That's constantly being worked on to improve the flow of traffic. There's a very substantial complement of officers and traffic agents that have been devoted to that concentrated area to improve the flow of traffic. I think we experienced in the first few weeks, obviously, the shock of something that took a whole new approach than we've ever had to before. I think the NYPD is working to improve that situation all the time.
Commissioner O'Neill: I don't really have too much to add to that. But at 5-7 and 5 is obviously one of the busiest intersections in the city, and we are putting in a tremendous number of resources there every day not just in the immediate vicinity but up and down 5-7 street, 57th street to keep the traffic moving, also along 5th avenue. We have a truck restriction at 59th street also, so this is – we're doing our best, and as I said before when I talked about this a couple of weeks ago New Yorkers are resilient. And as far as pedestrian traffic we are keeping most of the pedestrians on the West side of the street, but hopefully as we get better at this we'll be able to push more people on the East side of the street.
Thank you very much. We're good? Rich?
Question: Just to follow up on that. The chairman of the transportation committee wants the President-elect to take his cabinet-making business out of the city. Somewhere else. Any enthusiasm on the panel for that? Would you back him up?
Mayor: Any enthusiasm on the panel – I like that.
[Laughter]
I will say it very simply. He's the President-elect of the United States of America. I didn't vote for him. I don't agree with him, but he's the President-elect, and he has to do what he thinks will allow him to put together the team to govern this nation, and I don't want to second guess him as to which location is best to do that. Obviously, if it's a jump ball, I'd say go to that beautiful golf course in New Jersey.
Right? I know.
[Laughter]
But we really have to respect that each individual, especially trying to make decisions of this magnitude, has to be in the setting that works right for them, and that has ramifications for all of us as New Yorkers and America.
Unknown: Thanks very much. Please standby as we let the police leave. Thank you.
Question: [Inaudible]
Mayor: What? Jump ball? You've never heard the phrase jump ball?
Unknown: Like basketball.
Mayor: Mara's never heard the phrase jump ball – someone write about that. You want something interesting to write about? Write about that. Okay, show of hands, members of the media – how many have heard the phrase jump ball before? Raise your hand.
[Laughter]
Okay, for the rest of you, try and get up to date with American culture please. Watch an NBA game. They start it with a jump ball. They throw the ball up.
[Laughter]
That's really lame. Lame response.
Question: [Inaudible]
Mayor: Excuse me?
Question: [Inaudible]
Mayor: The letter to the president? Absolutely.
Question: [Inaudible]
Mayor: Yes?
Question: [Inaudible]
Mayor: I don't have an estimate immediately. Obviously at this moment we're about four weeks into this, and it's juxtaposed against the holiday season, which is a blessing and a curse, obviously because of all of the traffic that comes with it. On the other hand, I think we can safely say we are at our all-time high in tourists. We're expecting almost 60 million tourists this year. A lot of them come here to shop, and they're going to those stores. One way or another they will get to them. The economy, thank God, overall has done better. I think there are some compensating factors, but we don't have a formal study yet. We'll certainly work with the business community in Midtown to get a better sense of it. But look, right now I want people to recognize there are things we can control and things we can't. We can control how vigorously we fight for reimbursement. We're doing that right now. Again, I am hopeful. We can control putting the NYPD resources on site to maximize the flow of traffic and make things go as smoothly as possible. There's no lack of NYPD resources being applied. It's a tough situation. It's an unprecedented situation. It's going to get – I think – better after January 20 because the holidays will be over and most of the time the President-elect – will then obviously be president – will be in Washington. I think it will probably get better after June where after all accounts the family will then move down there full time. But, you know, it's a little bit of the serenity prayer. Let's work on the things we can work on and recognize the things that are beyond our control. Yes?
Question: As a former HUD official, I just want to get your reaction to the announcement [inaudible]
Mayor: Look, this is someone – of all the members of the Trump team this will be the person I will arguably work with the most, so I'm going to have an open hand here. I'm going to hope for the best. Dr. Carson is a very accomplished individual. He clearly understands a lot about life in an urban environment, and it's a personal passion of his to do something to improve people's lives. He's devoted his life to that through his medical work obviously as well as his charitable work. So I'm going to hope for a good relationship, and I'm certainly going to work hard to expose him to the needs of New York City and the reality of New York City. I think one thing that's true – because he doesn't have a formal background in housing issues, it will be important for him to see what the reality is for our people. I will welcome him here. I'll take him on a tour of our public housing and show him how important our affordable housing programs are. And I hope we can work well together.
Question: [Inaudible]
Mayor: I think it's too soon to speculate. I think it is fair to say we don't know a lot about the Trump administration's views on affordable housing and on urban policy in general. I've been working with my colleagues in the US Conference of Mayors, which is a bipartisan group, to establish a real rapport with the new Trump team and make clear to them how important it is to them to support our cities. And our cities are now the economic core of our nation more than ever in our history, so I think there's a real strong practical reason, and we're encouraged obviously by the proposals around infrastructure. That could really be a positive for New York City, but I think the housing issue if one of the big gray areas, and if you say do I expect it to be one of their number one priorities? No, I do not at this point. But that doesn't mean we can't get something done, so we have to see what he says, and the confirmation process will be fascinating because it will tell us a lot about his vision.
Juliet?
Question: [Inaudible]
Mayor: Yup.
Question: [Inaudible]
Mayor: Concerns me deeply.
Question: [Inaudible]
Mayor: Yes, there is no question about it. Juliet, there – you can't have a candidate for president single out groups of Americans negatively and not have some ramification for that – not have something that happens as a result of that. It is not a surprise; there's been a huge uptick in hate crimes. It's very troubling. Look, a few times recently the President-elect has spoken out against it. I think he needs to keep doing that. But it is obviously connected to the election. And it is dangerous. It is dangerous. It is – you know – thank God and most of these cases it is reduced to just speech or threats, but sometimes there are going to be people who follow through on those threats. We could lose lives because of this, and so, the temperature has to be brought down. We're going to do that by showing positive examples to people. And this is part of what I said at Cooper Union, New York City is going to be an example to this country of people working together across all faiths, all backgrounds. We're going to do that by upholding positive examples of some of those two have been denigrated. That's why Officer [inaudible] is someone I hope all Americans get to know her story, and think a little bit about this. Is this a person a threat to our national security? No, she is part of protecting our national security. So, we've got a lot of work to do, but I also – I'm a big carrot and stick guy. The stick will be if anyone creates a bias crime in New York City to NYPD will get them and we will prosecute them.
Question: [Inaudible]
Mayor: Again, literally, what we did here – I wish it hadn't been because she had been victimized, but even at Cooper Union we had the police officer and his family do the pledge of allegiance. And there will be so many other examples like that of trying to show people the humanity – the common humanity. You know, when you talk about our fellow New Yorkers who are immigrants, which is one of the most important parts of the New York City tradition is immigration is who we are. Well, yes there are some people who came here in an undocumented way, but they are still our fellow New Yorkers. They are human beings that are contributing to life in this city. Look, I think – Pope Francis, when he was here, really powerfully spoke to this and he was so clear about we have to think about an immigrant first as a human being and many people have fled oppression; they have fled religious persecution; they have fled an economic circumstance where their family simply couldn't make it, or they are refugees from war as the case of the Syrians. I spoke at a church yesterday – a Baptist church – in the Bronx and I talked about some discussions that I have had with people lately about how many – to the credit of many people in the evangelical Christian movement they are strong voicers reminding people the bible speaks powerfully to respecting and supporting and helping the stranger among us. It's in the bible. It's quite clear we don't turn people away because they are different. They are our fellow human beings and our job is also to respect them.
Yes?
Question: [Inaudible]
Mayor: It is obviously more complicated than that. It is not linear. Do I blame Donald Trump for using hate speech during his campaign? Absolutely – he did. It is a fact. He said horrible things about Muslims; horrible things about Mexican-Americans. I don't need to recount what happened for a-year-and-a-half in this country. We can't airbrush that out of our history. It was not acceptable. We now need to work with him and he has a chance to make it better by amending his comments and being a force of reconciliation. I think he has to do more of that.
Marcia?
Question: [Inaudible]
Mayor: I will be consistent, first of all, by not saying his responses because I want to honor the confidentiality. What I spoke about was the amount of fear that was being experienced in New York City; how palpable it was including people fearing they would be deported, fearing they would be forced to be part of a religious registry – a whole host of things. And what I said to him was I thought it was important to change the approach. So, if you thought about it – I appealed to them very humanely. I said – you know – here is the reality, you're going to be the leader of this nation and many people are living in fear. That has to be changed. We can't go on that way. We have to do something different to address that.
David?
Question: Later today you're going to be meeting with Mayor's from around [inaudible] –
Mayor: Yes.
Question: [Inaudible]
Mayor: Not sure the relevance of that one, but I don't quite follow. I would be comfortable going for surgery with Dr. Ben Carson from everything I have heard of him, but again I think it is only right when someone has been appointed to give them a chance to articulate their vision and see if we can work together.
On the previous question, the New York State Mayors – this is an organization that has been around for many decades; kind of parallels the U.S. Conference of Mayors, obviously on a state level. We're going to be talking about the Albany agenda where we have a lot of common concerns. We all oppose [inaudible] mandates on cities. We all do not want to see encroachments on local self-determination. A lot of issues we have in common around things like affordable housing. So, that it what the – first and foremost to me it's going to be abut. But we're certainly going to talk about how mayors can work together to influence the situation in Washington. And the good news is the group gathering today comes from all parts of the State. So, some of them are represented by Republican members of Congress and I'm hoping my fellow mayors can have a positive impact on them to help them defend the interest of cities both big and small in New York State.
Question: [Inaudible]
Mayor: Yes, I mean – it's just what we referred to a moment ago; we all want to be hopeful on infrastructure and we're all very concerned on affordable housing. That's the simplest [inaudible]. Yes?
Question: [Inaudible]
Mayor: So, on the situation with the Senate, as you know, they are still one recount continuing now into court. So, that will have an impact on the situation. Look, I have kept an open door throughout to the IDC to the Republican leadership of the State Senate .And as I've said to you many times, there is a constant dialogue going on between my office and the Governor's Office. I am not changing the basic approach. The approach for the Governor is when he does something good for New York City we will work with him and we ill praise him. When he does something that is against the interest of New York City we will stand up to him. It is as simple as that.
Yes, Anna?
Question: [Inaudible]
Mayor: I do not know the answer to that question. I have not been confronted with that question before and I will get you an answer.
Question: [Inaudible]
Mayor: I don't know. That's another factual question. We'll get you an answer – and I would assume so, but I'll get you an answer on that.
Yes, Mara?
Question: [Inaudible]
Mayor: Yes.
Question: [Inaudible]
Mayor: Yes, we're not going to have any [inaudible] situations here in New York City. You know, this a direct message to all New Yorkers. If you see someone commit an act of hate you have to do something about it. At least report what you see to the NYPD. It's just unacceptable not to. You know what; it is really easy to report something nowadays. If someone is a victim of hate pick up the phone, go online, whatever it is report it and we've got to understand that us how you stoop hatred – is you make clear to people there are consequences and the NYPD cannot go after these people if the public doesn't help.
Last one.
Question: [Inaudible]
Mayor: The specific question of fingerprinting is a new one for me, so I will follow – we'll follow up on that. I want to emphasis that the law we passed was after a painstaking effort and very, very close working relationship with ICE and the Department of Homeland Security to determine what conformed to our values as New Yorkers. There are dozens and dozens of categories of crime – serious violent crime for example, but other crimes as well where we have made the determination and it is now the law of New York City that if someone commits those crimes they will be turned over to ICE. The central concern is always been about the very low-level crimes, which, of course, are the vast majority – the victimless crimes and the nonviolent crimes. And we will stay firm in accordance to our New York City law and how we comport ourselves. On the question of fingerprinting, which I appreciate you raising, we'll get an answer for you.
Thanks, everyone.