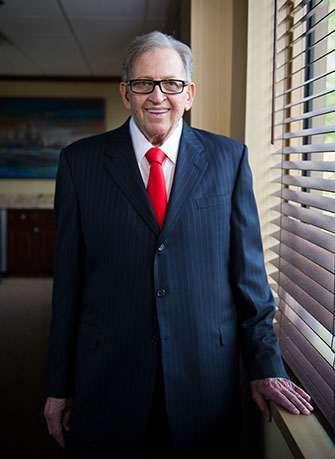 We are sorry to share the news of the passing of Bob Sack, of Salenger Sack Kimmel & Bavaro.
The funeral will take place on Sunday, May 1st at 11:00 a.m. at Gutterman's, located at 8000 Jericho Turnpike, Woodbury, NY 11797.
Bob Sack was a founding partner, responsible for the firm's daily operations and supervision of the staff. A graduate of Brooklyn Law School, he was admitted to the Bar in New York and the United States Federal Courts. Bob's adherence to teamwork and a strong code of ethics set an example for the firm in its approach to personal injury cases.
Prior to starting the firm, Mr. Sack served as a claims adjuster, and later as a defense attorney, for two prominent insurance companies. He served as an arbitrator for the American Arbitration Association and was appointed to the Board of Directors of the Association of Trial Lawyers of the City of New York. Mr. Sack was also member of the New York State Bar Association, Bronx Bar Association, and New York State Trial Lawyers Association.
A Dean's list graduate of Hunter College, he was elected to the school's Athletic Hall of Fame as a varsity basketball player. Mr. Sack later taught Business Law as an adjunct at Queensborough Community College.
NYSTLA extends its sympathies to his family and friends.
Evan M. Goldberg
President
New York State Trial Lawyers Association