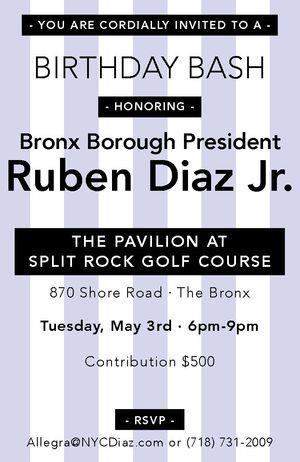 It's that time of year again!

We're getting ready for Ruben's Birthday! Will you help us celebrate?
We're throwing this year's Birthday Bash at the beautiful Split Rock Golf Course in The Bronx. You won't want to miss it!
What: Borough President Diaz's Birthday Bash!
Where: The Pavilion at Split Rock Golf Course
870 Shore Road, The Bronx
When: Tuesday, May 3rd
6-9 PM
RSVP: 718-731-2009 (or reply to this email)
Click here to contribute online.

Contribution: $500
Hope to see you on May 3rd!