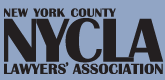 This letter was sent by NYCLA President Lew Tessler to the Editor of the New York Post:
February 18, 2015
To the Editor:
A strong and independent judiciary-free from improper political influence-is crucial to our democracy. So is a vigorous and free press. Like lawyers and judges, however, journalists are professionally obligated to base their conclusions on facts, not rumors, and must support them with analysis, not innuendo. The Post has repeatedly ignored this standard as it continues its attacks on judges assigned to cases involving lawyers with ties to former Speaker Sheldon Silver. Rather than present any actual evidence of impropriety, the Post relies heavily on half-truths, insinuation, and anonymously-sourced speculation.
Most recently, the Post attacked Judge Joan Madden, who sits in the New York City asbestos court, where many cases are brought by Silver's former law firm Weitz & Luxenberg. Last week Judge Madden, who is also Chair of the New York County Lawyers' Association's Judicial Section, reduced a large jury verdict in favor of five W&L clients, cutting the award from $190 million to less than $30 million. It takes real chutzpah to twist this ruling into a tale of improper influence or judicial favoritism, but that is what the Post did, describing Judge Madden as "under scrutiny" for the "sky-high" verdicts issued to W&L clients in her courtroom, and speculating (through anonymous sources) that her recent decision "may be the result of bad publicity in the Post."
In fact, the award that the judge just slashed is the only high-dollar jury verdict W&L has ever won in her courtroom. The firm has tried only one prior case to verdict before Judge Madden, and in that case it obtained a relatively modest $5 million for its clients. Moreover, Judge Madden has a history of reducing excessive jury awards in asbestos cases. She did so twice in 2012, cutting verdicts that totaled $51 million down to $16 million.
Since its founding 107 years ago, the New York County Lawyers' Association has condemned corruption at all levels and in all branches of government. NYCLA also condemns irresponsible attack journalism, particularly when aimed at judges who cannot defend themselves.
s/
Lewis Tessler
President
New York County Lawyers' Association