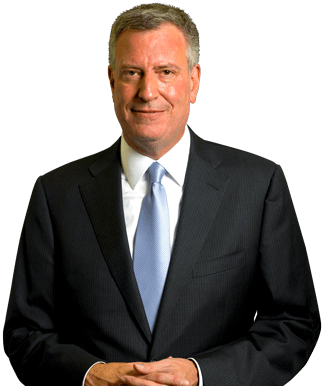 Mayor de Blasio, Immigrant Affairs Commissioner Agarwal Kick Off 12th Annual Immigrant Heritage Week Celebration
Mayor Bill de Blasio and Commissioner of Immigrant Affairs Nisha Agarwal announced the kickoff of Immigrant Heritage Week, an eight-day festival to honor the rich traditions and diverse fabric of the city's immigrants.
The citywide celebration, which includes events across the five boroughs from April 17-24, coincides with the oral arguments in the Texas vs. United States lawsuit delaying President Obama's executive actions on immigration.
"This week is a celebration of the indelible contributions new Americans have made in our city and our nation," said Mayor Bill de Blasio. "As the court hears arguments in the lawsuit over President Obama's immigration actions, New York and cities across the nation are forging ahead to ensure swift and effective implementation of the these much-needed reforms. We will honor our immigrant heritage and lay the groundwork for a stronger economic future."
"What makes New York City such an exciting place to live is the rich tableau of our immigrant heritage," said Commissioner of Immigrant Affairs Nisha Agarwal. "And this year in particular it is important to recognize that our economic, civic and cultural livelihood thrives when we open access to opportunity and participation. From the IDNYC program to free legal assistance, we will continue to promote policies and initiatives that make New York City a true leader in immigrant reform."
"New York City has always had a rich history of being a welcoming home for immigrants, and in turn, immigrants have built New York into the great, diverse city that it is," said City Council Speaker Melissa Mark-Viverito. "While inaction and dysfunction from Congress threatens the future of immigration in America, New York has served as a role model for municipal action that can be taken to protect and enhance the lives of immigrant populations. I look forward to celebrating Immigration Heritage Week and continuing the discussion of how New York City can continue to lead nationwide on immigration issues."
"Immigrant communities are the heart and soul of New York City," said Public Advocate Letitia James. "This week, we recognize and celebrate immigrants from all over the world and all that they have contributed to our city. As Congress and federal courts stall meaningful progress on immigration reform, we are working to ensure that all New Yorkers, regardless of where they came from, have the protections they deserve."
Established in 2004, Immigrant Heritage Week kicks off on April 17, the day in 1907 when more immigrants entered through Ellis Island than any other date in the city's history. This year's Immigrant Heritage Week marks the 50th anniversary of the Hart-Cellar Act, which eliminated race-based quotas in the country's immigration laws and is widely viewed as a major victory for civil rights, while significantly contributing to the vibrant diversity of the United States today.
Immigrant Heritage Week was made an annual celebration by Executive Order 128, signed by the Mayor in 2009. To honor the historic and contemporaneous significance of immigration reform, this year Mayor de Blasio will participate in a roundtable event with dozens of immigration advocates to discuss the President's Executive Action on Immigration, strategies around implementation, and detailing a plan for longer term actions on comprehensive immigration reform.
To commemorate Immigrant Heritage Week, the Mayor's Office of Immigrant Affairs will host three panels on issues related to immigration policy and immigrant rights:
The State of Immigration: Executive Action, City College of New York. Monday, April 20, 7 pm. RSVP to IHW2015@cityhall.nyc.gov
Exploring the Results of the 1965 Hart-Cellar Act in NYC, The Tenement Museum. Tuesday, April 21, 6:30 pm. No RSVP necessary
For a full calendar of community events across the five boroughs throughout the month of April, please visit: http://www.nyc.gov/html/imm/html/ihw/ihw.shtml.
"Celebrating the presence and the many contributions of immigrant New Yorkers represents the values of our City, and our continued commitment to providing safe spaces to every person. Over the last year, the City Council and the de Blasio Administration have worked to affirm the lived experiences of immigrant New Yorkers – and this most recent showing of support will add to that. I congratulate the Mayor and Commissioner Agarwal, and look forward to participating in the festivities," said Council Member Carlos Menchaca, Chair of the Committee on Immigration.
"Immigrants are the backbone of Brooklyn, and the heart of our borough beats with the rhythms of our many varied and vibrant cultures. 47 percent of Brooklynites speak a language other than English at home. We have a unique opportunity to benefit from this rich diversity, and an obligation to support all immigrants with all of the resources, including economic, educational, and legal, that can help them experience the fullness of the American Dream," said Brooklyn Borough President Eric Adams.
"New York City's rich history is built upon wave after wave of immigration from every corner of the world," said Manhattan Borough President Gale A. Brewer. "As a federal court begins hearing arguments on President Obama's commonsense executive actions on immigration, there could be no better time to stand up and celebrate our immigrant communities and immigration's role in making our city the cultural and economic capital it is today."
"This week's events celebrate our immigrant communities because without them our city would not be the thriving, great metropolis that it is," said Council Member Daniel Dromm. "Immigrant Heritage Week is an important tradition and this year it is even more important to show our support since the courts are attempting to strike down President Obama's immigration action. In New York City we support our immigrants not hold them back by putting obstacles to citizenship in their way."
"Hard-working immigrants enrich our city in so many ways, both economic and cultural. Many of our members are immigrants, and are vital to the healthcare delivery system of New York. We passionately support President Obama's executive actions on immigration reform, which will keep families together, boost our economy and focus law enforcement resources more effectively," said Maria Castaneda, Secretary Treasurer of 1199SEIU United Healthcare Workers East.
"President Obama's executive action presents to millions of hardworking undocumented immigrants a chance to come out of the shadows and reclaim their full dignity as workers. Our members around the city and the nation have been empowered by these reforms to stand with all workers calling for economic equality and rights," said Stuart Appelbaum, President of the Retail, Wholesale and Department Store Union.
"New York City's Immigrant Heritage Week honors the communities that make this city strong and vibrant," said Steven Choi, Executive Director of the New York Immigration Coalition. "While we wait for the temporary setback to President Obama's administrative relief on immigration to work its way through the courts, New York City continues to demonstrate its exemplary commitment to immigrant communities. We are proud of our ongoing partnership with the City on initiatives like IDNYC and Immigrant Heritage Week to strengthen immigrant communities, and look forward to deepening the collaboration as we prepare immigrant communities for the eventual implementation of administrative relief."
"New York's immigrants represent the best our country has to offer. From the families who poured in through Ellis Island to build the city, to the current new wave that powers it, the immigrant story is America's story," said Ana María Archila, Co-Executive Director of the Center for Popular Democracy. "Just like in New York's early days, immigrant communities are still fighting for the justice and equality we deserve. In New York, we are making strides thanks to the powerful community organizing that emboldens our leaders to the right thing. We will continue fighting in the name of our families and for the future generations of immigrants who will pick up the mantle and continue writing our city's history."
"New York City thrives on the contribution of immigrants – it always has. It is important that we celebrate our immigrant heritage everyday by recognizing and honoring the diversity that makes this the greatest city on earth," said Afreen Alam, Executive Director of Chhaya CDC.
"We are proud to celebrate with Mayor de Blasio and Commissioner Agarwal the valuable contributions of the immigrant community," said Jonathan Westin, Executive Director of New York Communities for Change. "We look forward to working with our Mayor and the Commissioner to promote initiatives and policies that make all New Yorkers thrive regardless of immigration status."