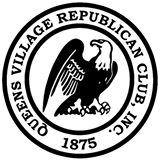 The Queens Village Republican Club, Inc. presents
2014 CHRISTMAS & CHANUKAH HOLIDAY DINNER PARTY

with New York State Republican Party Chairman
Edward F. Cox
THURS, DEC. 4, 2014 AT 7:30 PM
Cost: $35 for full hot buffet dinner, dessert, soda and coffee. Cash bar available.
Reservations are a must: 718-343-8830 or e-mail at jtrent8830@aol.com

Meeting at: Knights of Columbus/St. Anne's Council
263-15 Union Tpke., Glen Oaks, NY 11004

SPECIAL GUEST SPEAKERS:
*GOP Candidates – Grant Lally, Frank Scaturro, Doug Lee & more!!
*"Bridge to Life" President – Catherine Donohoe
*Toy Drive Coordinator – Janet Maderik

NYPD 104th PRECINCT TOY DRIVE
Time for giving…..
QVGOP is supporting the NYPD 104th Precinct Toy Drive. Please bring a new unwrapped toy to help bring a joyous Christmas to orphans and children of domestic violence. More details to come.

Please RSVP. We need a count for the caterers but you may pay online on our website www.qvgop.org or at the door. Call Jim Trent at 718-343-8830 and leave a message or email at jtrent8830@aol.com to make your reservation. We look forward to seeing everyone and celebrating the holidays together!