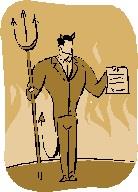 Steven Kuhn drove through a red light and hit a car--owned by Gelco Corporation--which, in turn, smacked into John Forcelli's vehicle.
When Forcelli later sued, Gelco's insurer agreed to settle the case via telephone and email. But Gelco objected, claiming that the arrangement wasn't enforceable because New York law--CPLR 2104--required that the deal be documented in a certain way.
Since the insurer had the authority to settle the case, and the email had all the "material terms of a settlement and a manifestation of a mutual accord," including a typed signature, the Appellate Division, Second Department, thought the parties' communications satisfied the statute's requirements.
Now that's settled.
To view a copy of the Appellate Division's decision, please use this link: Forcelli v. Gelco Corp.