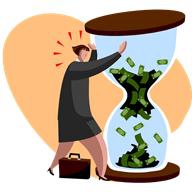 Moshe Nahum agreed to perform certain renovation work on Eliezer Mansour's property, and when a dispute later arose about the quality of services provided, the parties went to arbitration by way of a rabbinical court, which awarded Moshe $77,800.
Because Moshe waited some 13 months to have the determination confirmed by the Kings County Supreme Court, Eliezer claimed that the proceeding was "time-barred" and not maintainable.
While the Supreme Court allowed the case to continue, the Appellate Division, Second Department, agreed that waiting more than 12 months to seek the award's confirmation violated state law--CPLR 7510--and thus mandated dismissal.
Time was money.
To view a copy of the Appellate Division's decision, please use this link: Matter of Nahum v. Mansour