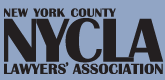 Restorative Justice in New York City: What's Happening and Why We Need More

Thursday, January 08, 2015 Location: 14 Vesey St. New York, NY
Time: 6:30 PM – 8:30 PM
Room: 2nd Floor Auditorium

Forum Co-sponsor: NYCLA's Criminal Justice Section
Program Chair: Mika Dashman, Esq.
Join NYCLA's Criminal Justice Section for a forum where the panelists will provide an overview of existing restorative justice programs in New York City and discuss the future of restorative justice in the city. Attendees will have the opportunity to ask the panelists questions and to speak about their experiences with restorative justice.
Speakers : Rev. Ruben Austria, Community Connections for Youth; Erica Ayala, The Children's Defense Fund; Ana Bermudez, Commissioner, NYC Dept of Probation ; S.Y. Bowland, Community Mediation Services; Carrie McCann, New York Peace Institute; Susan Gottesfeld, Osborne Association ; Erika Sasson, Redhook Community Justice Center's Peacemaking Program, Danielle Sered, Common Justice
The Forum is FREE and Open to the Public