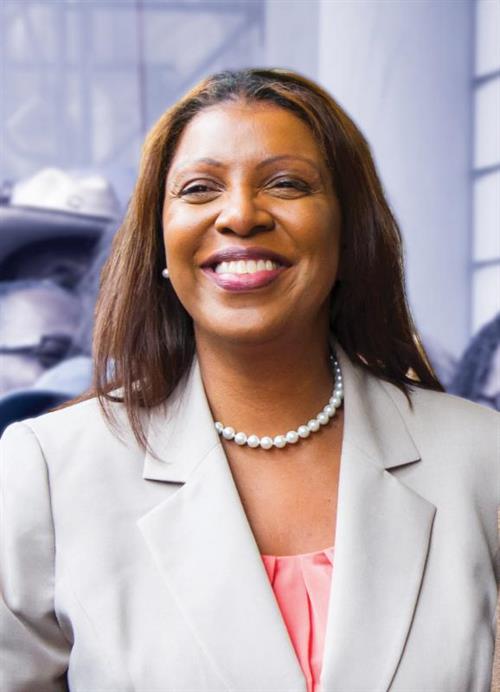 PA James Releases Report On NYPD Body Cameras Proposal
On August 11, 2014, Public Advocate Letitia James was joined by advocates to call for the implementation of a pilot program that would outfit New York City police officers with body-worn cameras to record civilian stops. Piloted in other cities nationwide, such a measure would provide further accountability and help save New York City money on lawsuits related to false arrests and police misconduct.

In the immediate aftermath of the death of Eric Garner, elected officials, civil rights advocates, and residents called for a thorough re-evaluation of NYPD policies and protocols to ensure that New York City residents are protected from misconduct and abuse of power. Public Advocate James is emphasizing that simply changing the policies and protocols is not enough, as evidenced by the fact that though the NYPD banned chokeholds in 1993, the Civilian Complaint Review Board (CCRB) received more than 1,000 complaints for unlawful NYPD chokeholds in the last five years. To ensure meaningful change, the Public Advocate is calling for the use police cameras by all police officers on patrol throughout the City. The Public Advocate recommends a pilot to encompass 15% of precincts, particularly those with the highest number of complaints of misconduct and crime.

In 2013, the city paid roughly $152 million as a result of claims of police misconduct. The Public Advocate's report finds that the NYPD can increase transparency, and ensure that correct procedures are followed through the implementation of a pilot program requiring officers to wear body cameras in precincts with high rates of crime and complaints of police misconduct. The use of cameras is likely to save the city significant money and time, while restoring confidence in NYPD.

The Public Advocate also released a report with further information on the proposed pilot, including recommendations for implementation. The report can be viewed at the attachment below.

Public Advocate James' previous statement on this issue can be found here .