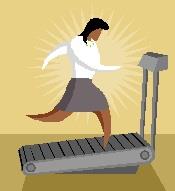 Colette M. sued Equinox Holdings after she fell off a treadmill at one of its Manhattan locations.
Interestingly, the company removed the equipment Colette had been using and refused--within the context of her personal injury case-- to provide any information as to its whereabouts or produce it for inspection. And when the New York County Supreme Court granted Colette's request to prevent the gym from arguing that the machine had been operating properly, or was free from defects, an appeal ensued.
Because Equinox had been on notice that the treadmill might be needed for future litigation, the Appellate Division, First Department, agreed that "spoliation of evidence" had occurred and that a preclusion order was appropriate--particularly since the treadmill was a "key piece of evidence."
That was some exercise.
To view a copy of the Appellate Division's decision, please use this link: Malouf v. Equinox Holdings, Inc.