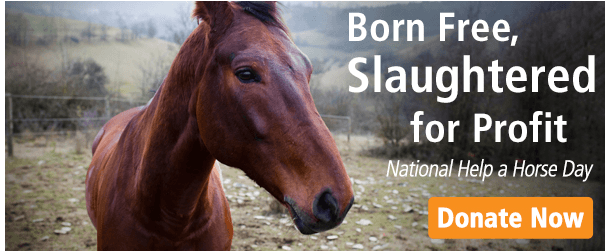 APRIL 26, 1866: The driver of a heavy cart is beating his horse. Passersby on the New York City street stop to gawk—not at the frail animal or the cruel driver—but at the tall man in the top hat who is raising a fuss. That man was Henry Bergh, founder of the ASPCA, and that driver was the first person to be arrested for the mistreatment of a horse.

Fast-forward 148 years, and you may understand why April 26 is such an important day to us. Not only does it commemorate that very first saved horse, it also marks our second annual National Help a Horse Day.

Intelligent, sensitive, and true American icons, horses have been central to the ASPCA's work since day one. But sadly, the issues these animals face are anything but in the past. All year long, we encounter abused, neglected, and starved horses in need of our help. And though the last U.S. horse slaughterhouse closed in 2007, American horses are routinely trucked over our borders to slaughtering facilities in Mexico and Canada.

After 148 years, you might think we'd be tired. But you'd be wrong. We are now more determined than ever to help these amazing animals. We are making progress, but we can't do it alone. Horses rely on animal lovers like you to save them from neglect and slaughter. Together, we can be their voice. Please Help a Horse, and thousands of other animals affected by cruelty, by making a donation to the ASPCA today.