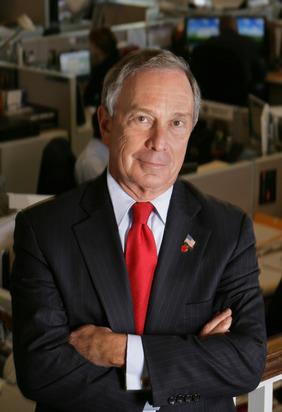 MAYOR BLOOMBERG ANNOUNCES NEW YORK CITY'S AIR QUALITY HAS REACHED THE CLEANEST LEVELS IN MORE THAN 50 YEARS

Map of Dramatic Change in City Air Quality Since Launch of the City's Comprehensive Long-Term Sustainability Blueprint - PlaNYC - Available Here

Cleaner Air is Now Preventing Nearly 800 Deaths and 2,000 Emergency Room Visits Annually

On Friday, Mayor Michael R. Bloomberg announced New York City's air quality has reached the cleanest levels in more than 50 years, with dramatic reductions in pollutants in the air since the launch of the Administration's comprehensive, long-term sustainability blueprint, PlaNYC. Since 2008, the levels of sulfur dioxide (SOx) in the air have dropped by 69 percent and since 2007 the level of soot pollution (PM2.5) has dropped by 23 percent. The largest contributor to the reductions is the PlaNYC's Clean Heat program, which phased out use of the most heavily polluting heating oils in New York City. The cleaner air enjoyed by New Yorkers today is preventing 800 deaths 2,000 emergency room visits and hospitalizations from lung and cardiovascular diseases annually, compared to 2008. The Mayor made the announcement at The Lighthouse at Chelsea Piers as a part of Climate Week events and he was joined at the announcement by Deputy Mayor for Operations Cas Holloway; Health Commissioner Thomas Farley; Environmental Protection Commissioner Carter Strickland; Director of the Office for Long-Term Planning and Sustainability Sergej Mahnovski; Andy Darrell, New York Regional Director of the Environmental Defense Fund; Michael Seilback, Vice President for Public Policy and Communications at the American Lung Association Northeast; Eddie Bautista, Executive Director of the NYC Environmental Justice Alliance; and Douglas Durst, Chairman of The Durst Organization and Chair of the NYC Clean Heat Task Force.

"In 2007, our PlaNYC agenda set an ambitious goal of having the cleanest air among the largest U.S. cities," said Mayor Bloomberg. "Today's results show that we have already made major progress towards that goal, which is saving lives and improving the health of New Yorkers."

"As Mayor Bloomberg often says, 'you can't manage what you can't measure' and that's why five years ago we set up a ground level monitoring system that found heavy heating oil was one of the most serious sources of local air pollution," said Deputy Mayor Holloway. "This enabled us to craft regulations to phase out heavy oil with broad stakeholder support and to develop a data-driven, innovative program to assist building owners in converting to cleaner fuels, leading to the dramatic improvement in air quality that we see today."

"By bringing together the real estate community, natural gas utilities, heating oil suppliers, contractors, non-profits and community groups and major lenders, the Clean Heat program has coordinated the entire marketplace to help solve one of New York City's longest standing air quality problems." said Director of the Mayor's Office of Long Term Planning and Sustainability Sergej Mahnovski. "This same approach can help us to increase energy efficiency in buildings and reduce our greenhouse gas emissions."

"Air pollution poses a major threat to the health of all New Yorkers, but especially young children, seniors and those with chronic heart and lung disease," said Health Commissioner Dr. Thomas Farley. "Switching to cleaner heating fuels is contributing to dramatic improvements in the air quality of New York City and will help all of us stay healthier."

"Under Mayor Bloomberg's leadership, and with significant input from a variety of stakeholders, we have developed sensible regulations that have already resulted in a profound improvement in air quality," said Department of Environmental Protection Commissioner Strickland. "New York is delivering on our commitment to be a sustainable city and a leader in environmental stewardship. From cleaner air, to a harbor healthier than it has been in a century, to upgrades to our critical infrastructure, we are on a path to providing future generations with a vibrant city that is prepared for a million new residents and a record number of visitors."

"The Clean Heat program has succeeded in its mission to accelerate conversions to the cleanest heating fuels," said Douglas Durst, Chairman of The Durst Organization and Chair of the NYC Clean Heat Task Force. "While our work is not complete until every building converts to cleaner fuels, today's announcement demonstrates that New Yorkers are healthier today and will be for years to come because of Clean Heat. The program is a model for how government, utilities, and the private sector can work together to solve major public health challenges and to transform New York's infrastructure."

Three changes contributed to the winter season air quality improvements over the past several years. Only three years ago, nearly 10,000 buildings in New York City burned Numbers 4 and 6 heating oil, which emit significant amounts of PM2.5, sulfur dioxide (SO2), nickel and other dangerous pollutants. Through the efforts of the NYC Clean Heat Program, over 2,700 buildings have converted to cleaner fuels since 2011 and an additional 2,500 buildings are actively pursuing conversions. Second, additional emission reductions have come from State rules that limited the sulfur content of #2 heating oil to 15 parts per million (a 99 percent reduction) and City rules restricting the sulfur content of #4 oil to 1,500 parts per million (a 50% reduction). Third, the expansion of the regional natural gas supply and local gas distribution infrastructure operated by Con Edison and National Grid has encouraged buildings to save money and reduce emissions by converting to natural gas. As a result, citywide concentrations of SO2 have declined by 69 percent and nickel by 35 percent. Neighborhoods with the highest density of emissions reductions from boiler conversions - such as northern Manhattan, northern Queens, and the South Bronx - saw the greatest improvement in air quality.

"National Grid applauds Mayor Bloomberg for New York City's leadership in improving the air quality in the communities that we serve," said Ken Daly, President of National Grid - NY. "Since NYC's CLEAN HEAT Program was launched in 2011, National Grid has now converted over 400 of the 800 heavy oil burning buildings in Brooklyn, Queens, and Staten Island to natural gas - officially reaching the 'Half Way Mark.' We will continue to focus on improving the air quality in the three boroughs we serve and are committed to converting 100 percent of these buildings to clean, natural gas."

"Everyone who breathes New York City air wins big today," said Environmental Defense Fund President Fred Krupp. "NYC Clean Heat and PlaNYC are inspiring, innovative models for polluted cities around the world, proving that high-impact environmental gains are possible when private and public sectors work together."

"The Clean Heat program has led to extraordinary improvements in air quality across the City, and particularly in communities like East Harlem and the South Bronx that have historically had to live with the highest concentration of polluting activities," said Eddie Bautista, Executive Director of the NYC Environmental Justice Alliance. "The Bloomberg administration should be commended for these outcomes, which will improve the health and well-being of our communities."

"The substantial reductions in air pollution we're seeing translate into healthier New Yorkers who are breathing cleaner air," said Michael Seilback, Vice President for Public Policy and Communications at the American Lung Association of the Northeast. "As more buildings convert to cleaner burning fuels, we will see even greater health benefits. Mayor Bloomberg, the NYC Departments of Health and Environmental Protection, and the City Council should be proud that they've not only made a lasting impact on the City's air quality, they've saved lives and improved New Yorkers' lung health."

"New York City's air quality is the best it has been in years and thanks to the initiatives in place now, it will only continue to improve," said Marcia Bystryn, President of the New York League of Conservation Voters. "The importance of cleaner air cannot be overstated. Clean air protects public health, makes it easier for children and seniors to enjoy the outdoors and saves taxpayer money by cutting down on hospitalizations triggered by air pollution. We applaud Mayor Bloomberg and his team for making clean air a priority, and for making environmental sustainability a hallmark of the Bloomberg legacy."

"The Mayor's clean heat initiative is yielding important health benefits as more buildings convert to cleaner fuel," said Peggy Shepard, executive director, WE ACT For Environmental Justice. "The good news is that there is even more potential to save lives and improve negative health outcomes for children and families impacted by air pollutants in northern Manhattan and South Bronx communities as more buildings phase in cleaner heating oil. However we need additional strategies targeted to emissions from commercial trucks to achieve optimum air quality throughout New York City communities."

"The heating oil industry is very proud of the critical role it has played in partnering with the Bloomberg Administration in making New York City's air cleaner," said John Maniscalco, CEO of the New York Oil Heating Association. "New York City has led the country in the adoption of ultra low-sulfur No. 2 heating oil blended with renewable biodiesel, which will someday become a nationwide standard. We commend the Bloomberg Administration for this tremendous accomplishment."

"With so many of New York's largest buildings taking action to convert to cleaner fuels, it is a golden moment for energy efficiency,"said Susan Leeds, CEO of the New York City Energy Efficiency Corporation. "NYCEEC is pleased to play a leading role in the Clean Heat program and to serve the New York City marketplace with financing solutions that will foster cleaner and more efficient energy use."

The overall improvements in the city's air quality are the result of a collection of changes that have occurred at the city, state and national level. In addition to cleaner heating fuel, year round air quality has benefited from reduced emissions from upwind power plants, industrial sources, trucks and other vehicles, and construction equipment because of a variety regulations and initiatives. And local actions initiated through PlaNYC, including more hybrids and electric vehicles in the municipal fleet, reducing emissions from school buses, and zoning changes to promote transit-friendly development, have also contributed to the dramatic progress towards the City's clean air goals.

In 2005-2007, it's estimated that PM2.5 levels in New York City contributed to over 3,100 deaths, over 2,000 hospitalizations for cardiovascular and respiratory disease, and 6,000 emergency department visits for asthma annually. Today, because of the significant improvements in air quality, the health department estimates that 800 lives will be saved each year and approximately 1,600 emergency department visits for asthma and 460 hospitalizations for respiratory and cardiovascular issues will be prevented every year. The City expects further improvements in air quality and the future health of all New Yorkers as buildings continue to convert to cleaner fuels over the next several years.

In line with the goal to achieve the cleanest air quality of any large United States city, the Department of Environmental Protection sent a proposed update of New York City's Air Code to the City Council. If it is enacted this will be the first major revision of the code in 38 years and will simplify compliance requirements and streamline the permitting process. To make compliance easier the code will reduce work permit turnaround time by 25% and allow online permitting for the clean air tracking system, making it easier to review and access applications. The new code will also modify almost four decade old emission standards that will focus on pollution sources such as commercial cooking establishments. The code will also eliminate outdated provisions to reflect the current emissions standards for emission testing.