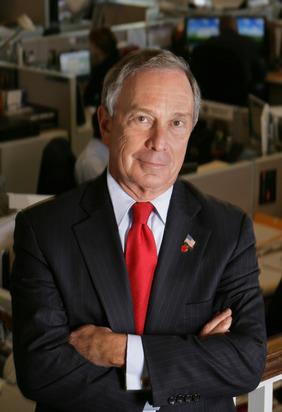 Mayor Bloomberg Addresses New York City's Judicial Selection Processes at Citizen Union Annual Dinner
Mayor Receives Citizen Union's 2013 Public Service Award
The following are Mayor Michael R. Bloomberg's remarks as prepared for delivery at the Pierre Hotel (10/16/13):
"Let me begin by congratulating all of tonight's honorees – Faith Gay, Jay Kriegel Matt Goldstein and John Sexton. This year, both Matt and John announced their plans for stepping down. I was actually thinking of applying for their jobs, but university presidents tend to have very distinguished academic records – and I was the kind of student who made the top half of the class possible.
"Matt did an incredible job turning CUNY from a basket case into a national leader. Now if we could just get him a contract with the Giants. For those of you who are not football fans, let's put it this way: this season the Giants have been almost as painful to watch as Congress.
"The shutdown of the federal government is just the latest example of how dysfunctional Washington has gotten. But the two parties did agree on one thing during the shutdown: providing full pay to all federal workers. So – all they really did was continue with the expenses… and stop the services. You can't make this stuff up.
"The contrast between what's happening in Washington and what's happening in New York could not be any starker. Washington is paralyzed by partisanship. Here, we're focused on nonpartisan problem-solving – exactly the approach that Citizens Union has championed for more than 100 years.
"From the very beginning, our Administration has been committed to the founding values of Citizens Union: Integrity. Independence. And innovation. And I think it's fair to say that in the whole history of the city, the special interests and party bosses have never had less power than they've had these past 12 years.
"We've always made decisions based on facts and data, not politics. And we've always hired the best person for the job, not the best connected. That's true not only for positions within our Administration – but also for all appointments I've made outside our Administration, including our judicial appointments.
"The mayor, as you may know, appoints the City's Family and Criminal Court judges. For much of the City's history, appointments had been made based on political considerations, not merit.
"In his first term, Mayor Ed Koch changed that – by instituting a rigorous screening process in partnership with the New York City Bar Association. Mayor Koch believed deeply in the importance of government integrity, and the nonpartisan judicial screening process he established was one of his proudest accomplishments.
"When I came into office, I issued an executive order continuing and building on the process that Mayor Koch had created. As you saw in the video, Zach Carter chairs our Mayor's Judicial Advisory Committee, and together with Vice-Chair Bob Keating, Executive Director Desiree Kim, and the members of the Advisory Committee – including Peter Sherwin – they've done a terrific job.
" For each judicial vacancy, they send me three highly qualified people; I interview each of them; and then I select one from the group. Over the past 12 years, and over hundreds of interviews, I've never once asked a judicial candidate his or her party affiliation or political ideology.
"I like to ask questions that have no easy answers, and then listen to how the candidates develop their responses. I want to know that they are open-minded enough to change their views if they hear compelling evidence, and to see if they can provide a strong rationale for their legal conclusion – even if I disagree with it.
"My job is not to appoint judges who agree with me. It's to appoint judges who have sharp minds, who are independent, and who can engage in sound reasoning.
"Of course, it will be up to the next mayor to determine whether to continue the process begun by Mayor Koch, and it will be up to groups like Citizens Union to hold him accountable for doing so. Judicial selection is not a topic that gets much attention in a campaign – but it has a major impact on the city. That's true not only for Criminal and Family Court judges, but also for elected judges.
"Let me ask this very civic-minded and well-informed group a question: How many of you can remember the names of the judges you voted for last year? And how many of you have walked into a voting booth, looked at the list of judicial candidates, and said: 'Who?!'
"This year, we'll be lucky if we can even read the candidates' names, because the Board of Elections is printing the ballot in tiny 6-point font.
"The fact is: No one knows who the judicial candidates are because they've been selected in backroom nominating conventions that are closed to the public. Some of them turn out to be highly qualified – but not all.
"And very often, the two major parties don't want you to know the difference – so they cross-endorse candidates. And then both parties get a cut of the courthouse patronage. It's a racket – and it's one of the last vestiges of machine politics in the City, along with the Board of Elections, which might as well be called, 'The Gang that Couldn't Shoot Straight.'
"Our Administration was the first in the city's history to call for the Board of Elections to be transformed into a professional and nonpartisan organization. C.U. has been with us every step of the way, and I want to thank Peter and Dick Dadey and everyone on their team for all their good work on election reform issues.
"We have every right to expect those who administer justice – and elections – to do so without fear or favoritism, and we should expect no less from all government officials. That's why Citizens Union remains important today, and will always be important. Mayors and legislators come and go, but the work of making government more effective and efficient, and the work of making our democracy more open and inclusive will always continue.
"Tonight, I'm honored to accept this award on behalf of all the members of our Administration who have done that work so well. Today, New York City government is a global leader in so many different areas – ethics, education, the environment, the economy, public health and safety, arts and culture, technology and transportation – you name it.
"That's a testament to everyone in our Administration – and to Speaker Quinn and the members of the City Council, who deserve a lot of credit. We still have 76 days to go – not that I'm counting – and we have plenty more to do.
"But tonight, I just want to thank all of you for supporting Citizens Union and its work to champion nonpartisan, independent, effective government.
Have a great night."