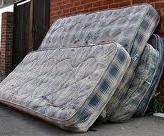 Jalila Jones, a dance major at Hofstra University, sued the school for negligence after she was injured while jumping over some stacked air mattresses during a dance class.
While the New York County Civil Court granted Hofstra's request to dismiss the case, on the grounds that Jones had assumed the risks associated with the activity, the Appellate Term, First Department, didn't quite agree.
Because the assumption of risk doctrine doesn't apply when someone is forced to do an activity, and since Jones alleged that the exercise was "mandatory," the AT1 didn't want to jump the gun and thought the case should proceed to trial.
Who's jumpin' now?
To view a copy of the Appellate Term's decision, please use this link: Jones v. Hofstra Univ.