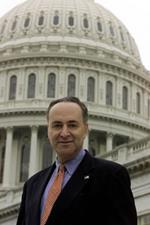 SCHUMER ANNOUNCES CONFIRMATION OF GREGORY WOODS AS JUDGE FOR SOUTHERN DISTRICT COURT OF NEW YORK

Schumer Recommended Woods to President Obama Due to Respected and Successful Legal Career in Public and Private Sectors

Woods, Educated at Yale Law School, Has Had Extensive Legal Experience in the Private and Public Sector, Having Served as General Counsel for the Department of Energy and Partner at Debevoise & Plimpton LLP

Schumer: Woods Embodies Best Qualities of a Legal Professional and Will Be Fair, Moderate Judge
Yesterday, U.S. Senator Charles E. Schumer announced that Gregory Howard Woods III has been confirmed by the Senate serve as a judge in the Southern District federal court. In February, Schumer recommended Woods to President Obama and in July, Schumer introduced Woods to the Senate Judiciary Committee for his confirmation hearing. Schumer has said that Woods is highly capable and very qualified for the position.
"Mr. Woods's experience and successful legal career in both the public and private sectors make it clear that he will be an excellent judge," said Schumer. "Our federal bench in America should resemble the people it serves and Mr. Woods embodies the three criteria that I look for in a federal judge: excellence, moderation and diversity. Today, I am pleased to announce the confirmation of Mr. Woods as judge for the Southern District Court of New York and I have every confidence that he will serve his jurisdiction well."
Mr. Woods is of African American descent and a graduate of Williams College and Yale Law School. Mr. Woods received his J.D. from Yale Law School in 1995. At Yale, Mr. Woods was Essays Editor on the Yale Law Journal and was awarded prizes for best brief and best oralist in the school's moot court competition. Mr. Woods received his B.A. magna cum laude from Williams College in 1991.
Mr. Woods currently serves as General Counsel at the U.S. Department of Energy. Prior, he served as Deputy General Counsel at the U.S. Department of Transportation and was appointed by Secretary Ray LaHood in 2009. As Deputy General Counsel, Mr. Woods was awarded the "Secretary's Partnering for Excellence Award" and the "General Counsel's Team Award." Mr. Woods was also an associate and then partner at Debevoise & Plimpton LLP, working on a variety of financial and corporate matters and focusing on both the United States and Latin America. Mr. Woods was a member of the firm's corporate practice, focused primarily on corporate finance, and advised a variety of corporations, banks and investors in domestic and cross-border mergers, acquisitions and joint ventures. Mr. Woods was a member of the firm's hiring committee, diversity committee and pro bono committee. Mr. Woods' practice and client service led him to be recognized by Chambers USA as a leading lawyer in New York in Banking and Finance, among other honors. Mr. Woods entered public service in 1995 as a trial attorney for the Department of Justice. There, he practiced as a civil litigator until 1998, primarily litigating cases around fraud and fraud-related activities.
Mr. Woods has also done a large amount of pro bono work with Practicing Attorneys for Law Students (PALS), an organization devoted to serving the needs of minority law students in the New York area. In addition to his time with PALS, Mr. Woods is a board member for the Union Settlement Association – a social services organization serving East Harlem – and previously worked pro bono as counsel to the New York City Investment Fund.