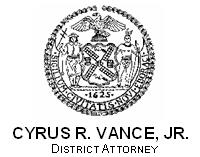 IDENTITY THIEF SENTENCED TO PRISON FOR USING STOLEN CREDIT CARDS TO PURCHASE LUXURY GOODS
Last week, Manhattan District Attorney Cyrus R. Vance, Jr., announced the sentencing of RICKY MARECH, 51, to 3 ½-to-7 years in state prison for using stolen credit card information from five victims to purchase more than $18,000 worth of luxury items. The defendant placed the goods on hold at high-end stores in Manhattan, and then called the stores to purchase those items with stolen credit card information. On April 16, 2013, MARECH pleaded guilty to Identity Theft in the First and Second Degrees and Criminal Possession of Stolen Property in the Fourth Degree.
"The convenience of credit cards – allowing consumers to make purchases over the phone or online – unfortunately also makes it easier for identity thieves to steal from unsuspecting victims," said District Attorney Vance. "With the prevalence of identity theft, I encourage consumers to check their credit card statements regularly and to call my Office's cybercrime hotline at (212) 335-9600 if they believe they have been victimized."
As admitted in his guilty plea and according to documents filed in court, between September 2012 and December 2012, MARECH went into several high-end stores in Manhattan and placed certain items on hold. He later called the stores to purchase those items using stolen credit card information from five victims, and then either picked up the goods or had them delivered. Using this scheme, MARECH purchased more than $16,600 worth of goods, including shoes and a handbag at Barneys department store, a mink coat and other clothes at Intermix fashion boutique, carpet at ABC Carpet & Home, and expensive chocolate at La Maison du Chocolat. MARECH also used stolen credit card information to purchase tickets worth $1,400 for a tree-lighting show at the Metropolitan Museum of Art.
Assistant District Attorneys Alexandra Lane and Jeremy Glickman, Deputy Chief of the Cybercrime and Identity Theft Bureau, handled the prosecution of this case, under the supervision of Executive Assistant District Attorney David M. Szuchman, Chief of the Investigation Division. Cybercrime Analyst Benjamin DiNapoli assisted with the investigation.
District Attorney Vance thanked Sergeant Daniel Connolly and Police Officer Robert Admirand from the New York City Police Department for their assistance in the case.
Defendant Information:
RICKY MARECH, D.O.B. 12/21/1961
New York, NY
Convicted:
• Identity Theft in the First Degree, a class D felony, 1 count
• Identity Theft in the Second Degree, a class E felony, 3 counts
• Criminal Possession of Stolen Property in the Fourth Degree, a class E felony, 1 count
Sentenced:
• 3 ½-to-7 years in state prison