His Vision is Saving Eyes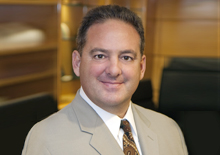 The 14-year-old boy's eye injury was extreme even for Kings County Hospital Center's acclaimed ophthalmology chief, Dr. Douglas Lazzaro, who sees far more trauma to the eye than most of his counterparts elsewhere.
"The teenager had been assaulted, and the punch ruptured his eye. It was severely traumatized," Dr. Lazzaro explained.
Despite his severe injury, the young patient was in luck. Dr. Lazzaro's skill as a top eye surgeon and his ability to consult on the best approach with a range of ophthalmic subspecialists on staff at Kings County Hospital make his department unique – the go-to unit for a flood of cases. At hand are experts in the cornea, retina, glaucoma, pediatric ophthalmology, neuro-ophthalmology and oculoplastics.
"When the eye is salvageable, we have a great team to do it," he said. "Our substantial faculty lets us not only manage a wide array of complicated cases in all ophthalmic disciplines, but to get more than one opinion."
Dr. Lazzaro described the teenager's excellent progress. "We've done three operations and restored the eye's appearance to almost normal. And he's got some vision back. I performed two corneal transplants, and the eye is doing well. He and his family are very appreciative of everything we've done. It's very gratifying."
The ophthalmology clinic is unusual in its extremely high volume of patients. Dr. Lazzaro presides over a caseload of more than 30,000 patients a year, making his department one of the three busiest public hospital eye practices in the nation. Yet despite the heavy volume, he worries about patients as if they were kin, turning over in his mind how his surgical decisions will affect not only their vision, but their life and future.
"I am extremely proud of the physician staff I've assembled who work together as a team and are dedicated to achieving the best possible outcomes for patients," he said.
"During the time I have known Dr. Lazzaro, he has consistently displayed excellent diagnostic skills and demonstrated a proficiency in handling very difficult cases," said HHC Senior Vice President George M. Proctor, who has known Dr. Lazzaro for 18 years. "He is a well-liked physician who is kind and considerate to his patients."
Perhaps it's that medicine and service are in Dr. Lazzaro's blood. His father, Dr. E. Clifford Lazzaro, is also an ophthalmologist who still practices at Kings County Hospital and SUNY Downstate.
"From age 13, I worked in Dad's office part-time. By the time I was 15, I knew how to use a lot of eye instruments. I went on many house calls with him. Back then, doctors did that."
The history of service crosses the Atlantic: "My great-great-grandfather and great- great-great-grandfather were physicians in Italy in the 1800s. I still have their medical school diplomas -- in Italian! We have a medal from the King of Italy given to my great great-grandfather for his work in the cholera epidemic of the late 1800s."
A Brooklyn native, Dr. Douglas Lazzaro liked math and science from his earliest schooldays. After attending NYU as an undergraduate, Dr. Lazzaro went to SUNY Downstate Medical Center for medical school. Next came an ophthalmology residency there, followed by a fellowship in cornea and refractive surgery at Manhattan Eye, Ear and Throat Hospital and Cornell Medical Center. Within years, he assumed leadership roles at both Kings County Hospital and SUNY Downstate. He started his residency at Kings County Hospital in 1991 and took over the eye service in 2001, when they saw 17,000 patients a year.
He enjoys the fact that he can bring about so many happy endings. "In this field, you have the ability to improve the condition of at least 90 to 95 percent of your patients. That's very personally rewarding."
In his leisure time, the much-awarded physician walks, listens to jazz, and loads up on theatre. He enjoys spending time with his wife, Anna, and three grown sons. He reads history and mystery novels and you'll find him enjoying NBA and NFL games on TV on weekends. . "Medicine is all-consuming, so I try to get away from it a little," he said.
But he doesn't stray far. Ophthalmology is his passion, and Dr. Lazzaro is particularly grateful that the residents he trains are carrying on his lifework. "You train residents and they see tens of thousands of patients. So you have an impact all over the country and feel really proud of what they are doing for society."