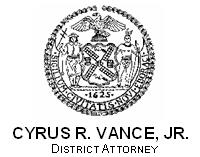 DISTRICT ATTORNEY VANCE ANNOUNCES GUILTY PLEA OF SHONDA MASSEY FOR STEALING FROM WEALTH MANAGEMENT FIRM
Late last week, Manhattan District Attorney Cyrus R. Vance, Jr., announced the guilty plea of SHONDA MASSEY, 39, a former executive assistant for a wealth management firm, for making approximately $64,000 in unauthorized charges on corporate credit cards and then filing falsified expense reports to mask the expenses. The defendant pleaded guilty in New York State Supreme Court to the top count of the indictment, Grand Larceny in the Second Degree, as well as Forgery in the Second Degree and Falsifying Business Records in the First Degree. She is scheduled to be sentenced on July 9, 2013.
"Stealing from an employer is not only illegal, it is also short-sighted," said District Attorney Vance. "This defendant once held a high-paying job that many New Yorkers would have been grateful to have, but she abused her position to satisfy her own greed. This case and others like it should serve as reminders for employers to regularly review company finances for fraud and theft."
As admitted in the defendant's guilty plea and according to documents filed in court, in March 2011, MASSEY filed a forged Social Security card and tax forms containing variations of her name, in order to obtain employment as an executive assistant at an investment banking advisory firm in Midtown Manhattan. In her position, MASSEY had access to multiple corporate credit card accounts. Using stolen corporate credit card numbers and account information, the defendant paid for personal expenses, ranging from E-Z Pass bill payments to iTunes music purchases to family vacations. She also used stolen credit cards to shop online at stores including Bergdorf Goodman, Neiman Marcus, Bloomingdales, and Saks Fifth Avenue.
Assistant District Attorneys Cory Jacobs, of the Major Economic Crimes Bureau, and Kenn Kern, Deputy Chief of the Cybercrime and Identity Theft Bureau, are handling the prosecution of the case, under the supervision of Brenda Fischer, Chief of the Cybercrime and Identity Theft Bureau, and Executive Assistant District Attorney David M. Szuchman, Chief of the Investigation Division. Cybercrime Analyst Benjamin DiNapoli also assisted with the case, as did Supervising Investigator Santiago Batista, and Investigators Andrew Lee, Jose Vasquez, and Faith Tuohy.
District Attorney Vance thanked the Bergen County Police Department and the Hackensack Police Department for their assistance with the execution of the search warrant, as well as Special Agent Janell R. Borrison, of the Social Security Administration's Office of the Inspector General (Office of Investigations, New York Field Office), Deputy Chief Investigator for Cybercrime Richard Brittson, of the District Attorney's Investigations Bureau, Director Steven Moran, of the District Attorney's High Technology Analysis Unit, and Cyber Intelligence Analyst Bret Rubin and Cybercrime Analyst Nora DeSimone, of the District Attorney's Cybercrime and Identity Theft Bureau, for their assistance with the investigation.
Defendant Information:
SHONDA MASSEY, D.O.B. 6/11/1974
Hackensack, New Jersey
Convicted:
Grand Larceny in the Second Degree, a class C felony, 1 count
Forgery in the Second Degree, a class D felony, 1 count
Falsifying Business Records in the First Degree, a class E felony, 1 count