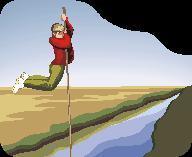 While playing softball on a field owned by the City of New York, Ramon Corona was injured after stepping into a "rut" and also struck out when a Bronx County Supreme Court dismissed his personal-injury case.
Because he was aware of the "inherent risks" associated with the sport and with playing on a natural surface, the Appellate Division, First Department, allowed the dismissal to stand. (Apparently, Corona knew that there might be surface-related "imperfections" and that those conditions could be "created or increased" while a game was underway.)
Couldn't get out of that.
To view a copy of the Appellate Division's decision, please use this link: Corona v. City of New York