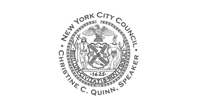 Dear New Yorker,
The City's Summer Meals Program started June 27, and we wanted to help get the word about this great opportunity for kids 18 years or younger to receive free breakfast and lunch every weekday during the summer.
The Summer Meals program is completely free and doesn't require any paperwork. All kids need to do is show up at one of the 1,000 of schools, parks, pools, community centers and other sites around the five boroughs where this program is being offered and they can receive a free healthy lunch and breakfast. The only requirement is that they be 18 years old or younger.
We encourage families to take advantage of this important program, which will be operating throughout the summer until August 30th.
To find a site near you, call 311, text the word NYCMeals to 877-877, or visit http://newyorkcity.nokidhungry.org/free-summer-meals.
Thank you!
Sincerely,
Christine C. Quinn
Speaker
NYC Council
Robert Jackson
Chair, Education Committee
NYC Council
Maria del Carmen Arroyo
Chair, Health Committee
NYC Council
Lewis A. Fidler
Chair, Youth Services Committee
NYC Council
Annabel Palma
Chair, General Welfare Committee
NYC Council
Julissa Ferreras
Chair, Women's Issues Committee
NYC Council